Deon Thomas: My thirst to travel was more important than the NBA
The former Illini basketball star was drafted by the Dallas Mavericks in 1994, but he went his own way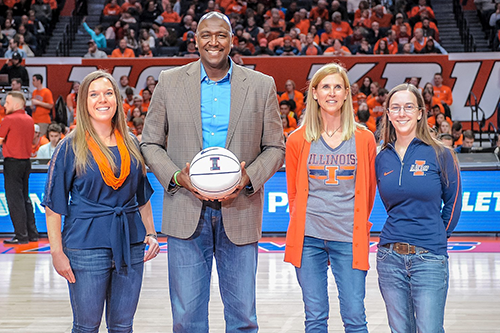 It makes sense to think that successful people are living out a childhood dream. With Deon Thomas (BS, '94, political science), that's not true.
"You look at your life and you think how it's going to be, (and) when it turns out not to be the way you thought, it's kind of mind blowing," Thomas said, "But I wouldn't change it for anything in the world."
The Illinois Athletics Hall of Famer and College of LAS alumnus is the associate director of development for University of Illinois Athletics. He is also an analyst for the Big Ten Network and Fighting Illini Sports Network, where he covers the basketball team that he set records for during the 1990-1994 seasons. When the 6-foot-9 former Illinois Mr. Basketball graduated, he sat atop the U of I men's basketball record lists for career points, blocks, and field goals made.
Thomas's career blocks record was broken by Nnanna Egwu in 2015, but his career points and field goal records still stand. He's also second in free throws and fourth in rebounds.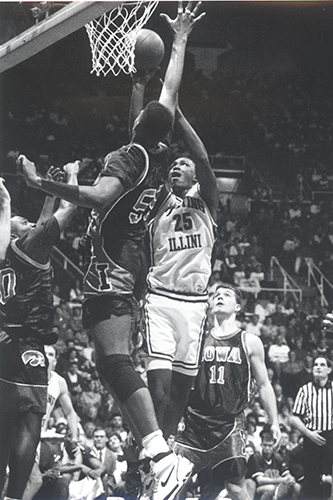 He's worked as a radio and TV analyst since he retired from coaching in 2016 (he coached at Lewis and Clark Community College and University of Illinois Chicago). Thomas credits his broadcasting partner, Brian Barnhart, with teaching him the ropes early in the process. Thomas has developed a liking for his new line of work, specifically radio.
"You have to be even more detailed in radio," Thomas said, "while making sure that you keep it at a level so the novice can understand it. It's those complexities that I enjoy."
It wasn't always Thomas's dream to play basketball. Even at a young age, Thomas had scholarly ambitions. While accompanying his mother to a courtroom where she worked as a stenographer, Thomas found himself in awe of the judge. Later when giving his eighth-grade graduation speech, Thomas announced his intention to become a U.S. Supreme Court justice.
It's a dream that Thomas said is rare among children, especially Black children in inner cities. Thomas grew up on the west side of Chicago, near the University of Illinois Chicago campus. He feels that without the experiences his mother provided him, such dreams would never have come to him.
"If you're looking at (the judge) from my neighborhood, you're not normally sitting out there with your mom working," Thomas said, "You're normally standing in front of him about to be sentenced or you're in some trial."
Throughout his life Thomas has looked for ways to broaden his experiences. Following his graduation from U of I, Thomas chose to play in Spain rather than accept a contract with the Dallas Mavericks, which drafted him 28th in 1994.
It helped that the Spanish team, Básquet Manresa, offered him a similar salary with the added bonus of paying his taxes for him. Still, his decision came down to more than money.
"My thirst to travel was more important than me playing in the NBA," Thomas said, "I still had this open search for knowledge, for learning cultures, because I was thinking 'I'll play a few years and then I'll go back to law school.'"
After one season with Básquet Manresa, Thomas planned on returning to the U.S. and joining the Mavericks. The 1995 NBA lockout killed those plans and he returned to Spain, this time to playing for Club Girona.
That year Thomas met his future-wife Dafna, who was vacationing in Spain at the time. The two grew close over the year, Thomas said. When his second season ended and the Mavericks decided to restructure his contract for less money, his decision was easy.
"I had a better deal in a place in Malaga, which is in the south of Spain which I just loved when would go there and play, so I chose that," Thomas said, "That was pretty much the end after that. I never looked back or even thought about coming back to the NBA after that."
These decisions were the foundation of a highly successful 14-year international pro career in six different countries. He helped Maccabi Tel Aviv win the Israel championship, the Israeli Cup, and the Euroleague championship twice.
Thomas and Dafna married quickly, before he even met her family in Israel. When his contract with the Spanish club Caja San Fernando ended in 1998, Thomas got the opportunity to play in Israel for Maccabi Rishon LeZion, a team in Rishon Lezion.
That year he was engulfed in the culture of Dafna's family and their Jewish traditions. Though he grew up Christian, Judaism spoke to him at a deeper level.
"My grandparents and parents are Southern Baptist, so when I say I lived in the church, I mean we really lived there," Thomas said, "My family was tight, but we were nowhere near a close as my wife's family."
It was the feeling of togetherness, he said, that drew him to convert.
Thomas's oldest daughter was born in Spain and his youngest in Israel. They both speak Hebrew better than he does, Thomas said. They all have dual citizenships, though they currently live in Naperville, Illinois.
Thomas hasn't played basketball in 13 years. Now at 50, he still thinks about his dream of becoming a justice. He has friends in the University of Illinois law school who have tried to convince him to enroll. It's not the right time, he said. But he still won't say no.
Editor's note: This story originally appeared in the Spring '22 issue of The Quadrangle.