New study indicates that LAS graduates remain successful at launching careers
More than 93 percent of recent alumni are finding jobs and other first destinations soon after leaving campus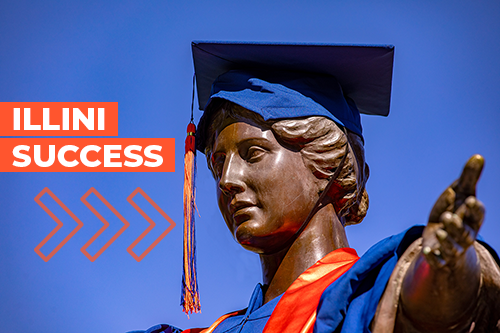 An annual study of the early career paths of recent University of Illinois graduates reveals that new alumni from the College of Liberal Arts & Sciences remain successful in finding jobs and other first destinations.
More than 93 percent of LAS alumni who graduated during the 2020-21 academic year have secured first destination jobs (including military service), continuing education, or volunteer/service positions, according to the Illini Success initiative, a university-wide effort to better understand the career paths of recently graduated alumni.
Average starting salaries for those finding jobs has increased over recent years, to $63,045.
"An LAS education is producing results: Despite the uncertainties of the pandemic and the economy, our alumni are still finding jobs, continuing their education, volunteering, and pursuing other ventures," said Venetria K. Patton, the Harry E. Preble Dean of the College of Liberal Arts & Sciences. "The achievements of our new graduates show that we continue to provide a firm foundation and the flexibility required for future success."
The numbers released in the most recent report reflect LAS undergraduates who graduated during August 2020, December 2020, and May 2021 graduations. Using direct surveys, the university was able to gather data on 1,484 LAS alumni of the 2020-2021 graduating class – roughly 43 percent of the total.
Of the 93 percent of LAS alumni who reported a first destination, 43 percent were employed within six months of graduation, and 50 percent were pursuing education. Less than one percent were pursuing volunteer and service opportunities.
The average full-time salary for new LAS alumni is third highest amongst all colleges on campus, after Grainger Engineering ($87,482) and Gies Business ($67,258). The average signing bonus of LAS alumni was $5,000.
This is the seventh year that University of Illinois has conducted the Illini Success survey. Since 2016, the rates of securing first destinations have increased in nearly all LAS majors. In the past, the percentage of graduates securing a first destination within six months of graduation stood at 89 percent in 2018-19 and 90 percent in 2019-20.
Campuswide, some 94 percent of new U of I graduates secured a first destination within six months of graduation. About 66 percent of new graduates stayed in the state of Illinois, for their first destination job. Roughly 32 percent found first destinations elsewhere in the United States, and 2 percent of the graduating class found first destinations in other countries.
About 90 percent of new U of I graduates reported participating in an experiential learning opportunity, including internships, undergraduate research, study abroad, service learning, clinical programs, or others. Of those, 41 percent of those students received a full-time job offer as a result of their experiential activities.
"Our most recent Illini Success report once again shows what we at Illinois have known for a very long time," Chancellor Robert J. Jones said. "A degree from the University of Illinois Urbana-Champaign is one of the best decisions and best investments a student can make for their education, their career and their life. We are thrilled to see that they are succeeding at such high rates."
The Illini Success initiative was spearheaded by The Career Center, but it receives support from units across campus. The career data has important implications, from addressing the questions and concerns of prospective students to answering accreditors who are measuring institutional quality.
The project is supported by the Office of the Provost, Career Services Council, Division of Management Information, Center for Innovation in Teaching and Learning, Office of the Registrar, Institutional Review Board Office, Council of Undergraduate Deans, undergraduate College administrations, Graduate College, and other partners across campus.
Every request sent to graduates asking them to complete the Illini Success Survey was accompanied by an invitation to engage in career services and receive support throughout their first year as alumni.
Other findings from the latest report:
New astronomy and physics alumni had the highest reported rates of secured destinations (employment, continuing education, and volunteering/service) at 98 percent. (For reporting purposes, physics alumni from both LAS and Grainger Engineering were presented together.)
The average starting salary grew significantly during the past year for new graduates of several units, including astronomy and physics; communication; Earth, society, and environment; history and philosophy; mathematics and statistics; political science, global studies, and area studies; psychology; and sociology, anthropology, and interdisciplinary cultural studies. Of them, astronomy and physics salaries grew most dramatically within LAS, from $77,150 in 2019-20 to $94,375 in 2020-21. The 2020-21 salary figure for astronomy and physics alumni was the third highest of all majors on campus, after computer science and computer engineering.
New chemical engineering and chemistry alumni had the highest rate of employment in LAS within six months of graduation, at 61 percent.