The spirit of community engagement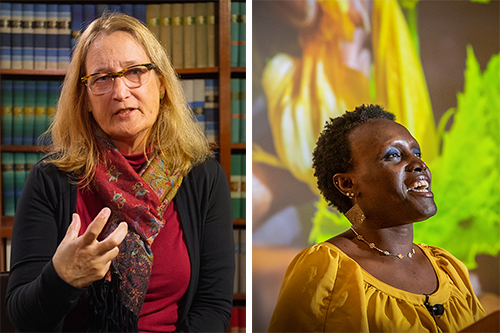 Two LAS professors, Kathryn Oberdeck and Esther Ngumbi, recently received Campus Excellence in Public Engagement Awards. Here's what they're up to.
Helping the community find its place in history
The perceived gap—real or not—between a university and the surrounding community has existed for as long as colleges themselves. For Kathryn Oberdeck, public engagement means bridging the divide so that students and community members can collaborate for a common cause: history.
The professor of history has been bridging that divide for a long time. During her days as an undergraduate at University of California, Berkeley, and a graduate student at Yale University, she did community work in local institutions, some involving history. Her efforts to connect with local institutions continued when she joined Illinois as a faculty member in 1993, and now Oberdeck runs a History Harvest course where students engage with members of the public to collect documents and artifacts of historical interest for scholarly and community research.
She also introduces students to local organizations and community members such as LGBTQIA+ activists, the 5th and Hill Neighborhood Rights Campaign, and the Independent Media Center to produce digitally accessible historical archives and exhibits from local community members.
Oberdeck co-directed a Humanities Research Institute Research Cluster that brought together interdisciplinary faculty members, archivists, students and local public history practitioners to explore potential collaborations, producing student-led hidden history tours of activism on campus and in the community.
Through these public engagement efforts, students are able to develop a connection with community institutions beyond the university. These projects also provide local access to the university's resources, teaching, equipment, and data. What distinguishes the projects is a spirit of collaboration that makes local community history more visible and accessible.
Raising scientific awareness
How do you raise scientific awareness? For Esther Ngumbi, professor of entomology and African American studies, the answer is simple: engage the community around you.
"The goal is to share to the wider public so that all the wonderful work that the research department does doesn't end up only in journals, but is eventually received by the public and industries to create awareness of science," she said.
Ngumbi advocates for sustainability and diversity in the global community of scientists. She partners with the Hendrick House, a student residential community on campus that operates a farm, to provide her entomology students with an opportunity to examine plants and insects and discuss how to communicate their findings to the public.
Ngumbi also shares with local farmers recent discoveries in agricultural sciences to help improve farming and make important information accessible. Ngumbi is a champion for science communication, with her written commentary focusing on soil and food security, climate change, youth engagement, and diversity and inclusion. Her essays have appeared in a wide variety of publications, including Time magazine, The Conversation, Science for Development, Los Angeles Times, Scientific American, and Project Syndicate.
"I'm passionate about science communication and engagement with the public," she said. "It's not just about sharing the knowledge in journals, but also making sure it's accessible to the public."
One key to connecting the local community to science, she added, is consistency.
"I think you can step into something and play a wonderful part," Ngumbi said, "but to come in day in and day out and year in and year out is what creates an impact."
LAS faculty have received many awards! You can check out a running list here.
Editor's note: This story originally appeared in the Spring '22 issue of The Quadrangle.