LAS Staff Spotlight: Culture in communication is one of respect, inclusion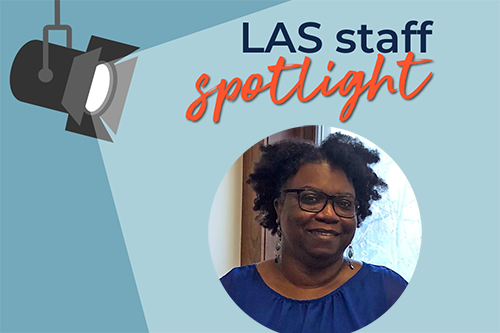 Adrienne Harris has worked on campus for 20 years and in the Department of Communication since January 2018. Her primary role is to oversee the department's finances, and, in her office, a healthy work culture is a priority.
"I am very proud to be a part of the communication department," Harris said. "The culture is one of respect, inclusion, and a genuine sense of responsibility for each other, no matter the position or rank."
Position: Budget manager
What do you remember of your first visit to campus?
I was a high school senior the first time I visited campus. I got to sit in on a class and see student life in the union. I had already been accepted to come as a freshman, and that visit told me I made the right choice. I will forever bleed orange and blue.
What do you enjoy most about your job?
I love the look of relief from the students and faculty when I can help them work through a perceived problem or obstacle.
Do you have a favorite memory from your role with your unit?
Honestly, my job is important, but not very exciting, so I will share a favorite experience. I always enjoy our graduate recruiting weekend. It is fun to meet students from different institutions around the world. Everyone at Illinois is a recruiter whether it's their paid job or not.
What is the best part of your workday?
The best part of the day is any time the support team and I work together to come up with ideas to support the students and faculty in ways they don't expect.
Editor's note: This LAS Staff Spotlight profile is part of a series that features College of LAS staff and the important work they do to support units across the college. Visit here to learn more.