Scouting America's pastime across the globe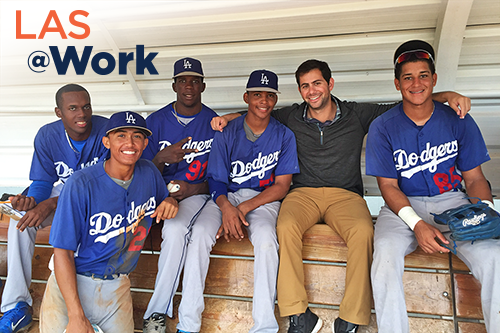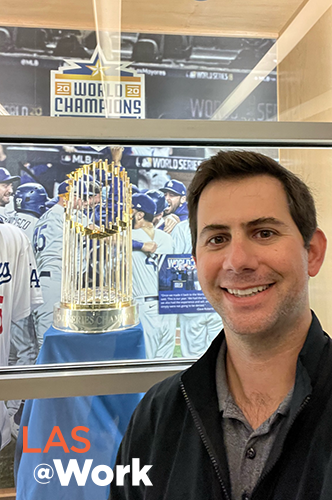 A typical day for Matthew Doppelt (BA, '11, economics) is hard to come by as assistant director for international scouting for the Los Angeles Dodgers. His home base is in Pheonix, Ariz., where he lives with his wife Anne and 6-month-old daughter Moonie; however, scouting the next MLB star takes him on the road, covering every country where baseball is played outside of the U.S. and Canada.
Describe a typical workday at your current position.
In my role, I am responsible for managing our international amateur scouting process. The Dominican Republic, with a population of 10 million people, has produced 850 major league baseball players in recent history. A small island with an incredible concentration of talent and opportunity is where I travel to most. On any given day scouting in the streets of the Dominican Republic, we may attend several small local academies or cover a large-scale international tournament evaluating hundreds of players to uncover the next star. Every day is a grind, but the potential to discover a prospect or to find value that no other team has identified, drives the passion within our department. The pescado frito, Presidente, and lively debate over players that await at the end of a long day make it all worth it.  
Although baseball remains America's pastime, the game has become an important sport across the globe. In our 2021 signing class, we signed players to professional contracts from 12 countries and from each continent in the world – except for Antarctica.
How did you land your first job after graduation?
I landed my first job by applying to a variety of financial related entry level jobs. It was early in the fall of my senior year when I was invited for second and third round interviews with PNC Bank. I accepted the position and was able to fully enjoy the remainder of my senior year at UIUC.
Describe your career path from college graduation to your current job.
From high school in the north suburbs of Chicago, to college two hours south, to my first job in downtown Chicago, my initial attempt at a career was traditional. After graduating the training program with PNC Bank, I began to discover that the 9-5 lifestyle wasn't for me. It was time to take a risk and to go for a career I was passionate about. I left my stable, decent-paying job, and took an internship at a baseball analytics company in Coplay, PA. That internship opened doors into the industry. My interest in the international game, as well as my ability to speak Spanish – which I refined in the College of LAS, graduating with a Spanish minor– led me towards an opportunity to work in the Dominican Republic with the LA Dodgers. I lived there for two years eventually scouting the East Region of the country.
Developing my ability to recognize talent became my priority, and I was fortunate to earn an opportunity to work within our Domestic Amateur Scouting Department. After two years learning how the draft works, I realized my heart was in international baseball, and I returned to that side of amateur scouting. Along with an incredible team, I have been driving our department to utilize data and advanced evaluation to gain competitive advantages in the international scouting landscape.
How did your major prepare you for your career?
Studying economics provided me with an analytical mindset to logically think through every situation I encounter. That mindset allows me to balance all the variables that impact the potential outcomes of players and positions to have a thorough decision-making process.
What do you like best about your work?
In international scouting, we can impact the lives of those that may not have much opportunity outside of what baseball can provide them. Finding the players that have potential but may have been overlooked by other teams makes the long hours, days, and road trips worth it.
Describe your proudest achievement.
My proudest achievement is our department's signing of right-handed pitcher Edwin Uceta of the Dominican Republic. He signed in 2016 and made his major league debut for the Dodgers at 23 years old in 2021. Celebrating a World Series Championship in 2020 with the people that helped Edwin get to the Major Leagues and helped me get to where I am today was a special experience.

Editor's note: This LAS@Work profile is part of a series that features College of LAS alumni and their careers. Visit here to read more. Are you an alumnus with an interesting job or career path you'd like to share? Please email us to be considered.