A career built from the heart
Alumnus serves as director of cardio oncology for Chicago-area hospital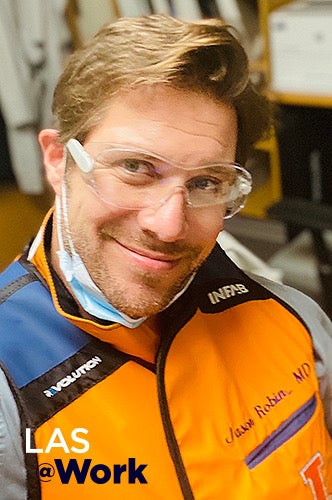 At a hospital on Chicago's Northside, Jason Robin (BS, '98, biology) is the director of cardio oncology, managing the full spectrum of cardiovascular disease. 
Current occupation: Cardiologist, director of cardio oncology at NorthShore University Health System. I am a Clinical Associate Professor of Medicine at the University of Chicago Pritzker School of Medicine and I also have a teaching position at Northwestern University Feinberg School of Medicine.
 
Family: Wife Jamie and three children: Charlie (15), Ryder (14), and Liza (11)
 
Briefly describe a typical workday at your current position. 
What I love about my job and what makes it interesting is that every day is different. Some days I am in the office seeing 15-20 patients with a wide range of cardiac conditions such as arrhythmias, coronary disease, or congestive heart failure. In between seeing patients, I am overseeing stress tests. Other days, I am in the hospital throughout the day seeing patients who have acute illnesses such a decompensated heart failure, myocardial infarctions (heart attacks), or life-threatening rhythm disorders of the heart. Then, there are my procedural days where I get to play in the cath lab or operating rooms, working with my colleagues putting in new valves or other devices in the heart. Some days I get to put on my headphones, listen to music, and read echocardiograms and nuclear stress rests. Regardless of the day, I have the opportunity to teach residents and fellows who are training to be cardiologists, which is a lot of fun.
 
What was your first job out of college? 
Well, I did wait tables at a bar in the gold coast of Chicago during the summer between my first and second year of medical school. After that summer, there is really not time for a job. It is studying and learning how to take care of patients. I would say that my first real job wasn't until I completed medical school and started my residency. The residency director at Northwestern was Diane Wayne, MD. I suppose she was my first real boss after college. Those paychecks were fairly light, as they are for all residents, but they allowed me to keep a roof over my head and have a few beers on the weekend while watching the Illini. My training lasted seven years after medical school. Three years as an Internal Medicine resident, one year as a chief medical resident, and three years as a cardiology fellow.
 
Please describe your career path from college graduation to your current job.
Four years of medical school at Rush Medical College followed by seven years of residency and fellowship training at Northwestern University Feinberg School of Medicine. After my training, I began working for a private practice cardiology group in the North Shore of Chicago named Cardiovascular Associates of Glenbrook and Evanston. The managing partner of the group, Irwin Silverman, MD, was a U of I graduate in 1970. As a group we remained in private practice until 2013. At that time, we were purchased by NorthShore University Health system, and I have been working for NorthShore since. I manage the entire spectrum of cardiovascular disease, but a couple of my niches include sports cardiology, structural heart disease, and cardio oncology for which I am the director of at NorthShore.
 
In hindsight, what about college best prepared you for your life and career?
U of I was an awesome place for those four years. I loved the diversity of the campus. Every day you could meet somebody new who came from a very different background as me. This diversity certainly prepared me to work with colleagues and take care of patients from all different backgrounds. The "pre-med" curriculum was tough, but I can tell you that through medical school, residency, and fellowship, those with U of I backgrounds were some of the best students and physicians I have encountered. The rigor of the classes helped prepare me immensely for the next 11 years of training.
 
How did your major prepare you for your career?
I think that always thinking a couple of steps ahead helped. For example, I had visions of being a cardiologist as an undergraduate. This made me really learn physics and physiology well, two disciplines that I still use on a daily basis. I think that talking to those who are 5 or 10 years ahead of you is a great way to help create your path and make sure you are the best candidate at each stage of the game.
What do you like best about your work?
I love the art of taking a history, putting my stethoscope on a patient's chest, using the newest technology to make a diagnosis, and then treating a patient and restoring their quality of life. I also love that the science evolves every day. I still love to read and learn, and medicine has allowed me to be able to do this.
Editor's note: This LAS@Work profile is part of a series that features College of LAS alumni and their careers. Visit here to read more. Are you an alumnus with an interesting job or career path you'd like to share? Please email us to be considered.