Campustown bartender to Napa Valley winemaker
Biology alumnus taps into the science of winemaking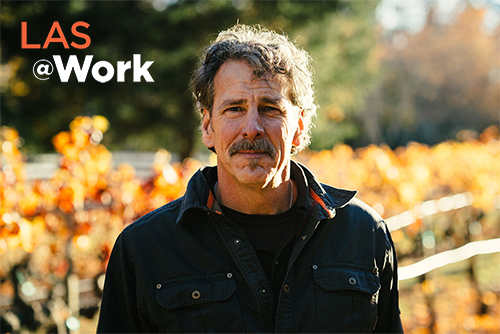 LAS alumnus Christopher Carpenter (BS, '87, biology) made his way from behind the bar at Campustown's C.O. Daniels to the vineyards of Napa Valley. The former Illinois football defensive end is now winemaker for several Napa Valley and Southern Australia wineries, and when it comes to bottling his craft, he finds the right notes using his background in science.
What is your position?
Winemaker for Lokoya, Cardinale, Mt. Brave, La Jota and Caladan wineries in Napa Valley and Hickinbotham Winery in McLaren Vale, Southern Australia
Describe a typical workday. Also, what is an example of the most interesting aspect of your job?
The typical day is seasonally driven. Currently it's harvest, and I am overseeing the picking of grapes into the winery, and then directing the fermentations, pressing and barreling those wines down. During the off season I oversee the farming of the vineyards and the aging operations of the wines. I also travel quite a bit, and I assist our sales force representing the wines in the market, calling on restaurant accounts, retail outlets, and I participate in wine shows and events. The culmination of the process is blending the wines both in the lab, as well as, finalizing the blends in the cellar and bringing them to bottle. The most interesting and satisfying part of the job is, after all the work that it takes to make the wines, having the opportunity to enjoy them with the collectors who buy them and seeing how they respond. Hopefully in positive ways!
What was your first job out of college?
I tended bar at Butch McGuire's on Division Street in Chicago, and that is still one of the greatest jobs I've ever had.
How did you land that first job?
I managed a campus bar, C.O.Daniels, when at Illinois. When I graduated with a degree in biology and decided against going to medical school, I needed to pay the rent while living in Chicago, so I continued in the restaurant field. Another Illini worked there at the time, and he connected me to McGuire's.
In hindsight, what about college best prepared you for your life and career? 
I walked on to the Illinois football team at a time when the Illini were one of the best teams in the Big Ten. There were a lot of great ball players that I was competing against for a spot on the team. It was not an easy road for a player who hadn't been recruited at the scholarship level. I played five years, ultimately earning a scholarship. That said, I had to earn everything I got from my spot on the team to my degree in biology, my tuition and rent, and the respect of my classmates and teammates. Nothing was handed to me. That process was fraught with mistakes, highs and lows, and, ultimately, with achievement. That lesson is part of my zeitgeist today, and I am thankful for those years as a result.  
How did your major prepare you for your career? 
Winemaking, without the business side, is 80 percent science and 20 percent art or craft. The base education I received in the sciences at Illinois I still use to this day. The great thing for me is it is not strictly focused on one discipline, rather, I use a combination of biology (plant and micro), chemistry, bio-chem, physics, climatology, geology, geography, psychology, statistics, and more. For a science geek like me, you can't go wrong.
What do you like to do when you're not working?
I play trombone; I see a lot of music; I travel; I sail; I have served on boards for several non-profits, locally and nationally, and, with my wife Tina, we have raised two awesome daughters, Maggie and Sadie.
Editor's note: This LAS@Work profile is part of a series that features College of LAS alumni and their careers. Visit here to read more.