Higher education for a higher calling
For many, a degree from the College of LAS is the first step toward a degree in teaching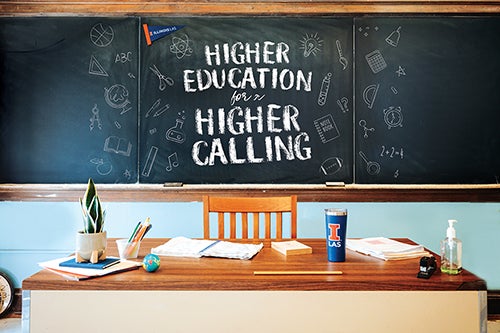 Brian Rosten was supposed to be an engineer. It's what his parents wanted. And he was on board with the plan, until an internship at a plastics plant made him realize it was not the path for him. "It was soul-crushing," said Rosten (BS, '12, chemistry; MS, '21, educational policy, organization and leadership), who didn't like the idea of sitting at a desk, doing the same thing, day after day. "I was destined for cubicle work, and I was just not about that life." Fortunately, he had an experience tutoring multi-language learners in high school and discovered that was something he enjoyed. So, he made the switch to teaching during his junior year.
For Betsy Alderman, there was never any other plan. "I wanted to be a teacher since I was a really little kid," said the Catlin, Illinois, native, who always planned to pursue that dream at Illinois. "I bleed orange and blue," said Alderman (BS, '12, mathematics), who practically grew up in the shadow of the university and loved Illinois sports. Placement in local schools during her secondary education studies helped seal the deal and provided a seamless transition for Alderman, who currently teaches math at Centennial High School in Champaign.
While the two LAS alumni began their journey in very different places, they both got where they wanted to go — thanks to a program that allows students to pursue a degree in the field of their choice, then acquire the skills they need to share their passion with the world. Since 2000, thousands of LAS alumni have graduated with a Teacher Education Minor in Secondary School Teaching, provided through the College of Education. It's open to students pursuing degrees in a wide range of fields, including biology, chemistry, earth science, English, history, mathematics, and physics.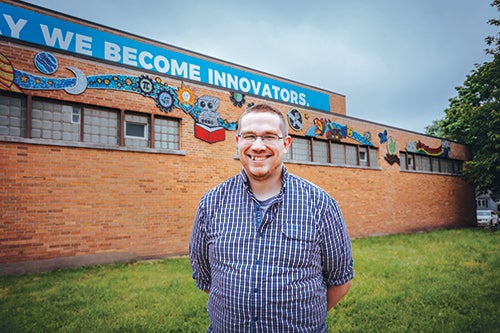 Those pursuing this path are admitted into either the College of LAS or the Grainger College of Engineering (for physics), then apply during their sophomore year to enter the minor.
"Students begin taking classes in their professional education sequence during the spring of their junior year," said Barbara Hug, who serves as the program coordinator. Classes continue in the fall of the following year, and then it's on to student teaching in the spring. "Students take education classes before they get into the professional education sequence as part of their general education requirement," explained Hug, who said it's essentially a full, four-year program.
The program has traditionally been the path for U of I students pursuing a secondary education degree, although that path has shifted a little over the years. "The secondary program used to actually be for sixth through 12th grade," said Hug. That's changed now, with the state requiring separate credentials for high school and middle school. The Grainger pathway is also a fairly recent change for the physics students. From the beginning, however, the College of LAS has been at the heart of the program. The college has also been key to the secondary education program's goal of broadening the diversity of students entering teaching.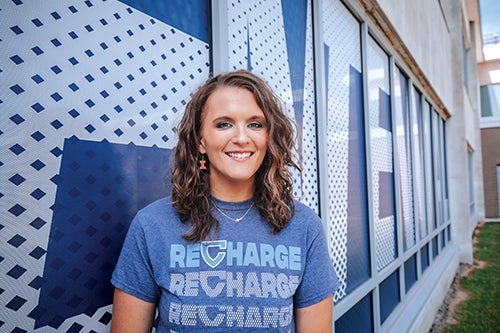 "The secondary ed program could not exist without LAS," said Hug. That's because high school teachers need a certain number of credits in their discipline, and those are taken outside of the College of  Education. But Hug said there are also other benefits to graduating from a teaching program with an LAS degree. For one, it provides options for those who may later decide to pursue a different career. And for those who do go into teaching, it's something that opens doors. "LAS is a strong college," said Hug. "And having that degree says something."
For Rosten, who teaches sixth grade at Franklin Middle School in Champaign, it's more than a stamp on a diploma; it's an edge he sees in the classroom. "I notice a difference in responses from my students in those moments at the beginning of the school year when they realize that I have something that they don't have, which is that access to content knowledge," explained Rosten. "There's almost this awe of 'Oh! This is an actual scientist who's going to help me understand this stuff that I don't understand.'" Once they see that, said Rosten, their entire relationship changes.
Prior to Franklin, Rosten taught at nearby Centennial, where he also coached football for six years. It was the enthusiasm he saw in younger students that encouraged him to make the switch. Even in middle school, however, he said it's important to have at least one person on staff with deep science content knowledge. And he has that, thanks to his time studying chemistry at Illinois.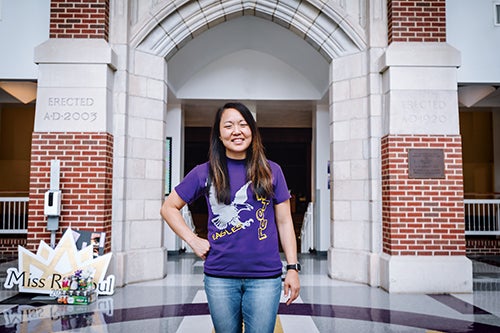 On average the secondary education program at Illinois has around 125 to 150 students who are grouped together by discipline as soon as they enter the program. "They travel with those same students for the next three semesters, which allows them to form really close connections," said Hug.
That's something that program alumna Hannah Yeam really liked about the program. "The only classes that many of us shared were the classes through the secondary ed program," said Yeam (BA, '06, English; BS, '06, communication; MS, '10, educational psychology), who teaches English and multicultural lit at Rantoul Township High School. "All of us were taking different English courses at the time, but I had a really great TA who was able to create bridges between whatever it was we were studying and being able to apply it in the education program."
Essentially, said Yeam, her major gave her the "what," but her minor gave her the "how," taking everything to the next level.
For many, being in a high school class is the next level. And the program wastes no time in providing that experience. "Starting that first spring semester, students are placed in schools in the surrounding area," said Hug. "Right from the get-go, you're not only in the teacher education course sequence, but you're also out in the field doing things."
That could easily be intimidating for some, but chemistry major Suaad Rashid said the program makes it easy for students to acclimate. The first semester, they may spend only a few hours in class each week, maybe leading a lesson or two. The following semester, things are a little more hands-on. And the last finds them at the front of the room, fully testing all the things they've learned. "It's not like you're going from zero to 100," said Rashid. "They ease you into it. I like that a lot."
For history major Kay Tetlak, pedagogy classes are the highlight of the program. "By far the assessments course was my favorite," said Tetlak. "I felt like I was gaining a skill that was relevant for teaching and that I could actually apply to my future class. And on top of that, it was incredibly tactile. I was creating things which I can then save to my drive and use later on."
Of course, there are many schools that provide secondary education training. And no two programs are the same. Over time, Rosten has had the opportunity to meet teachers from some of those
programs, which has given him a chance to compare their relative strengths. "Some would say that the
U of I is way more theoretical and philosophical. And, on a broad-strokes level, I definitely agree with
that," said Rosten. "But I think that's reflective of getting education as a minor as opposed to having it be your major."
Having that major, however, can be a real plus. "There's definitely research that shows that the
deeper content knowledge you have, the more likely you are going to stay in teaching" said Rosten. "And for me personally, I was willing to put in the work to figure out the rest." While that meant that there were a few moments during the first couple of years where he felt like he was building a plane as he flew it, "at least I had the engine," said Rosten.
During those years, his parents might have been happier if he were building a plane, or creating a new chemical compound, or doing just about anything else an engineering degree would have enabled him to achieve. But eventually they realized that his passion was to inspire others to dream, experience, and explore the greater world around them—which, Rosten noted, is a very liberal arts way of looking at the world.
"I think the liberal arts approach is very aligned with the values of the American school system," said Rosten. "School is sort of predicated on this idea that you're supposed to get experiences that your parents can't provide you." Put another way, it means that teachers are really just engineers of a different sort, doing their part to build a better world.
Editor's note: This story originally appeared in the Fall 2023 issue of The Quadrangle.