Making brighter futures with Fulbrights
For some College of LAS graduates, plans are put on hold for a year of international service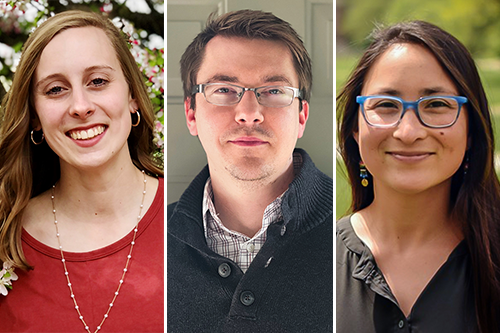 Graduating from U of I with three degrees, Grace Maloney (BS, '21, molecular and cellular biology and chemistry; BA, '21, Spanish) had a lot of options. She decided against going to medical school for a couple of years, packed her bags, and flew to Spain to serve a year as a teaching assistant through the Fulbright U.S. Student Program.
For many students, putting regular plans on hold for a Fulbright scholarship is a worthwhile opportunity, and it's not an uncommon path among College of LAS graduates. Fulbright scholarships are a one-year international educational exchange opportunity for graduates to teach or research in another country. It's a competitive application process, and the University of Illinois perennially is among the top recipients of Fulbright U.S. Student Awards, with many of the recipients coming from the College of LAS. The college produces, on average, about seven Fulbright scholars every year.
David Schug, director of the National and International Scholarships Program, said that U of I has so many scholarship awardees because of the opportunities students have to engage internationally on campus, including "the robust number of international students in classes, the study abroad opportunities, the academic centers of research, the local volunteer opportunities working with populations from other countries, and the various academic departments that encompass nearly every area of the globe."
Grace Maloney, who was awarded a Fulbright scholarship in 2021, is currently living in Vigo, Spain, as a Fulbright teaching assistant at a post-secondary institution that focuses on more hands-on, specific job training. She teaches a variety of courses including environmental science, fashion, industrial chemistry, tourism, and cooking.
Along with teaching, Fulbright scholars also choose an engagement opportunity such as community outreach, volunteering, research, or a creative arts project. Grace chose to volunteer with kids in a homework help/activity program through a local church, where she spends two hours a week teaching short lessons, playing games, telling stories, and more. "They don't hesitate to correct my Spanish pronunciation, but it truly helps me so much. These kids are fearless and confident and will say anything, it's funny," Grace described.
The College of LAS has produced 100 Fulbright scholars since 2005. Some recent recipients include Brian Robinson, a May 2017 Illinois graduate in psychology and creative writing. Robinson was offered a Fulbright English teaching assistantship to teach elementary and middle school students in Taiwan.
In 2019, the College of LAS had nine Fulbright scholars, including Naomi Wasserman, who was pursuing her PhD in geology at Illinois and was awarded a Fulbright grant to conduct doctoral research in New Zealand. Her research focuses on the development of stable isotope systems to trace contaminant mobility in the modern environment and as indicators of the oxygenation of early Earth. She is now a postdoctoral researcher.
In 2020, the College of LAS produced six Fulbright scholars, including Deniz Namik, a May 2020 graduate in integrative biology and Spanish. Namik was awarded an English Teaching Assistant position in Spain, and she said that being a daughter of refugees has driven her to teach and create opportunities for others who seek asylum in countries like Spain and the U.S. She deferred admission to the University of Illinois at Chicago College of Dentistry until after her Fulbright year.
In 2021, the same year that Maloney received her Fulbright scholarship, the College of LAS had three other Fulbright scholars, including Christopher Goodwin, who earned a bachelor's degree in history and economics from the University of Missouri, Columbia and served in the U.S. Air Force while earning a master's in military history from Norwich University. At Illinois, he is pursuing a doctoral degree in history. Goodwin was awarded a Fulbright grant to conduct dissertation research in Germany. His research explores an aspect of Nazi-era ideology regarding soldiers with disabilities acquired during military service. During his Fulbright year, he has conducted archival research in Leipzig, Berlin, and Freiburg and volunteered as a German and English language instructor for recent immigrants and refugees during his year in Germany.
When Grace first decided to go to Spain as a Fulbright scholar, she was deciding between teaching abroad and medical school, but ultimately decided to pursue her Fulbright scholarship and spend the year teaching in Spain. Grace is applying to medical schools now in hopes of attending in fall 2023, with an ultimate goal of becoming a family/general care practitioner.
"Apart from wanting a rest from studying, I wanted to gain Spanish language skills in order to treat future patients and families who may be more comfortable speaking Spanish to their doctors than English," Grace explained.
One of Grace's favorite experiences while teaching abroad has been learning to improve her Spanish speaking skills and return the favor by helping the people she has met with their English. Living in Vigo, Grace has been able to practice both her Spanish skills and Galician, which is Galicia's regional language.
"I would say more than anything, it's refreshing to experience a culture where you're less defined by what you can do or produce, especially right after coming out of college where students feel quite defined by their work, grades, extracurriculars, or achievements," Grace said. "Even being just halfway through, I've learned and have grown more from this experience than anything I've ever done."
As she has gone through her experience, Grace's advice is for everyone to pursue an overseas experience. "I think, if feasible, living abroad is an experience that everyone should have at least once," she said.