English alumna leads communications team for BlueCross BlueShield of Tennessee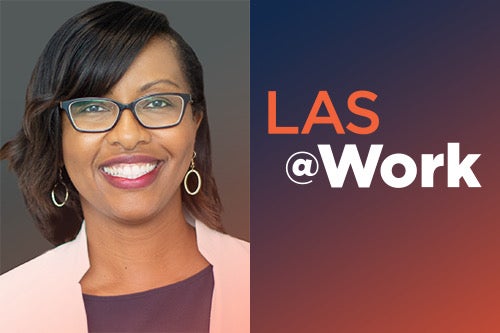 Love for language and family have been the driving forces behind Dalya Qualls White's (BA, '00, English) career moves from human resources to communications.
As senior vice president and chief communications officer for BlueCross BlueShield of Tennessee, Qualls White leans on her roots at Illinois where she discovered words connect people.
Family: husband: Marlo White; bonus son: Chase White
Briefly describe a typical workday at your current position. Also, what is an example of the most interesting aspect of your job? 
There is no typical workday, which is why I love this job. I'm responsible for leading an integrated communications team that includes brand research and strategy, community relations, consumer experience, stakeholder communications – internal and external, and digital experience. In our new hybrid work model, my workday is generally filled with virtual and in person meetings with team members, internal clients or colleagues, or community partners – all with the goal of how to best serve Tennesseans and communicate our brand's value. I love working for a company that's mission driven, forward thinking, and committed to inclusion. 
Describe your career path from college graduation to your current job. 
When I graduated from the University of Illinois, I spent a few months "finding myself" until I landed an opportunity at Hewitt Associates in a suburb of Chicago. It was an outsourcing firm for human resources, and my team provided benefits administration to Bayer Corporation. It was an excellent introduction to the real world, but I decided on a different career path after a year. I moved back home to southern Illinois, got a job in HR at Washington University in St. Louis, and enrolled in a master's degree program at Southern Illinois University Edwardsville. I worked on my master's in mass communications for two years, securing several internships, including one in the athletic department at St. Louis University and another at the St. Louis Sports Commission. At this time, I'd discovered athletic communications and decided I wanted to focus on a career in that field. So, as I was wrapping up my master's degree, I applied for an NCAA Ethnic Minority and Women's Internship. I was awarded the internship in sports information at Keene State College in Keene, N.H., a Division III school. I moved cross-country, not knowing a soul in New England but eager to begin my career. I finished my dissertation remotely during my first semester in New Hampshire and earned my master's of science in December 2003. My internship at Keene lasted for one year, and they later hired me as a full-time employee and assistant sports information director in my second year with the program.
After a three-year stint at Keene State, I was ready for my next opportunity and applied for the sports information director (SID) at Clark University in Worcester, Mass. They hired me as the university's first-ever full-time SID. For three years, I led the communications efforts for the athletic department at Clark before deciding to relocate to be closer to family. My parents had since retired to Brookhaven, Miss., their hometown. My decision to relocate brought me to Nashville, Tenn. Thanks to my aunt, who worked in state government, I interviewed for a public information officer position with the Tennessee Department of Safety and Homeland Security. I was offered the role and worked for the department, serving as the chief spokesperson for the Tennessee Highway Patrol for the next five years. My next career move was to the private sector. As a communications manager, I joined HCA Healthcare, headquartered in Nashville, handling proactive media relations on behalf of the company and its affiliate hospitals across the country. BlueCross BlueShield of Tennessee recruited me for the company's director of corporate communications position. It was another opportunity to advance my career, and I accepted the challenge. I moved from Nashville to Chattanooga for this role, where I served for two years until I was promoted to senior vice president and chief communications officer in June 2021.
In hindsight, what about college best prepared you for your life and career? 
My time in college taught me about perseverance, sticktoitiveness, the value of friendships, and a sense of community. The Illini nation is strong. I have found that network of alumni in every state I've lived in after graduation.
How did your major prepare you for your career? 
As an English major, I deepened my love of language. Words connect people to one another. They help us learn from one another. And in business, they can help us build consensus and work effectively toward the larger goals we share. Good communication is central to our culture at BlueCross and our impact on the people we serve.
Please describe your proudest achievement. 
The most recent is managing the communication efforts for our organization's (BlueCross BlueShield of Tennessee) swift transition to remote work due to COVID-19. I'm also proud of launching a viral Twitter campaign for the Tennessee Highway Patrol regarding the "Move Over" law, which exposed the public safety message to more than 29 million people in seven days back in 2014. 
Editor's note: This LAS@Work profile is part of a series that features College of LAS alumni and their careers. Visit here to read more. Are you an alumnus with an interesting job or career path you'd like to share? Please email us to be considered.