In remembrance of the professor-coach
Steve Douglas served as faculty member and U of I's first women's basketball coach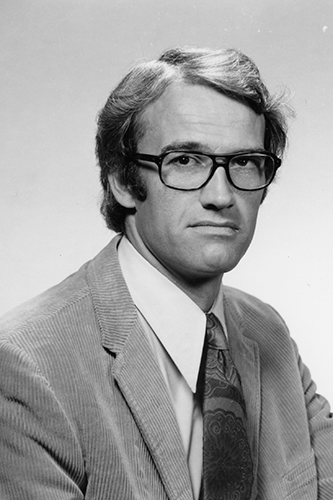 You can't quite say that Stephen (Steve) Douglas did it all, but he came closer than a lot of people. His accomplishments include: NCAA basketball player in the Final Four, coach of the Malaysian national women's basketball team, professor of political science at U of I, and first women's basketball coach at U of I.
Most recently, Douglas served as a valued member of the Department of Political Science for 35 years before retiring in 2000. His studies focused on Malaysian and Indonesian political studies. In addition to teaching, Douglas also led trips of graduate students to Malaysia, where he had once studied as a graduate student.
He passed away surrounded by family on April 22, 2022, at age 83. Daughters Kate and Liz Douglas were with their dad in his home in Marina del Rey California, as was his wife, Vianne Weintraub. Daughter Lauren Douglas joined them from Seattle, via Zoom. Douglas was also a grandfather to Hazel and Riley Brown (Liz's daughter and son), Pele Strauch (Kate's daughter), and Oliver Pieracci (Lauren's son).
Douglas led a long and colorful life. In 1974, he was working as a political science professor at the University of Illinois when women's athletic director Karol Kahrs selected him to serve as the first women's basketball coach for two seasons. He received $1,000 for each season. The team posted a 25-21 record before Douglas turned the coaching reigns over to Carla Thompson.
How did he balance being a political science professor, women's basketball coach, husband, and father to three daughters? Douglas told the Illini Report in 2019, "As I look back on my career, the more interesting question is not how did I balance the various activities but why, especially with regard to basketball, did I persevere?"
Douglas was always avid about sports and basketball. His parents were both teachers, coaches, and athletes. His mother, Mary Alice (Burton) Douglas was Douglas's biggest fan and a successful athlete herself. She was a tennis champion in both singles and doubles, a softball player, and she collaborated with Steve Douglas to create a basketball team at his elementary school.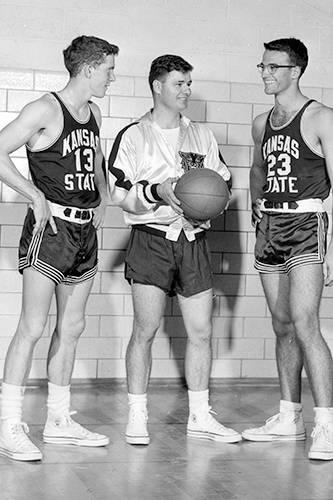 Douglas excelled at basketball, football, and track and field, but basketball resonated most deeply with him, as he played basketball throughout his childhood and in high school in Manhattan, Kansas. He received scholarship offers from several Ivy League schools but chose to study and play basketball at Kansas State University, where his father was a professor of political science.
Playing under Kansas State coach Tex Winter, Douglas helped the Wildcats to three straight Big Eight Conference regular season titles and a Final Four appearance in 1958. A Kansas State highlight video from the era described Douglas, who would eventually serve as team captain, as a "smooth-working 6 ft. 4 guard and forward."
After graduation, Douglas had an opportunity to play basketball professionally but opted to pursue his goal of becoming a professor. He attended graduate school at University of Illinois and then moved to Indonesia in the 1960s to study the political systems of the South Pacific. During this time, he coached the Malaysian national women's basketball team, an unexpected opportunity that ended up being his ticket to stay overseas.
Douglas landed the job through a "bizarre" set of circumstances, he later said. He wrote about becoming the coach in Malaysia in an unpublished autobiography.
"It just might be fun, a good learning experience in many respects, not just about basketball," he wrote, describing his thought process as he weighed the opportunity. "But would it get me the visa I needed? Mr. Lum (the Secretary General of the Malaysian Amateur Basketball Association) was incredulous that I would ask such a question; a couple days later he brought me my visa, an unconditional permit to stay. I accepted."
That job was only temporary but had longer implications. Douglas published his dissertation, "Political Socialization in Indonesia," and earned his PhD at U of I, where he eventually became a tenured professor of political science. He hadn't been working long on campus when the U of I women's basketball team was created; Douglas emerged as a candidate because of his successful collegiate playing days and his coaching experience in Malaysia.
Reached by the College of LAS, Douglas's daughter Liz described him as steady, practical, and calm. "When he spoke, it always felt very thoughtful, very measured. He was incredibly kind and generous of spirit," she said.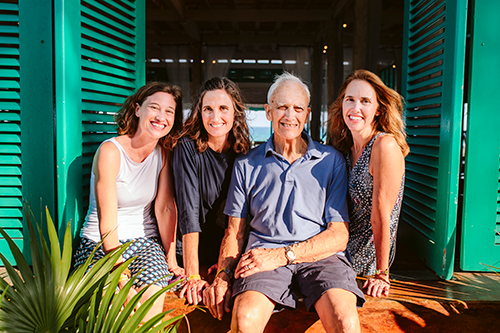 She added: "He didn't do a lot of things that he didn't love. And he loved being a professor, he loved being a father, he loved coaching, and he really put everything into it."
As recounted by Liz, Douglas at first had reservations about taking the coaching position at U of I. He felt strongly that it should be given to a woman. Due to a lack of candidates, however, he agreed to lead the team until they found a long-term coach.
"Perhaps you can see coaching women seemed perfectly appropriate to me," Steve Douglas told Illini Report in 2019. "I never expected to have the opportunity to do it, and I wouldn't have if not for a bizarre set of circumstances that found me coaching the Malaysian national women's team—the experience that qualified me subsequently to coach the newly created women's team at Illinois."
It turned out to be a good choice. Liz remembers her father's time as a coach very fondly. She spent a lot of time attending practices and games with her sisters Kate and Lauren and playing with her electric train with the players during team dinners at the house.
After his retirement from U of I, Douglas spent many summers at his lake cabin in Minnesota, where he enjoyed fishing, reading, and writing. He'd spent summers there since he was in his 20s, as it was built in the 1950s by his eventual father-in-law, Dave Umberger. In 1961 Douglas married Sara Umberger Douglas, who also later served as a professor at U of I, in the College of Agricultural, Consumer & Environmental Sciences (ACES) until her death in 2003 at age 64.  
Later in life, Douglas left Minnesota to move to Los Angeles with his wife Vianne. In November 2019, Douglas was invited back for a reunion with University of Illinois' first women's basketball team. The former players on the team admire Douglas greatly, Liz said.
"They just love him," she said. "They admire him and consider him a tremendous mentor to them. Not only in basketball, but in school and in life. They're very grateful to him for taking [the coaching position] on."
Editor's note: There will be a memorial service celebrating the life of Steve Douglas at 10 a.m. on Saturday, July 9, at the Unitarian Universalist Church of Urbana-Champaign.