Alumnus values relationships built along the way
Russell Wigginton serves as president of National Civil Rights Museum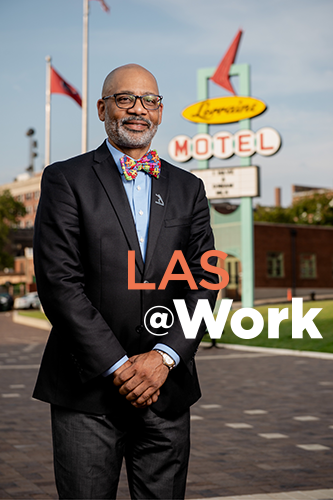 From academia to public service, Russell Wigginton (PhD; '01; history) has led a career driven by a passion to assist others and build relationships – traits he's carried since he was a student at Illinois.
"I am grateful for the support and guidance I received as a graduate student at UIUC and value the relationships I built along the way," he said.
For nearly one year, Wigginton has served as president of the National Civil Rights Museum in Memphis, Tenn., where every day he is responsible for making impactful interactions with constituents.
Family: wife, Tomeka Hart Wigginton; son, Ryan Wigginton
Describe a typical workday at your current position. Also, what is an example of the most interesting aspect of your job?
I meet with a wide array of constituents (museum visitors, board of trustees, donors, etc.) and take part in event preparation and partnership engagement. The most interesting part of what I do is speaking with national thought leaders and organizations about civil and human rights initiatives.
In hindsight, what about college best prepared you for your life and career?
Perseverance and focus as a graduate student prepared me to be versatile and think holistically about organizations.
How did your major prepare you for your career?
My studies helped me practice the ability to digest large amounts of information at once and synthesize it into meaningful information in which to analyze for decision-making.
What do you like best about your work?
I appreciate the ability to influence national consciousness about civil and human rights and social justice issues and honor the legacy of Dr. Martin Luther King Jr.
Please describe your proudest achievement.
Assisting individuals in finding their professional passions and developing their skills to reach their full potential.
Editor's note: This LAS@Work profile is part of a series that features College of LAS alumni and their careers. Visit here to read more. Are you an alumnus with an interesting job or career path you'd like to share? Please email us to be considered.