Gender and women's studies supports unique postdoctoral role
Transgender studies fellowship is first of its kind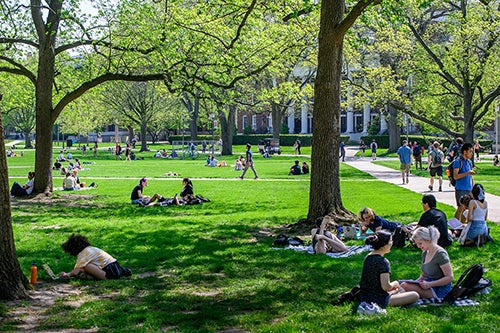 Sawyer Kemp has completed their role as the inaugural Chancellor's Postdoctoral Research Fellow in Transgender Studies, the first fellowship of its kind in the country.
This standing position was created in 2020 with support from the chancellor's office as a response to the growing demand for transgender studies at Illinois with a focus on research, teaching, and public engagement. The fellowship enables the Department of Gender & Women's Studies to provide support for emerging scholars while allowing students and the greater campus community to benefit from each postdoctoral fellow's research expertise and course offerings.
Mimi Thi Nguyen, chair of the Department of Gender & Women's Studies, was a co-author of the proposal for the position. She said students from her unit and beyond have a need to view transgender studies through a lens that provides perspective and space to consider the stakes of modern happenings.
"It feels particularly urgent to support this kind of work right now," Nguyen said. "I saw this as an opportunity for our department and campus to really be a leader in centering this set of ethical, political, and methodological questions that trans studies brings to the forefront. I think there is real demand for this kind of work and this kind of education at Illinois."
With this postdoctoral role, the department hopes to demonstrate the relevance of transgender studies across an array of fields and research inquires, Nguyen said.
"The mission of the department is to always ask relevant questions that help us to make sense of why the world looks the way that it does, and how it could look," Nguyen said. "It doesn't have to be this way. How do we make sense of what is around us now and how do we look forward to what is possible if we imagine otherwise? Transgender studies is a huge part of that project, and that's central to the work that we do in our department."
While researching for the proposal, Nguyen found that this opportunity is the only permanent position of its kind in the country. Though there are other academic institutions that offer a limited postdoctoral position, the position at UIUC is perpetual, which is a first to the best of Nguyen's knowledge.
"We could not have asked for a better inaugural postdoc fellow," Nguyen said of Kemp, adding that the role included research and teaching opportunities. "People want classes in trans studies, they want to learn more about the relevance of trans studies in their fields, and they are very hungry for it."
Kemp's research is rooted in a strong foundation of theater. Their parents owned a backdrop company, and their uncle operated a costume company. Kemp worked sewing backdrops and beads on costumes and eventually became involved on stage as an actor then director among other behind-the-scenes roles.
"I think what I like about working in theater is that with something like Shakespeare or early-modern plays, what you are experiencing is historical material being confronted by a contemporary audience," Kemp explained. "You have this moment of time traveling when the audience is experiencing something from another place and time. The practitioners have the puzzle of how to make that something the audience wants to see, to explain the themes, and make people care about the material and themes that are relevant now."
Kemp's work in theater and literary history allowed Illinois students and others to consider the long histories of gender and how that can be used as part of today's rhetoric. In their first year in the role, Kemp taught a seminar that filled with a waitlist within days of registration.
"After being in this role, I feel more strongly that every discipline could benefit from a trans studies scholar," Kemp said. "I've learned that there are a lot of fields and a lot of disciplines that students want trans studies, and they want to do it right. They want to help as many people as they can. I was impressed with how many students enrolled to be an ally and to do right by their peers."
After two academic years at Illinois, Kemp said the Department of Gender and Women's Studies helped them to professionalize in the classroom and within their research.
"I appreciate the professional work the department put in and the community support that was always part of this position," Kemp said. "Illinois itself allowed me access to their amazing library, and my colleagues here were fantastic as group mentors. One of the things I knew that the fellowship was imagined for was to speak to the breadth of trans studies, the idea that we should be looking at scholars and early career scholars in a number of different of fields."
Kemp's next role will be as an assistant professor of early modern literature at Queens College of CUNY in New York. As the department bids farewell to Kemp, the faculty members and staff will welcome the next postdoctoral fellow – Ava Kim, an English PhD from the University of Pennsylvania.