The lessons of opportunity
Tailon Leitzsey chases dreams - and not just his own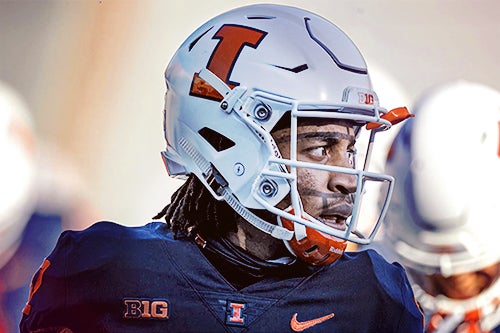 Having 250 kids in one place is a challenge. Having them all play football is an even greater challenge. Yet, if you drove past Zahnd Park in Champaign this past July, you would have seen Tailon Leitzsey leading a small army through a series of drills, lessons, and dashes.
The communication and management major started the day-long, Orange and Blue football camp last year. It's free of charge to kids ages 6-13 in the Champaign-Urbana community, and it's been a success. Participation grew by 75 kids this year.
Leitzsey, a defensive back who joined the Fighting Illini as a walk-on and later earned a scholarship, has learned not to take opportunities for granted. He created the camp to give kids an opportunity to play a game they love around people who could be positive influences.
"Seeing a rise in gun violence in the community and in the youth was something that kind of broken my heart, so I wanted to do something to try to help out," Leitzsey said.
It's the kind of work he's familiar with. He remembers growing up with his family making boxed meals for kids who were in need. Later he volunteered as a camp counselor, and now, with his stature as a U of I football player, he goes to local schools to speak with kids.
"Being someone there for the youth and being someone they can talk to and learn from—to  learn from my mistakes and the positive things I do--that's something I've always tried to do for the next generation," Leitzsey said.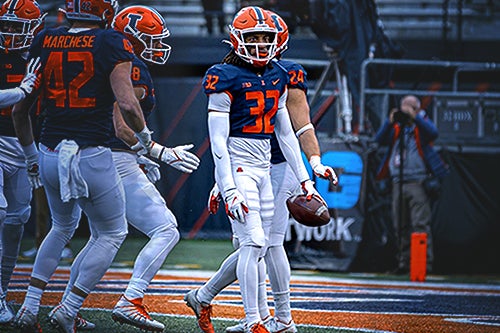 After deciding to run the camp, Leitzsey campaigned hard to publicize it. He printed hundreds of flyers at Staples and hand-delivered them to local businesses and apartment buildings. He visited youth groups in the community such as the Boys and Girls club, the Atlantic Center, and DREAAM, a local youth group. He gathered a host of sponsors, including Dick's Sporting Goods, Walmart, Target, Meijer, Fischer National Bank, Northwestern Mutual, and individual donors. See a news report about Leitzsey's camp.
Then, with the help of about 30 of his teammates and a few volunteers, he brought Division I football to a lot of kids. He knows that's not an easy thing to achieve.
Leitzsey started playing football when he was 3 years old but he stopped after the eighth grade to pursue basketball. "My goal was actually to be in the NBA, but I kept getting hurt, I couldn't finish a high school season," he said.
In his senior year at Riverside High School in Greer, South Carolina, he played on his high school football team because his coaches believed the six-foot Leitzsey could play college football. However, with only a handful of games of film, it was hard for Leitzsey to catch the eye of college recruiters. He went to play for Missouri Baptist University, which offered him a scholarship.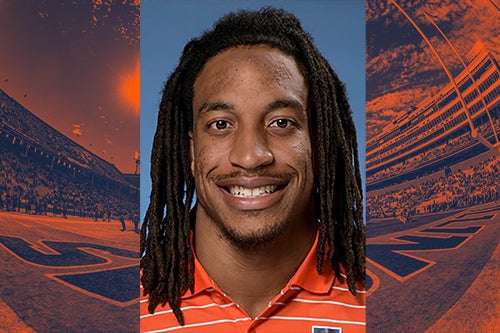 After his freshman year, Leitzsey decided to come play for the University of Illinois. The problem? While he was admitted to study at U of I, he didn't have a spot on the football team. The move was filled with uncertainty.
"Coming here I asked them just for an opportunity to be on the team. That was a long process," Leitzsey said later in an interview with Illinois Athletics. "I was actually sleeping in my car in the parking lot across the street from the facility. It's been a long journey going from that and then working three hard years."
Leitzsey joined the team as a walk-on in September of 2018, but he was red-shirted and didn't play. He suited up in 2019 but didn't play a game. In 2020, he played one game. In 2021, however, prior to the start of the season, Leitzsey, father of a 3 year old daughter, was awarded a scholarship by coach Bret Bielema. He went on to be recognized as one of U of I's most valuable special teams players, being named Special Teams Player of the Week in a Nov. 6, 2021, win against Minnesota.
Now, with Leitzsey having already finished his degree in kinesiology in 2020 and working on degrees in communication and management, he's looking forward to his last season playing for the Illini. His vision goes past the end of the season, however, as he's started his own non-profit foundation, the Leitzsey Family Foundation, to keep the Orange and Blue camp going.
"All these kids are in a position right now where they're trying to figure out what they're going to do in life," Leitzsey said. "They have dreams and goals, and we all were there at one point. All of us on the football team have had a dream of playing at this level."
He added: "The underlying message for the kids is to show them that if they're willing to put the work in for whatever they're trying to obtain, they can. We're tangible role models for them to see that be made possible, that whatever they want to do they can do."