Faculty members take new leadership posts in College of LAS
Executive officers in place for Fall '22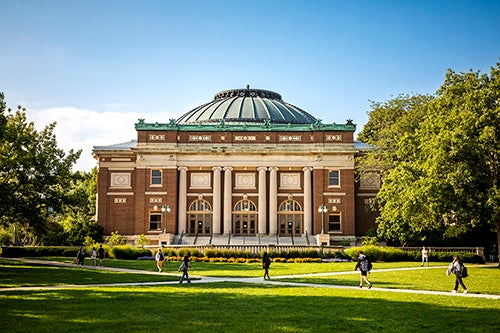 Fifteen faculty members have accepted new leadership positions in departments and other academic units within the College of LAS for the 2022-23 academic year.
The College of LAS has almost 70 departments, programs, schools, centers, and other academic units. Each unit is led by an executive officer.
"Our new executive officers are accomplished leaders in their fields," said Venetria K. Patton, Harry E. Preble Dean of the College of LAS Designate. "I'm confident that they will do an outstanding job of fostering teaching and research within their units while also working with others across the College of LAS to fulfill and advance our academic mission."
In addition, four faculty members have taken new leadership positions as associate deans or interim associate deans for the College of LAS.
Patton thanked the outgoing executive officers and associate deans for their contributions.
"These officers deserve our gratitude and appreciation for their leadership as we moved forward during this very challenging time," Patton said.
The new executive officers include:
Antony Augoustakis, interim director, School of Literatures, Cultures & Linguistics
Eugene Avrutin, interim director, Program in Jewish Culture & Society
Diane Beck, interim head, Department of Psychology
Rakesh Bhatt, acting head, Department of Linguistics
Merle Bowen, interim head, Department of African American Studies
David Cooper, head, Department of Slavic Languages & Literatures
Jeff Douglas, acting head, Department of Statistics
Becky Fuller, head, Department of Evolution, Ecology & Behavior
Robin Kar, interim head, Department of Philosophy
Paul Kenis, director, School of Chemical Sciences (effective mid-November)
Reuben May, head, Department of Sociology
Ellen Moodie, director, LAS Global Studies
Harriett Murav, director, Program in Comparative & World Literature
Gilberto Rosas, interim chair, Department of Latina/Latino Studies
DeDe Ruggles, director, Unit for Criticism & Interpretive Theory
The new associate deans and interim associate deans include:
Wendy Heller, executive associate dean and associate dean for social and behavioral sciences
Curtis Perry, interim associate dean for humanities and interdisciplinary programs
Deanna Wisthuff, associate dean for advancement
Isabel Molina-Guzmán, interim associate dean for student academic affairs