U of I welcomes second largest incoming class
Of 7,957 first-year students, more than 2,600 enrolled in LAS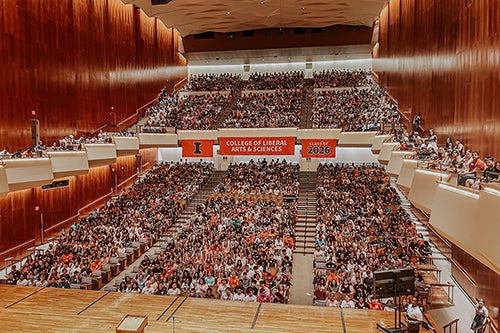 The University of Illinois Urbana-Champaign's incoming class of 7,957 first-year students brings greater representation by gender, nationality and students who are the first in their family to go to college, while a change in the application process resulted in greater academic competition.
Second in size only to last year's record freshman class of 8,303, the new class brings the university's total student enrollment to 56,644 – a record-sized total and undergraduate student body. 
Of the total freshman class, 2,627 first-year students were enrolled in the College of LAS.
"We're proud of the world-class educational experience students receive at our university, and we remain committed to extending that experience to each new class," Chancellor Robert Jones said. "With that in mind, we calibrated our admissions plan in 2022 to produce an enrollment level suitable for sustaining that educational excellence."
The incoming class is more gender-balanced, with the percent identifying as female increasing from 46 percent to 49 percent. In-state enrollments increased from 70 percent of the freshman class to 71 percent, with 89 of the state's 102 counties represented. 
And the number of countries represented increased from 42 to 52, including an unanticipated increase in students enrolling from China and Taiwan, India, Singapore and Malaysia.
"Illinois is a prime college destination across the globe. Our enrollment numbers are a testament to that reputation," said William Bernhard, the interim vice chancellor for academic affairs and provost designate.
With the transition of the state's public universities to the Common Application – which is accepted at more than 900 higher education institutions – Illinois received 63,257 first-year applications, a 33 percent increase compared with last year. As a result, 45 percent of applicants were admitted this year, compared with 60 percent the previous year. The average core academic GPA increased from 3.67 to 3.78. The average SAT increased from 1410 to 1416, with the university's test-optional policy resulting in 55 percent of students submitting test scores.
"Admission was much more competitive and we are thrilled by the size and quality of this year's class," said Andy Borst, the director of undergraduate admissions. "We looked for students from all walks of life who would most benefit from attending our university, and who also demonstrated excellence in their applications."
The representation of students who qualified for a financial hardship fee waiver increased from 15 percent to 18 percent, and the representation of first-generation students increased from 20 percent to 23 percent of new first-year students.
Incoming first-year students from historically marginalized populations remained steady at 20 percent. The number of Black students in the new class was 448 in 2021 and 444 in 2022, while Hispanic/Latino students was 1,102 in 2021 and 1,066 in 2022.
Graduate enrollment overall remains steady at 20,409 compared with 20,567 last year and 1,293 professional students in law, veterinary medicine and medicine, compared with 1,123 a year ago.
New graduate enrollment is down slightly at 6,206 from last year's 6,321. However, new online enrollment is up 2.5 percent, with online programs now making up 42.6 percent of total graduate student enrollment.
This year, the Graduate College welcomes the first cohort of 80 students pursuing graduate certificates. These shorter programs are designed to teach targeted skillsets that enable working professionals or others to advance their knowledge without the longer time commitment of a traditional degree.
"As a world-renowned leader in graduate education, Illinois offers a wide range of advanced degree options and opportunities to meet the needs of learners at all stages of their educational and career goals. Our online degrees, certificates and non-degree courses extend the benefits of an Illinois education to thousands of individuals across our state, the nation and beyond," said Wojtek Chodzko-Zajko, the dean of the Graduate College.
The number of new transfer students increased from 1,266 to 1,288. In the College of LAS, there are 459 registered new transfer students.
The biggest increases were in the colleges of Applied Health Sciences, Education, Media, Fine & Applied Arts and the School of Social Work. Within that transfer group, the share of students from historically marginalized groups increased from 21 percent to 23 percent, and the number of Black transfer students increased from 63 to 91.
Also noteworthy – students transferring back to the state of Illinois from out-of-state four-year universities increased 34 percent from 193 to 259.
News Source
Steve Witmer, Illinois News Bureau, and College of LAS