Improving the transition from across borders to the University of Illinois
LAS International Student Advisory Board works with college leadership to address important issues for those far from home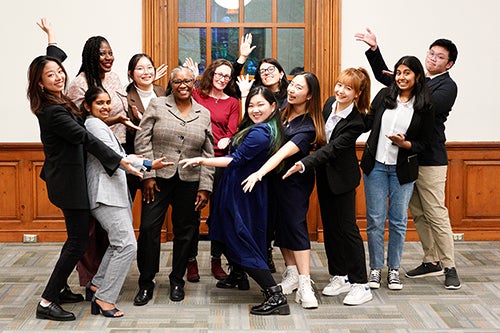 When you come to a new country to attend college, sometimes the problems you face can be the most basic kind—such as housing. Yuyan Liu, a psychology major, recalled how her friends encountered a problem that many international students have dealt with when they come to school partway around the world: If there's a period of time between the end of one's housing lease and the start of another, where do you go if your family isn't even in the same country?
It was a challenging time for Liu's friends when they had this issue. "Unfortunately, they were eventually forced to vacate their housing, and were left with no place to store their belongings," she said.
Those and similar experiences inspired Liu and another LAS student, Eunjoo Kim, to join the efforts of Nikia Brown, associate director of intercultural and global learning—international student experience, as student co-chairs on the newly formed LAS International Student Advisory Board (ISAB). 
The board was formed in fall 2022 to enhance and improve the experiences of international students, according to Brown. As of fall 2022, there were 1,953 international undergraduate students and 1,273 international graduate students enrolled in the College of LAS.
"Board members enrich the undergraduate student community, build leadership skills, and strengthen LAS services and programs," she said.
Kim, student co-chair of ISAB, said, "We have been working on the well-being and representation of international students throughout the College of LAS and hopefully the University of Illinois in general."
Goals of the board include creating a more inclusive campus environment, collecting and organizing information related to international students and their university experiences, providing forums for discussion of a wide range of issues concerning international students, serving as liaisons between LAS administration and international students, and enhancing interactions between international and domestic students.
Though the group is small with only 10 members, "ISAB serves as a consultative body and ongoing focus group that addresses issues pertaining to international student life in and outside the classroom," Brown said. They have shared information and input with LAS administration, including during dinners with college leadership in December 2022 and May 2023.
For example, ISAB is working on a proposal that suggests measures to be taken by the university to assist international students who face a gap in their leases. ISAB is also developing an international student handbook to better prepare international students for their UIUC experience and to aid international students during their transitions to new academic and social environments.
"Topics in the book include academic support, campus resources, transportation, health, housing, and cultural awareness," Brown said.
While the board focuses on helping the international student community, it also provides varied perspectives that work to enhance the professional, academic, and social experience of all students, faculty, and staff within the College of LAS.
Liu put it this way: "ISAB, serving as the bridge between the college administration and international student body, can effectively convey these common struggles and concerns students face to the administrations and provide the further information, clarification, and recommendations they need to improve on those aspects of life where students have difficulty."
ISAB's role, she said, is to collect the concerns of international students and then work to prompt change. Since the launch of the group, ISAB has been working to establish a strong foundation for governance as well as their ongoing efforts.
"Students have developed a constitution for the board, convened representatives from several culturally oriented RSOs to learn how they can support their students and organizations, organized dinner meetings with (College of LAS Harry E. Preble Dean Venetria K. Patton) to discuss their upcoming plans and challenges facing international students such as break housing (lack of housing access and high cost), and a lack of sense of belonging," Brown said.
Representatives from ISAB also participated in an international student carnival with the Chinese Students & Scholars Association (CSSA), Brown said, to further deepen connections among the many different people and cultures represented on campus.