Psychology Building undergoes a symbolic renovation to a popular public space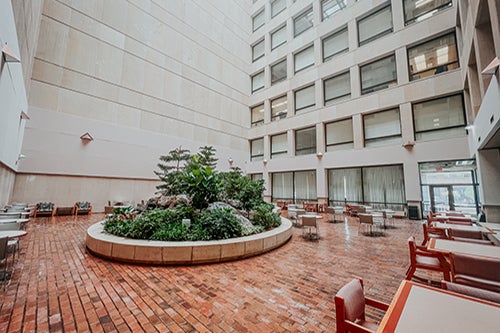 Pristine spaces with nice views and room to meet and study are a hot commodity on campus. From the fourth floor of Grainger Library you can see the swooping sidewalks that cut through the Bardeen Quad, and, with its walls of glass windows, the newly constructed Campus Instructional Facility has become a popular destination.
But where better to get in the right frame of mind than the Psychology Building? Situated just a block southwest of the bookstore, the structure that houses the Department of Psychology features a 94 foot-tall atrium with a sky light that's accommodated countless hours of studying, discussion, meetings, and celebrations since it was built in 1969. Now it's received a makeover.
The new look wasn't exactly in the long-term plans. This year the entire plantscape at the center of the atrium, however, had to be replaced because of a leak in the fountain at the center. Once they went ahead with the project, however, which included new flooring and a completely new set of plant life, the department saw the atrium space in a new light.
"If it was not for that leak, we might have just had the slightly overgrown retention plantings that we already had in there," said psychology professor Nicole Allen, who was serving as department head during the summer renovation.  "It created a potentially serious problem from a infrastructure standpoint and the only way to fix it was to uproot every plant and have a do over."
The planter at the center of the atrium, built in 1970, had undergone few changes during the past 52 years. Plants died and were replaced while others grew taller than intended. The fountain stopped operating, and the waterfall had to be shut off because it echoed through the cavernous locale too loudly during tests. The only pieces that remain from the original plantscape, in fact, are the large boulders which were put in to add depth and dimension to the planter. The planter sits on flat ground with a barrier 17 inches high told hold the soil.
"Because this was an afterthought, they (originally) chose not to rip up the terracotta tile floor. Instead they just built a wall on top," said Brian Austin, vice president of sales at NPK Associates, a firm brought in to redesign and construct a new plantscape in the atrium.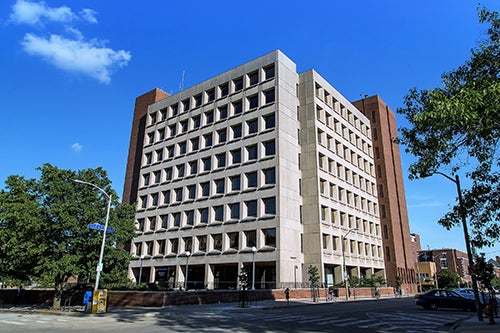 This past summer NPK emptied out the space and put it back together. The company used boulders from the original plantscape to fill out the new one, but the appearance is largely new. In total, NPK used 364 new plants to fill the 45-foot long planter. It's all added up to a revitalizing environment that some see as a much-needed new chapter after the past couple of years.
"Our new plantscape served as a particularly fitting backdrop for our welcome reception this fall. We are getting back to a new normal after the pandemic and we have a brand new vista in our atrium to mark that re-opening," said Diane Beck, interim head of the Department of Psychology. "We are looking forward to enjoying this space for years to come."
Of the more than 15 plant varieties included in the new planter, eight Norfolk Island pines are the tallest. The Norfolk Island Pine can grow to stand over 100 feet tall, though indoors they are limited to six to eight feet. The pines share the space with several other smaller trees, such as the fiddle-leaf fig and the Amstel King, two fig trees' native to western Africa and southeast Asia respectively. Joining them are several arboricola trees and arboricola bushes, native to tropical Australia, Taiwan, and China.
While the original plantscape was put together with a tropical theme, the new plants intentionally reflect a larger sweep of vegetation.
"Really what you're looking at is a whole new design and new species," Austin said. "Frankly the interior landscaping industry has nurtured a lot more varieties to choose from than they had back to 1970. In 1970 the interior landscaping industry was very new, so there are more growers in more places now."
The new planter is filled out with several other species of bushes and grass including wart fern, liriope grass, and Pothos N'Joy. The new plants bear a brighter green appearance than before, which has drawn positive attention to this popular space. 
"There isn't another space like it on campus," said Renuka Benjamin, a junior majoring in geology, who was studying there one recent day. "It's one of my favorite places to study, even though I don't have classes there."
Indeed, the positive effect of nature on learning is well-documented in studies have been conducted right here at the University of Illinois. Ming Kuo, a professor in the Department of Natural Resources & Environmental Sciences, has found that vegetated settings tend to provide calmer, quieter and more cooperative contexts for learning. Plus, contact with nature can boost self-discipline and have a rejuvenating effect on attention.
Abby Stevens, a junior in evolution, ecology, and behavior, would agree. Stevens finds solace in the plants in the Psychology Building.
"When I study there, I feel like I'm hidden, even when other people are around," Stevens said, "The plants make a wall that's not really a wall, it gives the feeling of privacy."