Carla Cáceres named G. William Arends Professor in Integrative Biology
Longtime professor and director honored for research, teaching, and mentoring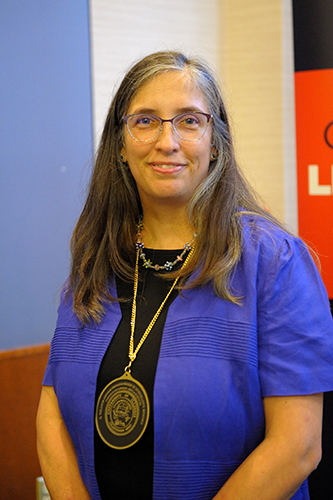 When Carla Eva Cáceres was a sophomore studying biology at the University of Michigan, she heard of an internship that would put her on a boat in Lake Michigan doing research. She hesitated. 
Cáceres trusted the boat, but not her ability to swim. If not for her mother's encouragement she wouldn't have applied. But she did, and thus started a research career that so far has lasted more than three decades. The Illinois native graduated from the University of Michigan with high honors in 1991 and eventually returned to her home state—this time as a faculty member at the University of Illinois, in 1997. Now she has received one of the university's highest forms of recognition.
Cáceres has been named the G. William Arends Professor in Integrative Biology. Her family, friends, and colleagues recently gathered at the Alice Campbell Alumni Center in Urbana to celebrate the achievement.
Much has changed since her first internship on the lake, but Cáceres, who now serves as director of the School of Integrative Biology, still looks for ways to improve the student learning experience—only now it's for people other than herself. During her investiture ceremony, she remembered a colleague at another institution questioning whether her teaching and service were taking up too much of her time.
"I think he meant it as a way of (advising colleagues in academia) to avoid being overburdened by teaching and service, but to focus on work that would be recognized and rewarded," Cáceres said. "(But) I teach and mentor undergrads because I am inspired by their passion and the gratitude I receive from those families every year at commencement."
Cáceres, whose professor appointment is within the Department of Evolution, Ecology, and Behavior, added that the responsibilities of teaching and service at a university often go underappreciated, but instead of running from that work to focus on research, Cáceres said, she has embraced it. Her appointment as G. William Arends Professor in Integrative Biology was a signal that the university has recognized that effort.
"This is a way to give Carla the resources to invest in projects and people without having to ask," Matthew Ando, associate dean for life and physical sciences in the College of LAS, said at the ceremony. "Carla always talks about the great people she works with. This is a way for us to make it all about her and say, 'Thank you.'"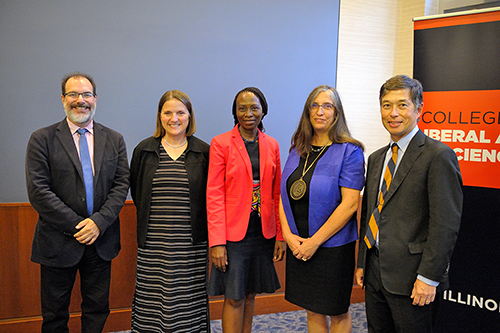 The professorship is named for G. William and Clair Mae Arends, a doctor and nurse, respectively, who were strong supporters of the University of Illinois, with their gifts supporting research in many fields, from genome mining to forests, land management, honey bees, obstetrics, and the dynamics between plants and insects.
G. William graduated from the University of Illinois at Chicago in 1937 with a bachelor's degree in medicine. In 1939, he received a Certificate of Medicine followed by a doctorate in medicine in 1940. He served in the U.S. Air Force during World War II, and after the war he served as a family practice physician in Taylorville, Illinois, from 1949 to 1979. In 1979 he became a medical consultant for the Illinois Department of Public Aid in Springfield. That same year he also served on the Illinois Humanities Council.
Clair Mae Simpson, of Taylorville, Illinois, was a nurse for 18 years. She married G. William in 1939, and they were married for almost 60 years before his death in 1997.  The Arends contributed generously to WILL, Krannert Center for the Performing Arts, the College of Medicine at the Chicago campus, and the School of Life Sciences at the U of I, followed by its successors—the School of Integrative Biology and the School of Molecular & Cellular Biology. In 1995, the Arends were elected to membership in the University of Illinois Foundation.
Cáceres thanked many people who helped her along the way: her two sons, her husband, her mother, mother-in-law, and her father, who came to the United States from Panama when he was 15 years old. All of them, she said, had sacrificed something for her success.
"This named professorship will allow me to continue my research and invest in undergraduate and graduate students as we educate our future workforce," Cáceres said. "Thank you to all of you for not only letting me be who I am, but for also recognizing me with this tremendous honor."