Professors named Conrad Humanities Scholars
Four from the College of LAS receive honor for mid-career scholars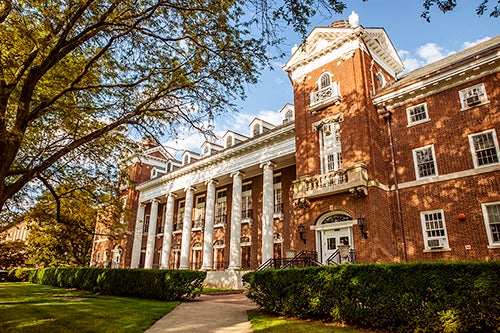 Four professors from the College of Liberal Arts & Sciences have been named 2022 Conrad Humanities Scholars. Lucinda Cole, professor of English; Jenny Davis, professor of American Indian studies and anthropology; Mauro Nobili, professor of history; and Xun Yan, professor of linguistics, have each been honored with the five-year appointment.
The Conrad Humanities Scholars Award recognizes promising mid-career scholars and provides financial support for continued achievement, research, and scholarship in humanities. The designation is for five years.
Descriptions of the recipients' projects in their own words follow:  
Lucinda Cole, English
I will use my time as a Conrad Humanities Scholar to complete my next book, "The Fifth Plague: Animals, Contagion, and the Medical Posthumanities, 1580-1930." Drawing on the scientific advocacy work of the One Health Movement, this monograph focuses on real and imagined cross-species (or zoonotic) pandemics, especially cattle plagues. By integrating human medicine, veterinary medicine, and environmental science, One Health promotes the idea that human health, animal health, and ecosystem health are inextricably linked. Such entanglements are figured in the Exodus story that gives rise to my title—the fifth plague is the "plague of beasts." In this respect, "The Fifth Plague" uncovers a marginalized history of animal disease that, before antibiotics and most vaccines, drove fears about threats to human health and prosperity and, I argue, helped shape what it meant to be "human."
Jenny Davis, American Indian studies and anthropology
My project, Deer Woman Killed De Soto, is a speculative feminist retelling of Hernando De Soto's final days in 1542 that puts the mythology of De Soto in conversation with the narratives and archives of the Indigenous communities and lands he "discovered." This project prioritizes discounted and as-of-yet- excluded archives, texts, and sources of knowing the past (and present), including Indigenous stories and archives, the land itself, and an anti-imperial reading of the Spanish colonial archive. Research for this project includes retracing De Soto's proposed path through the Southeastern U.S. to multiple proposed sites of death along the Mississippi; exploring sources within tribal archives and libraries of Native Nations who De Soto encountered; and trips to to El Archivo General de Indias and El Archivo Nacional de Cuba.
Mauro Nobili, history
I am aiming at completing a book project that I started with the support of a National Endowment for the Humanities (NEH) grant, which is an edition and translation into English of two very important West African chronicles from the 17th and the 19th centuries, called the Tārīkh Ibn al-Mukhtār and the Tārīkh al-fattāsh - chronicles that figure prominently in my latest book, "Sultan, Caliph, and the Renewer of the Faith" (Cambridge University Press 2020). I am also working on a new book project is tentatively titled "Timbuktu, the Queen of England, and the French Invasion of the Sahara." This book is a microhistory of an imperial encounter that took place in the Niger Bend in the 1850s. In this book, I will reconstruct the efforts of a West African notable (Aḥmad al-Bakkāy of Timbuktu) who attempted to enlist the support of an unlikely European ally (the German traveler Heinrich Barth) to consolidate his own economic power and political regional authority in the Niger Bend while also attempting to defend this region from French militaristic expansion.
I am also going to continue my work on West African Arabic manuscripts, in particular the project Maktaba (in collaboration with Northwestern University), also sponsored by NEH, which aims at making accessible Arabic manuscripts from our university library and from the Herskovits Library at Northwestern University by providing English translation and contextual pieces for mainly an undergraduate audience; and a full database of more than 40,000 items from the Malian archive of Arabic manuscripts called Institut des hautes études et de recherches islamiques Ahmed-Baba de Tombouctou, sponsored by the U.S. Ambassadors Fund for Cultural Preservation (in collaboration with the University of California - Berkeley).
Xun Yan, linguistics
In the next few years, I plan to build a corpus of speech produced by second language speakers of English and Chinese to examine speech fluency and disfluency on a variety of speaking tasks. Although the corpus will require a significant amount of annotation work, I envision a series of research projects as an outcome of this project, which can provide implications for both the cognitive processes of speech production and best practices in speaking assessment. At the end of these projects, I plan to work on a book project which focuses on delineating the construct of speaking ability for language teaching, learning, and assessment.
In addition, I will continue to work on quality enhancement for the English Placement Test (EPT) at Illinois, which is a campus-wide test designed to assess the academic English writing and speaking abilities for international students who do not speak English as a first language. My goal is to develop more writing and speaking tasks that capture relevant English communication skills in the digital era and improve the testing system to allow for more efficient communication between test developers, test takers, and other stakeholders. Ultimately, I hope that the EPT will not only accurately assess language skills but also provide instructional moments for international students.