Christopher Freeburg named John A. and Grace W. Nicholson Professor in the College of Liberal Arts & Sciences
English professor honored for teaching, collaborative style, and deepening understanding of African American life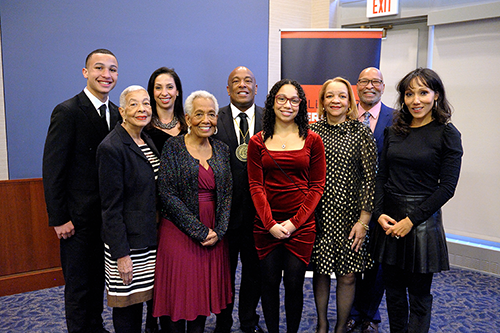 Christopher Freeburg, a professor in the Department of English whose studies have deepened understanding of African American life, was named the John A. and Grace W. Nicholson Professor in the College of Liberal Arts & Sciences during a recent ceremony on campus.
Freeburg, who joined the Department of English in 2006, is known for his teaching, service, and scholarship, which includes three books: "Melville and the Idea of Blackness" (Cambridge University Press, 2012), "Black Aesthetics and the Interior Life" (University of Virginia Press, 2017), and "Counterlife: Slavery after Resistance and Social Death" (Duke University Press, 2021). Freeburg is working on "A Brief History of Black Cultural Life" for Yale University Press. He received his PhD from the University of Chicago.
Surrounded by friends, family, colleagues, and other supporters, Freeburg highlighted those who helped him along the way. He gave emotional tributes to his wife, mother, grandmother, sister, friends, and his late father.
"I'm happy to be able to do something that I love," Freeburg said. "That's how you make it through things. You make it thanks to people, and I can say a lot about the people who are here. I'm grateful for the way we communicate with each other, and how we listen to each other."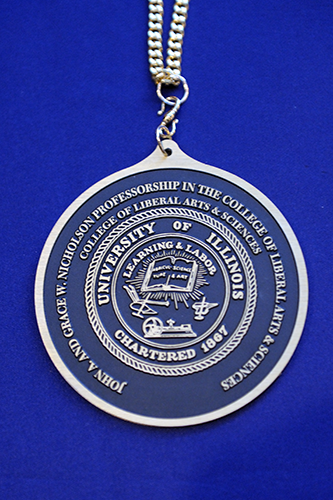 Freeburg called Trish Loughran, his colleague and a fellow professor in the Department of English, a key figure in his development as a scholar, teacher, and mentor. He also spoke fondly of Will Barker, head coach with the Champaign County Heat, a local youth swimming club for whom Freeburg also coaches.
"Learning everyday about how to engage students in the process of learning, I learned a lot of that from Will," Freeburg said.
The Nicholson Endowment is a gift of Grace W. Nicholson (1906-1998), who pursued undergraduate studies in liberal arts and sciences, and John A. Nicholson (1891-1986), a professor emeritus and faculty member in the Department of Philosophy for 33 years. Established in 1999, the Nicholson Endowment provides support for academic programs in the College of Liberal Arts & Sciences and excellence in the study of the humanities on campus.
John A. Nicholson was born on Prince Edward Island, Canada. He earned his bachelor's degree from Dalhousie University in 1916. He served with the Canadian troops in Europe during World War I then returned to the University of Toronto for his master's degree and PhD. Dr. Nicholson joined the University of Illinois as an assistant professor in 1923 and spent his career here until his retirement in 1956.
Grace Nicholson, born in Tennessee, studied in the College of Liberal Arts & Sciences at the University of Illinois. She became a member of the Presidents Council, the University of Illinois' highest donor recognition organization, in 1984 and a member of the Consular Circle in 1990.
Venetria K. Patton, the Harry E. Preble Dean of the College of LAS, thanked Freeburg for his writing and scholarship.
"I will try not to be biased even though he is in my field of study, but because I study American and African American literature, I have felt the weight of his contributions," she said. "So I particularly thank you, Chris, for the work you have done through your research and teaching. He has helped us to more fully understand enslaved Africans, expanding our focus from their fight for freedom to a broader view of the life and society they created."
Erica Edwards, professor of English at Yale University and a close friend of Freeburg, lauded Freeburg's affinity for what she called "productive disagreement." His commitment to collaboration separates him from other scholars, Edwards said.
"Chris' way of doing the academic life is profoundly, unapologetically social," Edwards said. "His isn't a way of the isolated scholar quietly summoning information and sending down tomes. Rather, he sees all of us as co-laborers who are at our very sharpest not only when we strike chords of agreement, but also when we find unlikely places of friction."