Solomon and Una Ellman, who met as students at Illinois, celebrate 80 years of marriage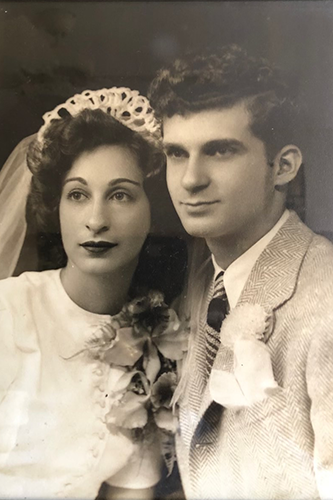 Campus has changed a lot in 80 years. In 1942, the Illini Union was just 1 year old, the State Farm Center was an empty lot, and Willard Airport was just a few hundred acres of farmland. Something else took root in 1942 that has only kept growing, however, and that's the love shared by Solomon and Una Ellman.
The Ellmans recently celebrated their 80th wedding anniversary. They met as students at the University of Illinois campus while dancing at a local entertainment venue, the name of which now, understandably, escapes the centenarians, but that fateful evening has resonated for more than eight decades. They married in 1942 and went on to have three boys.   
It's hard to say where their marriage ranks in terms of longevity, but 80 years is a rare accomplishment. A Wikipedia listing of marriages around the world that endured longer than 80 years contains fewer than 50 marriages. Of those, only eight marriages are ongoing, and only one took place before 1942. (The Ellmans are not on the list.)
While their fates didn't align until they came to Champaign-Urbana, Solomon and Una both came from New York and chose Illinois because it offered a more affordable education than they could find back home. As a student Solomon paid just $10 a month for his room, which included one home cooked meal each day.
"It was very, very wonderful at the time that there were land grant universities like Illinois, where you could go to school even if you were without much money," said Solomon, 103. "At the time you could get a full course dinner for 35 cents. It was a different time, and I don't think that time will be repeated."
While students, the couple's bond grew as they attended Illinois' sporting events, thanks to Una who would buy season tickets. Solomon cherishes the time he spent in the bleachers next to his future wife, though he sometimes wishes that Una had instead been watching him play.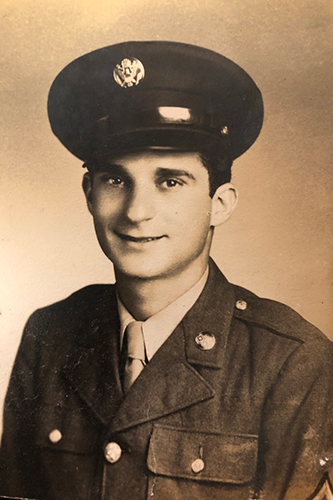 "I was going to go out for the baseball team, but I didn't because I needed a new pair of shoes," Solomon said. "I was the captain of my baseball team in high school, and I should have gone out but I didn't. I'm still mad at myself about that."
No one knows if Solomon would have made the team, but as a rangy defender who could hit from both sides of the plate and pitch on occasion, it's fair to say he had a shot. Had he made the team, however, and been on the field instead of sitting next to Una in the stands, who's to say where their fortunes would have bounced? Then again, given how the next 80 years turned out, you might conclude that they were destined to be together.
After Solomon earned his degree in history, in 1942, they moved back east, where Una, who attended the College of LAS during her time in Champaign-Urbana, would finish her degree in psychology at New York University. They went on to spend much of their careers as teachers, though at one point Solomon served as a high school principal. He also served as a professor of theater. Before all of that, however, the couple faced one of their biggest challenges: World War II. Solomon was drafted just months after graduating from the U of I.
Even an ocean and world war couldn't weaken their bond, however. While overseas Solomon began writing poems and sending them to Una. Those poems have survived to this day and are cherished by the Ellman's three boys: Johnathan, Mathew, and Eliyahu.
Though none of the Ellman children went on to study at the University of Illinois, the university still holds a special place in their hearts.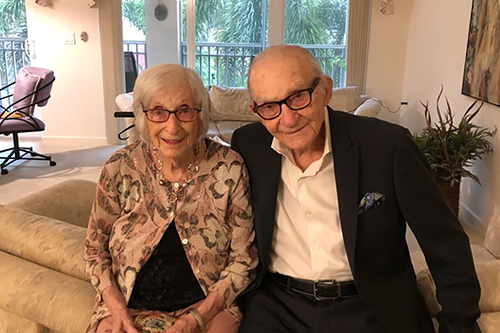 "Our parents experiences at Illinois have always been foundational bedrock of their relationship and marriage," said Johnathan Ellman. "It is truly an inspiring and momentous milestone, and they are very excited to know that their 80-plus year relationship story that spawned in Champaign (is being told)."
The couple now lives in Florida, in a condo that they purchased after retiring. They were interviewed recently by television station WPTV in West Palm Beach in a story honoring their 80 years of marriage. Solomon was asked about the key to their long marriage.
"What is there—a special feeling associated with that? I don't know. It's just fortune. Good fortune," Solomon said.  "We loved each other, we stayed with each other, and we managed to stay alive."