Beneath the surface of Islam
Valerie Hoffman explores the cultures and subcultures of the Muslim faith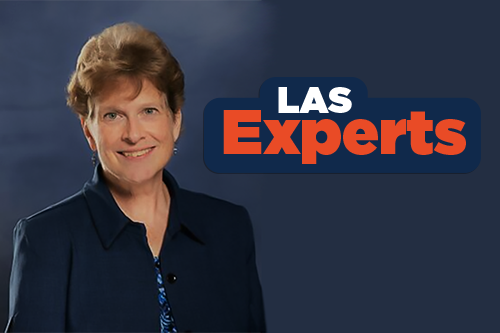 Valerie J. Hoffman, research professor emerita in the Department of Religion, has served at the University of Illinois for more than 39 years. She's gone from convincing the university that a position in Islamic studies was necessary to being greeted as a star by persecuted Muslims in Africa. She describes her career and how her field has changed in a post-9/11 world.  
When did you join the U of I?
I began in 1983 as a visiting lecturer in Islam and African religions, with a two-year joint appointment between African studies and religious studies. This position was created by the Program in African Studies (later the Center for African Studies) with funds from a Title VI grant, in order to convince LAS and the Program in Religious Studies (later the Department of Religion) to create a permanent position in Islam. I became assistant professor in 1986, associate professor in 1994, and professor in 2011. I also served as director of the Center for South Asian & Middle Eastern Studies from 2011-2015 and as head of the Department of Religion from 2015-2019. I retired from teaching in August 2021, and I was later appointed as a research professor in the Department of Religion.
What is your area of expertise?
My general area of expertise is Islamic and Middle Eastern studies. My doctorate is in Near Eastern languages and civilizations, with a focus on Arabic and Islamic studies. I have done research and writing on Islamic theology, Islamic gender ideology, Muslim women's religious lives in contemporary Egypt, Sufism in modern Egypt, contemporary Islamic thought, the Ibadi sect of Islam, and Islam in Oman and Zanzibar.
What are you working on now?
I have two book projects. The first, "Islamic Sectarianism Reconsidered: Ibadi Islam in the Modern Age," will be the culmination of research conducted over the last 20 years. Ibadism is a small branch of Islam that is neither Sunni nor Shi'ite. It began in the eighth century as a generally nonviolent but sometimes revolutionary movement that aimed to establish a consensus-based government under a ruler selected for his piety and application of Islamic law. Traditionally, Ibadis saw non-Ibadi Muslims as not really deserving to be called Muslims or believers, although Ibadis often had deeply respectful interactions with non-Ibadis. In the late 20th and early 21st century, however, Ibadis came to define their school in terms of tolerance and interfaith understanding. My research, based on a reading of hundreds of documents, including many unpublished manuscripts, traces the changes in Ibadi self-definition from the late 18th century to today. I previously published the first English-language book on Ibadi theology, "The Essentials of Ibadi Islam" (Syracuse University Press, 2012).
My second book project is "Journeys in a Borderland: The Travels of Shaykh 'Abd al-'Aziz al-Amawi (1834-96)." This will be a fully annotated and edited Arabic text and English translation of the surviving portions of two travelogues describing journeys conducted between 1879 and 1885 by a prominent Sunni religious scholar who hailed originally from Brava, on the Banadir coast of what is today southeast Somalia, and who served as a roving ambassador for the Sultan of Zanzibar. The two journeys that al-Amawi describes were in the Ruvuma River region, which today forms the boundary between Tanzania and Mozambique. At the time of al-Amawi's journeys, the border between the Zanzibar Sultanate and Portuguese East Africa was about 12 miles south of this river. I found these important and previously unknown texts in a private library in Oman. I am unaware of anything else that is comparable. These manuscripts are important primary sources offering unique perspectives on relations between the Arab Sultan of Zanzibar and his non-Arab subjects and between the Sultanate of Zanzibar and Portugal, as well as indigenous perspectives on the ever-increasing involvement of Europeans in the region leading up to the division of Africa among the powers of Europe.
What is the impact of your work?
My published works on Sufism and Ibadi Islam have become standard references for scholars of Islam. Although I have already published many articles and book chapters on modern Ibadism, many scholars have expressed eager anticipation of the publication of my book on that subject, which will enable me to explore not only the development of Ibadism in the modern age, but the implications of this development for notions of sectarianism and processes of social integration. My book on al-Amawi's journeys will impact not Islamic studies, but African historical studies, making available previously unknown primary sources and offering new perspectives on a critical period in modern African history.
Interest in my work goes beyond the world of academia. In early 2020, I conducted sabbatical research among Ibadis in Algeria and Tunisia, where they are a tiny and often persecuted minority. I was treated like a rock star by young Ibadis who saw me as an ally in the preservation of their heritage and in helping the world understand who they are. Furthermore, in the past year I have been interviewed three times for YouTube channels run by young men in England, one channel focusing on Ibadism and the other on the history and culture of the Banadir coast. These interviews underline the impact of my work on those who identify with the communities I am studying. My research and writing on Ibadi Islam is viewed by contemporary Ibadis as a contribution to global understanding of an Islamic school that has often been misunderstood and wrongly vilified. My research and writing on the works of a Sunni scholar from the Banadir coast are important to people from that region who have watched their culture and heritage destroyed by decades of civil war.
How has your field changed since your career began?
When I began studying Arabic in 1972 as a sophomore at the University of Pennsylvania, there were only 18 American universities that taught Arabic. Today Arabic is taught at colleges all over the country, and occasionally even in secondary schools. When I started at the University of Illinois as a visiting lecturer in 1983, the dean of LAS wasn't convinced that anyone but Muslims would be interested in taking courses on Islam. In the 2000s, however, LAS approved the hiring of a second faculty specialist in Islam, because of the unquestionable importance of the study of Islam for a proper understanding of global cultures and international relations.
Because Islamophobia has often been rampant in our country, scholars of Islam have understandably often wanted to emphasize the positive in Islamic thought and tradition. Before the attacks of Sept. 11, 2001, Western scholars were often reluctant to mention the violence and destructiveness of early Wahhabism, the ideology behind the formation of the Saudi state. After the 9/11 attacks, scholars of Islam openly recognized and discussed the dangers of Wahhabism, which also inspired Al-Qaeda and later the Islamic State in Iraq and Syria (ISIS). Muslim scholars in the field began to openly critique traditions within Islam that are at odds with gender equality, religious pluralism, and other ideals of modern society. Some argued that ISIS is un-Islamic, while other scholars have argued that Islam, like all other religions, is a broad canopy that incorporates numerous and sometimes conflicting orientations. The legitimacy of advocacy for particular Islamic interpretations to the exclusion of others remains a matter of controversy within the field.
What are some of your proudest career achievements?
My fieldwork among the Sufis in Egypt was a rare experience that took me inside a subculture that most people don't see, as it exists beneath the surface. It was an opportunity that I was able to seize because of a serendipitous encounter with a Sufi master and because the head of my department allowed me to take time off to do that research. It was this research, combined with textual analyses, that led to my recognition as a University Scholar in 1996. I have twice served on the committee that selects the University Scholars among all those that are nominated. Reading about the accomplishments of colleagues across the campus instills feelings of awe and humility; to be named among their ranks is an honor indeed.
I am also proud of what I accomplished as director of the Center for South Asian and Middle Eastern Studies. By procuring major grants and in cooperation with LAS, we were able to expand the quality and number of the University's courses on the languages, politics, and literatures of the Middle East and South Asia, and to organize major conferences and public lectures that expanded knowledge on campus and in our community on these important regions.