Dawn Riley Duval channels her athletic prowess into a career – and comes full circle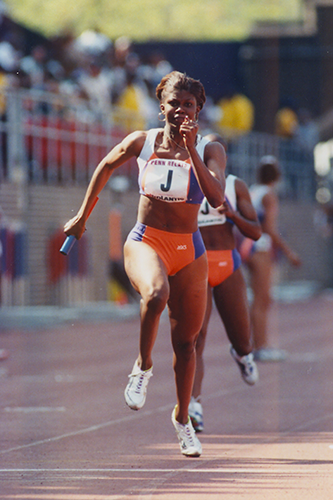 Dawn Riley Duval arrived on the University of Illinois campus in 1992, ready to begin a track career that, 30 years later, would lead to her induction into the Illinois Athletics Hall of Fame. But her story began far away from Champaign-Urbana.
Riley Duval (BA, '96, English), an eight-time All-American and seven-time Big Ten champion who competed in the 100 meter hurdles, triple jump, and relays, is a fifth-generation Coloradoan, born and raised in the Park Hill neighborhood of northeast Denver. The historically Black neighborhood has birthed several collegiate and professional athletic stars, such as track standouts Caryl Smith Gilbert and Yolanda Johnson, NBA player and coach Chauncey Billups, and NFL tight end Daniel Graham. It was here that Riley Duval first developed her love for track and her drive to help change the world for the better.
"I've always had this confidence, a pride in my community and culture, a belief in myself, and a belief that individuals can effect change," Riley Duval said. "These beliefs were cultivated in Denver and in Park Hill community more specifically. I carried that on to the University of Illinois and have carried that confidence and pride and faith and strength throughout my life."
Despite humble beginnings, Riley Duval said she's always seen a wide range of what is possible. Her grandfather, born and raised in Colorado, was a U.S. Army veteran who fought in the Korean War and then worked in tech in Silicon Valley. Riley Duval's father was a special-ed teacher at a predominantly Black high school in Denver and her mother a social worker for many years before she became a professor at the University of Denver.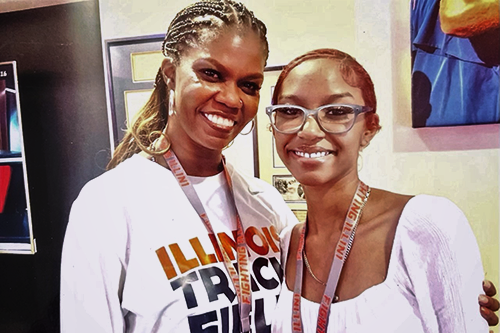 These influences, along with her attendance at Shorter Community A.M.E. Church in Denver, which she describes as a social justice congregation, have guided her during her career. After graduating from the U of I, Riley Duval began as a newspaper reporter and moved into the ministry.
"I was a journalist with the Rocky Mountain News, but I found that I didn't want to just write about issues. I wanted to help people and help resolve problems in our communities," Riley Duval said. "I'm still trying to figure out how I can best help people given my interests and expertise. I give myself permission to evolve."
An English rhetoric major in undergrad, her fascination with words and her desire to understand others and be understood led to journalism. Her love for people, God, justice, and public speaking influenced her to move into seminary. For the past seven years, Riley Duval has been the founder and executive director of a non-profit organization that fights against anti-Black violence and for voting rights and reproductive rights for women.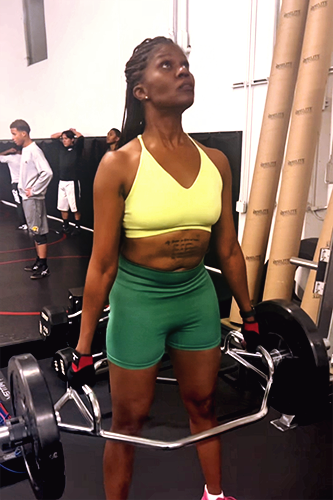 In 2018, the non-profit made headlines when it received an anonymous $200,000 donation. It came from the descendant of former slave owners looking to make reparations. This came as a huge shock, Riley Duval said.
"For years and years, we were teaching about reparations, and I thought the results would be little more than conversations for at least my lifetime," Riley Duval said. "I was stunned and so, so grateful when the generous reparationist gave substantive reparations to the non-profit."
Riley Duval's views on racism have evolved with time. When the shooting of Michael Brown in Ferguson, Missouri, made national headlines in 2014, Riley Duval had little patience for people who didn't understand the problem of anti-Black racism. Over time, however, her approach became based more in cultivating mutual compassion and understanding. 
"I'm reminded of some of the best years of my life, when I felt so powerful—physically, intellectually, and spiritually."
"I really aspire to have fruitful conversations, impactful conversations, that will lead to loving changes in behavior, practices, liberative changes in systems and structures…and I remain very direct," Riley Duval said. "In all ethnicities there is a learned anti-Blackness that we have to liberate ourselves from to have healing."
Very aware of the global, national, and personal impact of the COVID-19 pandemic, and as she enters what she calls her "junior elder years," Riley Duval will soon begin working at an organization that solely focuses on improving the health of Black people. Additionally, Riley Duval has allowed more time to focus on her own health holistically. She has rediscovered her athletic abilities, training in fall 2022 potentially to compete in masters competitions. She found joy in the fact that she can still run a curve and clear a hurdle. The induction into the Illinois Athletics Hall of Fame was an added bonus.
"To be inducted in 2022, exactly 30 years after arriving on campus, feels so significant to me. I'm reminded of some of the best years of my life, when I felt so powerful—physically, intellectually, and spiritually," Riley Duval said. "As much confidence and faith and power that I had coming in, it was magnified while I was at U of I. I'm so deeply grateful. And I'm determined to regain or exceed that level of power in this phase of my life."
Editor's note: This story first appeared in the Spring 2023 issue of The Quadrangle.