A route to better understanding
The Illinois Neurobehavioral Assessment Laboratory becomes a well-respected community resource for addressing psychological issues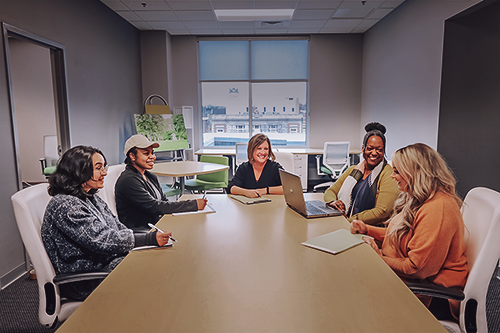 Launching any new enterprise is difficult. Launching it in a pandemic is even harder. Just ask Kathryn Leskis, clinical director of the Illinois Neurobehavioral Assessment Laboratory. The lab, which offers a wide range of psychological testing and evaluation, saw its first client at the end of 2019, and was on track to have a great full first year. Then COVID-19 hit, and the entire world shut down. "It was at that point we knew we should do something," said Leskis.
Fortunately, they already had a great idea in the works.
"We wanted to offer easily accessible assessment services to everyone, not just those who require comprehensive services after meeting criteria for medical necessity," explained Leskis. We wanted people to think about assessment as a way to better understand themselves and their loved ones. So that's why we came up with digital screenings."
These simple, online tools provide screening for common issues like ADHD and dyslexia, although they're not designed to be a substitute for comprehensive testing. "Basically," said Leskis, "it's a first step for those who are just starting to wonder whether these things are an issue for themselves or their child." If they are, INBAL can follow up with a full slate of services including further assessment, testing, and consultation.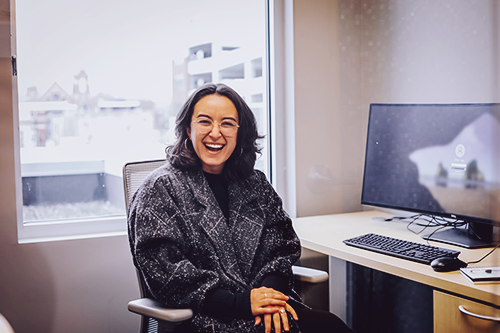 To introduce themselves to the world, INBAL provided the digital screenings free for a limited time. The idea proved to be a hit. Within a week, their inbox was flooded with inquiries, and by mid-December 2020, 90 clients had completed nearly 225 screenings. It was an early display of innovation from a university initiative that was designed to be different from day one.
For starters, INBAL is located in a modern suite in the M2 building downtown Champaign, with lots of natural light and parking.  And it owes its genesis to a new campus initiative called the Investment for Growth Program, which, in fiscal year 2019, provided several million dollars to help a number of innovative projects get off the ground.
"We wanted to bring our tools to people who didn't necessarily have them and support research on campus by helping them in whatever way we could."
In addition to Leskis, the current INBAL staff includes Crystal Newman, supervising clinical psychologist; Katie Duitsman, clinical psychometrist; as well as a few graduate student clinicians. It's a relatively small team, but they hope to expand in the near future.
The lab is the brainchild of three different faculty members from the Department of Psychology at Illinois: Wendy Heller, executive associate dean for social and behavioral sciences in the College of LAS; Neal Cohen, then director of the Interdisciplinary Health Sciences Institute; and Brent Roberts, who directed the Center for Social and Behavioral Science. All of them believed that INBAL could serve an important role, advancing research at the university while making clinical assessment more readily available to the community.
"The three of us co-wrote the proposal, which was really the culmination of many conversations about a vision to share the unique expertise coming out of our various fields with the community and the rest of campus," said Heller. "We wanted to bring our tools to people who didn't necessarily have them and support research on campus by helping them in whatever way we could. So, you could, for example, contract with us to administer tests of depression or anxiety or some other aspect of personality or behavior that you might not know how to measure."
INBAL can also help researchers refine various aspects of their study. For example, if someone is doing a study of anxiety and they believe it might impact working memory, INBAL can help identify the best way to test that.
The goal was to make the lab both a sponsor of and an advocate for cutting-edge research. Currently funded projects aim to measure and assess critical qualities necessary for the advancement of pioneering and ethical science and involve collaboration with domestic and international partners such as the National Center for Principled Leadership and Research Ethics (NCPRE), Howard Hughes Medical Institute, and the NOMIS Foundation.
"There's also a wonderful program based in Michigan called Mood Lifters, which is a peer-led psychological treatment program for wellbeing, depression, and anxiety," said Heller. The program was founded by LAS alumna Patty Deldin (MA, '90; PhD, '96, psychology), and INBAL is hoping to bring it to the local community.
All of those innovations could change the future of clinical analysis. But Leskis joined the program because she wanted to make a difference in the community, here and now. That passion was born out of her experience in the private sector. For more than a decade, she worked in healthcare, where she often saw a gap between those who needed assessment and those who were able to receive it.
"A lot of managed healthcare companies are becoming increasingly restrictive about their psychological testing policies," said Leskis. This means that those needing testing often face a long list of preauthorization requirements and other barriers that make it difficult to obtain. INBAL provides another option for those needing help, and a powerful resource for the organizations serving them.
Jeanne Kramer, director of The Autism Program at the University of Illinois, is one of those who relies on INBAL's clinical expertise. "What makes it beneficial is the complete neurobehavioral assessment that comes along with the autism assessment," said Kramer. "When we have a child come to us who has a complex presentation, which most people on the spectrum do, Dr. Leskis is very gifted in assessing all the different aspects of cognition and focusing in on why we're seeing the behaviors we're seeing."
Unfortunately, those issues aren't just restricted to autism. For 50 years, The Reading Group has helped both children and adults overcome the challenges of dyslexia and other learning disabilities. And every day, they see new clients arriving with a broad range of needs.
"Sometimes the issues are so challenging from a psychological standpoint that we simply can't handle it here," said Jim Jones, executive director of the local not-for-profit. Without INBAL, those cases would have to be referred to Chicago or St. Louis. But thanks to this innovative partnership between the university and the local community, they're available just a few minutes from his office. "That's invaluable," said Jones, adding that parents often return to thank him for the assessment their children received.
Heller hopes to make that scenario permanent.
"We're trying to create a sustainable organization with an actual footprint in the community," said Heller, explaining that, all too often, exciting campus initiatives are based on temporary grants or faculty that leave, giving them a transitory nature. "The more help they are to the community, the more painful it is when they disappear," said Heller.  Which is why INBAL is actively seeking contracts with local schools and campus units to ensure that it continues to serve the community and university for many years to come.
INBAL has already secured a contract with U of I's Department of Intercollegiate Athletics to help student athletes with a wide range of needs. The benefits go both ways, with the arrangement also providing an excellent opportunity for grad students looking to develop their diagnostic skills in the real world. Psychology students like Maya Marder are required to complete an internship as part of their graduate training.
"INBAL does a great job of providing opportunities," said Marder, who's assistantship at INBAL will make her more competitive in the application process. "I'm there from start to finish with every client, which allows me a great opportunity to understand the flow of the clinical relationship." Marder said it's also helpful to see how a small clinic is run from an administrative standpoint.
"It's a good learning environment from many different angles," she said.
Future clinicians like Marder will be pivotal to organizations like The Reading Group, who are on the frontlines of a mental health crisis that's only been made worse by a global pandemic. "I wish this community at large understood the criticality of the number of people that really and truly need help," said Jones, adding that he's seen children so traumatized by their learning disabilities and lack of support that they have to be coaxed out from underneath the table before their lesson can begin. And there's only one thing that can be done to change that. "You have to make sure that you've got qualified people—and enough qualified people to provide the services that we need." Which is exactly what INBAL is hoping to do.
"I'm there from start to finish with every client, which allows me a great opportunity to understand the flow of the clinical relationship."
For now, however, Jones says he's very glad to have Leskis and the rest of her team available with their expert help whenever it's needed. "Without this level of service, I don't know where we'd be sending people, if you want to know the truth."
Editor's note: This story first appeared in the Spring 2023 issue of The Quadrangle.