Venetria K. Patton honored as Harry E. Preble Dean of the College of LAS
Position is named for an alumnus and former U of I professor
Venetria K. Patton, a professor of English and African American studies who has led the College of Liberal Arts & Sciences since August 2021, was commemorated as the Harry E. Preble Dean in a ceremony attended by friends, family, former students, and other colleagues from around the country.
Speakers at the well-attended ceremony offered comments highlighting Patton's leadership and ability to connect with others, while Patton emphasized the important connections along her career path that led to her current role. She recalled how the hiring of the first Black professor at the University of La Verne, which occurred while she was enrolled there as an undergraduate student, encouraged her to consider becoming a professor herself.
"I wanted to do well, set a good example, and save my parents money. I had no concept of what graduate school was, or what being a professor would entail," Patton said. She learned more about the possibility during a pivotal summer research program at the University of California-Santa Barbara, and Patton went on to enroll in graduate school at University of California-Riverside, where she earned her master's and PhD degrees in 1992 and 1996, respectively.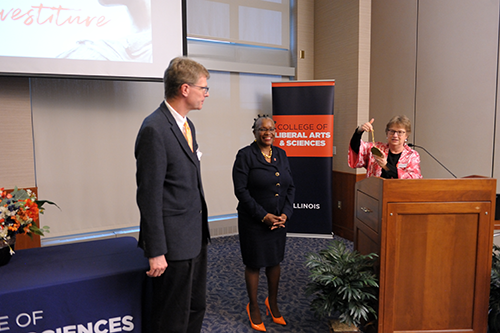 After Riverside, Patton joined the University of Nebraska, Lincoln, as a professor of English and African American studies. She was named coordinator of the African American & African Studies Program in 1998.
In 2003, Patton joined Purdue University as a professor and director of the African American Studies & Research Center. In 2016, she became head of the School of Interdisciplinary Studies in the College of Liberal Arts at Purdue, where she served until joining the College of LAS in 2021.
She is the author of monographs including "The Grasp That Reaches Beyond the Grave: The Ancestral Call in Black Women's Texts" and "Women in Chains: The Legacy of Slavery in Black Women's Fiction," and co-editor of "Background Readings for Teachers of American Literature." Her essays have appeared in numerous Black studies and women's studies journals.
"Venetria wields the power of the dean with extraordinary skill, she does a wonderful job encouraging the people who are in the room with her to contribute their thoughts," said Matt Ando, associate dean for life and physical sciences at the College of LAS. "But when she makes a decision, you know that the decision has been made. She expresses it clearly and firmly, and we all know exactly what's going to happen next. I have to say, that is an extraordinarily important quality for a leader. It takes skill, and it takes courage. I have learned so much from watching Venetria do business day after day."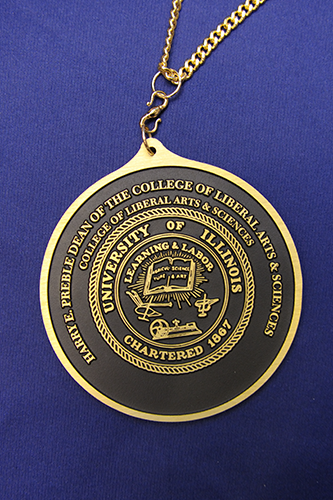 The Preble Endowment is a gift of the late Harry E. Preble (1925-2004) who completed his bachelor's, master's, and PhD in English at the University of Illinois in 1951,1952, and 1960. He served as a professor of English at Illinois until joining Carthage College in 1965. In 1968 he joined Missouri Southern State College, where he served as a professor until his retirement.
When Preble passed in 2004, most of his estate was left to the College of LAS to promote its "best interests." Since then the Harry E. Preble Strategic Resource fund has been used to name the dean position and honor high-achieving faculty members.
Since joining LAS, her colleagues said, Patton has repeatedly displayed her commitment to mentorship and engagement. This has been a pattern in her career, others noted. Her former students offered stories of Patton connecting with them and offering far more assistance than required in her role.
"She invited me into her home for fancy tea and delicious, homemade gumbo," said Heidi Lewis, a professor of feminist and gender studies and coordinator of early career faculty development programs at Colorado College, recalling her days studying under Patton at Purdue University. "She even supported my husband's small business, taking her son there regularly to get his hair cut. She was everything. And that care didn't stop when I left Purdue almost 15 years ago."
Patton said that she learned about volunteering and service from her parents, who were always involved in service with their church, her school, the NAACP, and other civic matters. Patton's father, whom she said was "unable to say no when assistance was needed," passed away before Patton earned her PhD, but his impact on the community inspired her to continue striving to make a difference. Her mother, Patton added, helped guide her in the right direction.
"I'm very fortunate that my mother is with me today to share in this celebration, because she has been my ultimate role model," Patton said. "My mother ingrained in us the importance and value of education, and this has fueled most of my endeavors. I believe in the power of education to drive social change and mobility."