Two LAS students receive Goldwater scholarships
Award recognizes potential to contribute to research in natural sciences, mathematics, or engineering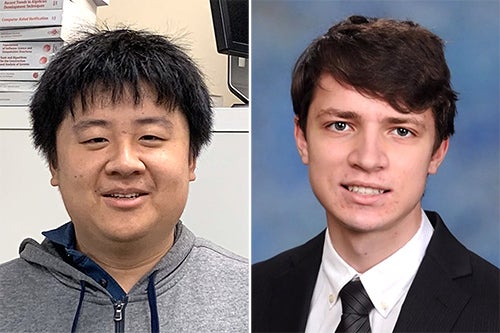 College of Liberal Arts & Sciences students Max Fan and Aidan Lindsay have been awarded Barry M. Goldwater scholarships for their potential to contribute to the advancement of research in the natural sciences, mathematics or engineering.
The Barry M. Goldwater Scholarship and Excellence in Education Program was established by Congress in 1986 to honor Goldwater, who served 30 years in the U.S. Senate. The program encourages the continued development of highly qualified scientists, mathematicians, and engineers by awarding scholarships to sophomores and juniors from the U.S. who intend to pursue doctorates. The scholarship provides recipients $7,500 annually toward undergraduate tuition, fees, books, or room and board. 
This year's 413 scholars were selected from among an estimated pool of over 5,000 college sophomores and juniors from across the country who sought to become among the 1,267 students nominated by faculties of colleges and universities nationwide for the award, according to David Schug, director of the National and International Scholarships Program at Illinois. 
"With so many amazing STEM students and research opportunities at Illinois, just being nominated by the campus for the Goldwater is quite a feat," Schug said.
Fan, a sophomore from Andover, Massachusetts, and a graduate of Choate Rosemary Hall, is majoring in computer science and philosophy to support his career goal of becoming a computer science professor researching programming languages and formal verification. Fan earned a 4.0 GPA as a James Scholar Honors Program student while taking graduate-level courses in philosophy and computer science. At Illinois, Fan has conducted research with computer science professors Talia Ringer and Charith Mendis and philosophy professor Jonathan Livengood. Fan also serves as an undergraduate teaching assistant in computer science. Outside the classroom, Fan restarted a student programming language club and leads a student open source software organization.
Lindsay, a sophomore from Overland Park, Kansas, and a graduate of Blue Valley High School, is pursuing a degree in chemistry. A member of the Campus Honors Program, he also is minoring in mathematics and computational science and engineering while taking graduate-level chemistry courses. Lindsay has conducted research with Illinois chemistry professor Prashant Jain since January 2022 and participated in the National Science Foundation Research Experiences for Undergraduates program at Kansas State University. Lindsay has presented his research nationally, winning an outstanding oral presentation award. He is the vice president and research team lead for the Illinois Biodiesel Initiative and coordinates chemistry outreach events for local elementary students. Lindsay said he aspires to develop theoretical methods to better understand the complex interactions between light and nanostructured materials, focusing on light-to-chemical energy conversion and photocatalysis.
Daniel Cudzich, a U of I student majoring in materials science and engineering, was also among this year's Goldwater scholarship recipients.
News Source
University of Illinois News Bureau