Providing a new kind of learning
Professor and alumna team with Meta and Immerse to provide virtual reality headsets to school kids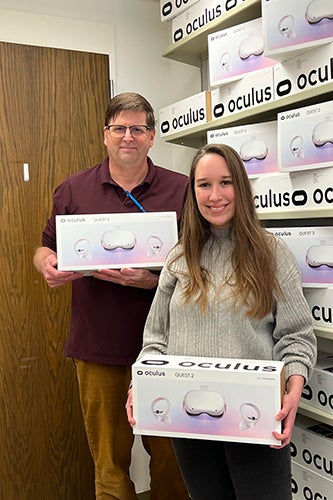 Researchers at the University of Illinois have partnered with Immerse, a virtual reality language learning platform, and Meta—formerly Facebook, Inc.—to provide underserved high school students with headsets to participate in virtual reality language learning courses.
Randall Sadler, professor of linguistics and director of the English as a Second Language Program (ESL) at U of I, and Tricia Thrasher (MA, '18; PhD, '22, French), research and English program manager at Immerse, have collaborated to receive a grant valued at $350,000 for the project, which includes training teachers and distributing virtual reality headsets to children in school.
As part of the "Immersive technologies for language learning in underserved public schools in Illinois, California, and Texas" project, Immerse has committed to providing the project team with 500 Meta Quest II headsets that were received from Meta to be distributed amongst 12 schools. Immerse was founded in 2017 and specializes in immersive learning within the so-called metaverse, a term given to virtual, interactive, online communities where a variety of experiences are available, including educational ones.
The number of headsets offered by Meta came as a surprise after Sadler and Thrasher's original proposal, which had asked for just 40 headsets—and was initially denied. Later, Meta informed the team that they could instead receive a far greater number of headsets.
"When he said we could get 300-500 headsets I had to confirm the number two or three times, because (I thought) 'Surely they wouldn't give us 500,'" Thrasher said. "We don't even have enough underserved schools in Champaign-Urbana to take 500 headsets."
With a surplus of headsets at their disposal, however, Thrasher and Sadler expanded the reach of the project. They teamed up with colleagues at the University of California Santa Barbara and the University of North Texas to identify other underserved schools that qualified for the headsets.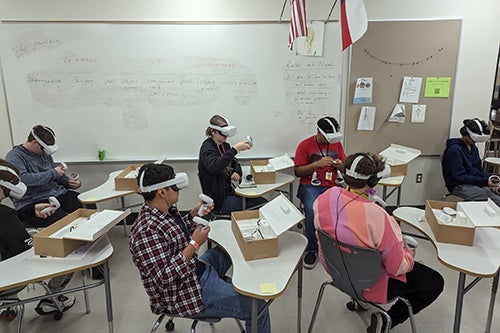 Thrasher and Sadler have spent a lot of time becoming acquainted with Immerse's language learning platform, and now they want to pass that knowledge on to teachers. This summer their team will hold workshops at several Champaign-Urbana schools, allowing teachers to learn how to use the headsets before bringing them into their classrooms. At the same time, Thrasher and Sadler's colleagues will be conducting similar teaching workshops in Dallas and Santa Barbara.
"I just hope we can get these headsets into classrooms and that they get used. That's why we're doing the workshops," Sadler said.
As a doctoral student at Illinois, Thrasher studied the use of virtual reality in classrooms and worked with Sadler to coordinate a virtual reality language learning course for high school students in Spain using Immerse. That work informed their current project.           
Through Immerse's virtual reality platform, Sadler and Thrasher have already interacted with students across the globe to test the capabilities of learning through the headsets. This helped them iron out the wrinkles in the software and ask teachers and students what could be improved. Immerse proved to be a collaborative partner and took their suggestions seriously.
"We would pass along feedback to the company, and in the next (software) update it would all be in there," Sadler said, "Sometimes changes would be made because another researcher found it."
The Immerse platform offers several ways for teachers to work with students to learn via virtual reality. This includes over 30 virtual environments in which students can take live classes, a home scene where students can review the vocabulary and language they learn during class, a social lounge where students can play games in the target language, and additional scenes where students can explore together or interact with artificial intelligence chatbots. All of these features can be accessed in specific languages.          
Sadler envisions the headsets being used in classrooms in the same way that schools use Chromebooks, where students can use the headsets for certain lessons in which the headsets would be beneficial. He said that over the coming year they plan to investigate how to grow the teaching capabilities of the headsets in subjects such as math and science, but for other subjects such as history and social studies the learning experiences are already well established.
"You can go to historic locations in a VR setting. For example, you can explore the Parthenon, or you could go to the Globe Theatre in London where Shakespeare did his thing," Sadler said.
"Our expectation is to have an impact on thousands of students, because it won't be just one teacher using these headsets five days a week," he added. "It'll be spread out at the schools and among classes, and the cumulative impact, I think, will be pretty, pretty strong."