Two LAS students receive Boren Awards for study abroad
Scholarships provide opportunity for intensive language study and cultural immersion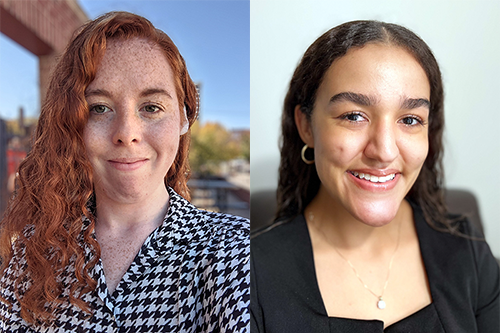 Two College of Liberal Arts & Sciences students have received prestigious Boren Awards for study abroad during the 2023-24 academic year.
David L. Boren Scholarships and Fellowships are funded by the National Security Education Program, a federal initiative designed to increase U.S. expertise in languages and cultures in world regions critical to U.S. interests. The awards provide U.S. graduate and undergraduate students with an opportunity for intensive language study and cultural immersion.
Maxine Katz of Chicago is a master's student in religion and a 2022-23 Foreign Language and Area Studies Fellow for Hindi with the Center for Global Studies. Katz will study Hindi through Boren's South Asian Flagship Languages Initiative, beginning with a summer program at the University of Wisconsin-Madison, followed by a year at the American Institute of Indian Studies in Jaipur, India.
Katz studies Hinduism and Jainism and the experiences of Hindu and Jain practitioners throughout India's history. She also is an avid painter and plans to take Indian painting method classes during her year abroad. She hopes to work for the U.S. government before pursuing doctoral studies in religion.
Tina Wayne of Danville is a senior who is majoring in political science and East Asian languages and cultures. She will study Japanese at the University of Tokyo during the next academic year.
Wayne is an intern for state Rep. Mike Marron of the 104th District, and she has served as secretary for the Illinois Model United Nations for two years. After her study abroad year, she plans to attend graduate school to study global affairs or the politics of international trade. She hopes to have a career with the United Nations.
Two other University of Illinois students also received Boren Awards: Neel Khattri, a senior in computer engineering who will spend a semester studying Russian at the Anglo-American University in Prague, Czech Republic, and Kellie Sucha, a freshman in engineering who will study French through Boren's African Flagship Languages Initiative, beginning with a summer program at the University of Florida, then at the West African Research Center in Dakar, Senegal, in the fall.
News Source
University of Illinois News Bureau