10 from LAS accept Fulbright awards
Students and recent graduates will study and teach around the world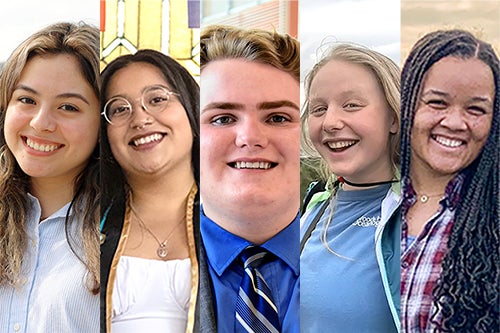 Thirteen University of Illinois Urbana-Champaign students and recent graduates, including 10 from the College of LAS, were offered Fulbright grants to pursue international education, research, and teaching experiences around the globe this coming year. Another six Illinois students were named Fulbright alternates.
Eleven of the students have accepted grants from the Fulbright U.S. Student Program, which builds international relationships to help solve global challenges. This flagship international educational exchange program of the U.S. government awards grants to students based on their academic and professional achievement, as well as their ambassadorial skills and leadership potential. The Fulbright student program will fund approximately 2,100 U.S. citizens to live abroad for the 2023-24 academic year.
"A full one-third of U. of I. Fulbright applicants were offered grants this year," said David Schug, director of the National and International Scholarships Program at Illinois. "This is the university's highest success rate in at least the past 20 years. This fall will find Illini representing the university on five different continents."
Daniela Barbosa graduated in May with a degree in psychology. She will be teaching English in South Korea. A graduate of Plainfield East High School, at Illinois she tutored through the America Reads/America Counts program. A first-generation, bilingual student, Barbosa is eager to learn a third language and wishes to continue to educate children.
Luisa Daniela Carrillo will be teaching English in Mexico. Carrillo graduated in May with a degree in political science. As the child of Mexican immigrants, she served as a translator for her parents while growing up in Chicago. She attended Lane Tech High School. At Illinois, she was active in La Casa Cultural Latina, the Latinx cultural center and as President of Alpha Psi Lambda National, Inc. at Beta Chapter. She is interested in immigration and family law and she believes her experience in Mexico will make her a stronger advocate on immigration issues.
Drew Gooding will go to Spain to teach English. They graduated in May with a degree in information systems and marketing and a minor in English as a second language. Gooding attended North Boone High School in Poplar Grove, Illinois. They are interested in working in Spain because of its status as a major host of migrants and its support of the LGBT+ community, both areas that Gooding plans to become involved with in Spain.  
Lilian Lucas will graduate in August with a degree in geology. She will spend her year in Germany at the University of Bremen Department of Geosciences investigating magma migration prior to the 2018 eruption at the Sierra Negra volcano in Ecuador. Lucas attended Canton High School in Michigan. While at Illinois, she completed an internship for the U.S. Geological Survey with the Woods Hole Oceanographic Institution on numerical modeling. She also played on the Illinois women's soccer team and hopes to play for the SV Werder Bremen Frauen team while she is in Germany.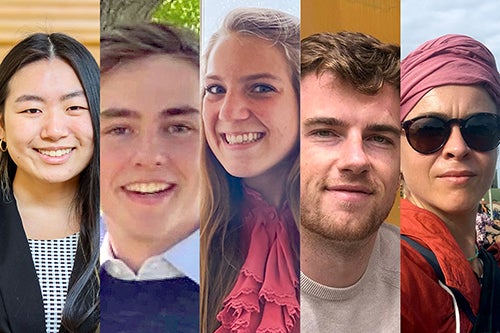 Mariama Mwilambwe graduated in May with a degree in political science. She has accepted a Fulbright/Newcastle University Award to study in the United Kingdom for a master's in sustainable agriculture and food security. She attended Normal Community High School in Illinois and was a James Scholar at U. of I. She was the first African-American woman chosen to serve as student trustee on the Board of Trustees. She has worked in the food security area on campus, with the state of Illinois, and with multiple nongovernmental organizations.
Nicole Park is planning to teach in Taiwan. She graduated in May with a degree in both food science and human nutrition and molecular and cellular biology. A participant in the Campus Honors Program, she is also a James Scholar. Park attended Prospect High School in Arlington Heights, Illinois. She plans to become a physician and believes this experience will help her enhance her communication skills. She worked as a resident assistant and a pre-health advisor at the U. of I.
Jonathan Phalen accepted a Fulbright/America for Bulgaria Foundation English teaching assistant award to teach in Bulgaria. He graduated in May with degrees in English and secondary education. He attended Lake Forest High School in Illinois. He is a certified teacher and has worked at the campus recreation center. He is interested in improving his pedagogy for second language teaching.
Alexandra Schneeberger was offered a student award, but instead has accepted a U.S. teaching assistantship, administered by Fulbright Austria through the Austrian Federal Ministry of Education, Science and Research. An alum of Glenbard East High School in Lombard, Illinois, Schneeberger earned a master's degree in Germanic studies in May 2023 after receiving her bachelor's degree in Germanic languages and literature and a certificate in translation studies in 2021, both at Illinois. She plans to pursue a career as a German language professor and said this opportunity will allow her to grow as a teacher in a new environment. While working as a teaching assistant at Illinois, she often brought her guitar into the classroom as a teaching aid. She looks forward to doing the same in Linz, Austria, where she will be teaching.
Matthew Schultz will teach in Colombia. He graduated in August 2021 with bachelor's degrees in Spanish, French and political science. A graduate of Prospect High School in Arlington Heights, Illinois, he is interested in Colombian music and dance. He previously has worked as an English as a second language teacher in Morocco and Costa Rica. He plans to join the U.S. Foreign Service as an economic officer.
Lila Ann Wong of Goleta, California, was offered a Fulbright to conduct dissertation research in Burkina Faso that will extend long-term collaborations she has established in the West African country. Her project will follow the creative careers of women dance artists as a means of studying the political economy of cultural development in Burkina Faso. Wong is pursuing a Ph.D. in sociocultural and linguistic anthropology at Illinois, having previously earned a master's in African studies from Yale and a bachelor's in dance and American studies from Smith College.
One graduate from the Grainger College of Engineering also accepted a Fulbright Award. Elizabeth Tang, who graduated in May with a bachelor's degree in physics, will teach English in Taiwan. One student declined to be named, and another declined the award.
"Fulbrights continue to have universal cachet," said Ken Vickery, director of fellowships in the Graduate College. "They're recognized the world over as representing scholarly excellence, cross-cultural bridge building and integrity, and I know that our awardees will maximize the phenomenal opportunity that these grants allow."
News Source
Maeve Reilly, U of I News Bureau