Conversations that make college feel like home
We Got Each Other participants talk about everything from campus life to life itself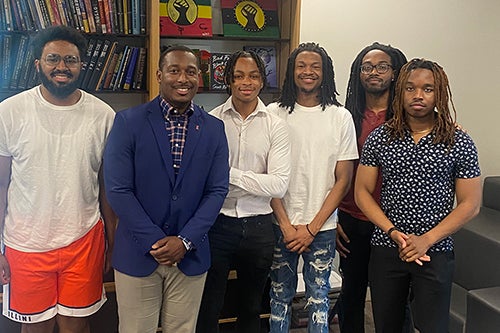 Some students who arrive at the University of Illinois have a hard time finding a place where they feel at home. When Darrell Hunter II, director of first year experience in the College of LAS, arrived in 2022, he decided to change that by launching the We Got Each Other program.
The program, which provides an opportunity for underrepresented students to meet and talk, launched in spring 2023. It was well-received, and Hunter plans to continue the program this fall.
"I realized once I arrived on campus that Black and Latino men needed a space to speak on their experiences on campus to help them navigate, so that we could improve the retention rates for this population," said Hunter, who earned a doctoral degree in educational psychology from Bowling Green University, where he also played football. "I've been happy with the results so far. Our conversations have been helpful, and it's been great to watch the students create bonds with each other."
We Got Each Other participants met once a week during spring 2023 at the Bruce Nesbitt African American Cultural Center. It was a success; by the end of the semester it had 10 regularly attending members. Though it's aimed primarily at first year students, the group accepts upperclassmen and students from all majors.
Michael Somerville, a junior studying integrative biology, joined because he wanted more substantive conversations among men in his college, including Black men. Joining the group gave him the opportunity to connect with people who were seeking the same thing.
"Men are often more self-isolating and go to fewer social events than women do," Somerville said. "Having environments like this means a lot more to people than they realize they do, and men especially can benefit from brotherhood-type programs like this that have a heavy emphasis on the well being of the individual, as well as the general growth of the group."
Isaac Crapps, a junior in financial planning, attended the program's meetings every week. He said that few of their conversations were actually about race or racism.
"The first couple of meetings we talked about our experiences on campus, but the real conversations are about deeper stuff," Crapps said. "This is a time to come together and not think about being a Black student on campus or think about being a minority on a predominantly white campus. This is a time to kick back and relax and talk about everything else."
Some discussions center on sports and entertainment and their influence. Others are about scientific questions like the origins of humanity and the evidence for evolution. The intriguing discussions—as well as free pizza—have helped to keep students coming back, but there are other benefits as well.
Hunter has worked to ensure that We Got Each Other can provide scholarship opportunities, internship opportunities, time management resources, and access to mentors. Crapps has taken advantage of these resources whenever possible. Through We Got Each Other, he got in contact with the BLX Internship Program, which helped him land an internship with Marin Health.
BLX, a financial internship program to encourage Black and Latinx students into the field of financial planning, was founded in 2020 following the death of George Floyd.  An overwhelming 73 percent of financial planners are white males, according to the Certified Financial Planning Board.
In addition to BLX, We Got Each Other has connected students with the Green Wood Project, which was established in 2015 to create a pathway into the financial services industry for Black and Latinx students. The program has partnered with more than 50 companies to improve their diversity, equity, and inclusion.
Though neither BLX or Greenwood are U of I programs, at the center of these initiatives is an idea shared by Hunter, Crapps, and other members of We Got Each Other. Greenwood's motto "students can't be what they can't see" speaks to why Hunter decided to create We Got Each Other and why students take it so seriously.
"There's systemic oppression in the way a lot of Black fathers are put in prison, leaving young men to be molded by Hollywood and pop culture," Crapps said. "Young men need real life role models. That's why we need groups like this."