How will a new Illinois law help with teaching the history of Native Americans?
Professor discusses legislation that will take effect in 2024-25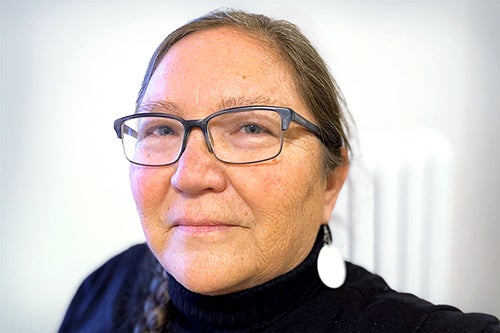 Illinois public schools will be required to teach students about Native American history in the state beginning with the 2024-25 school year. The legislation, which was signed by Gov. J.B. Pritzker on Aug. 4, requires that schools teach about the contributions of Native Americans in government, arts, humanities, sciences, and economic, cultural, social, and political development. The law also mandates that students learn about the experiences of contemporary Native Americans living in Illinois; and, for middle school and high school students, tribal sovereignty, discrimination against and the genocide of Native Americans, and the circumstances around their forced relocation. Rosalyn LaPier is a history professor whose teaching and research focuses on environmental issues within Indigenous communities and who is a member of the Blackfeet Tribe of Montana and Métis. She spoke with News Bureau arts and humanities editor Jodi Heckel about the Native American history law.
In your experience, what is the current state of teaching about Native American history in schools?
My students tell me that public schools in Illinois currently do little to no teaching of Native American history, which is why this legislation is timely and necessary. It was brought about by the advocacy of Native American educators and community members from across the state in collaboration with state leaders.
Each school district can determine the amount of time it will devote to teaching Native American history. How much will this law help in educating young people about that history in Illinois?
Most of the students in my Native American History course this last spring came from the Illinois public school system. They came from schools across the state, from southern and central Illinois to the Chicago metropolitan area. Many of them shared that they were embarrassed by how little they knew about Native Americans and they believed their school districts could have done better to educate them. 
I had these students read the then-pending legislation in class. They were very excited to learn that future students would know more than they did and would be able to learn about the history of Illinois Indigenous peoples, including events such as genocide, and contemporary Indigenous issues. Their number one suggestion to teachers was to teach more, not less, about Indigenous peoples.
What resources are available to teachers to include Native American history in their classes?
The timing of this new legislation could not be any better. There are significant resources available to Illinois teachers and educators at the University of Illinois, in addition to the resources available through the Illinois State Board of Education.
The history department at the U of I has five professors with expertise in Native American history, including two who are Native American, and more than a dozen courses that focus on some aspect of Native American history from the ancient past to the contemporary Chicago urban Indian community. Illinois public school teachers and educators can take courses at the U of I from these nationally recognized scholars that will strengthen their knowledge and skills.  
Together, we have numerous publications and websites for both academic and general audiences. These can serve as resources for Illinois teachers and educators, such as professor Bob Morrissey's new book "People of the Ecotone: Environment and Indigenous Power at the Center of Early America," professor David Beck's book "Unfair Labor? American Indians and the 1893 World's Columbian Exposition in Chicago," and our co-authored book "City Indian: Native American Activism in Chicago, 1893 to 1934," as well as Yuri Ramírez's forthcoming book "Indigeneity on the Move." The university also has our first Associate Vice Chancellor for Native Affairs Jacki Rand as an amazing resource. 
Plus, the U of I has one of the best public libraries in the country that teachers can utilize.
What subject matter do you think is important to cover in teaching Native American history?
The most important thing that students should learn is that no matter where they are in Illinois or the U.S., they are on Indigenous land. And that place has a long history before the U.S. existed and a people who still call it home. Illinois as a state is relatively new, while Indigenous peoples of what is now Illinois have been here for thousands of years.
How many Native Americans are living in Illinois today?
Native Americans have always lived in Illinois, from the ancient past to the present. However, there are no tribal communities or reservations in Illinois. Unfortunately, in the 1830s, many of the Indigenous peoples of Illinois were deported out of the state to other nearby states. Those Native Americans, such as the Peoria or Miami of Oklahoma or the Prairie Band Potawatomi in Kansas, still call Illinois home and they maintain close ties to its land and landscape. The contemporary Native American population in Illinois is around 35,000, according to the U.S. census, and they come from hundreds of different tribes from across the U.S., Canada, and Mexico and live mostly in large urban areas such as the Chicago metro area.
News Source
Jodi Heckel, Illinois News Bureau