Building camaraderie in SLCL
Staff Spotlight with Jazmine Summerville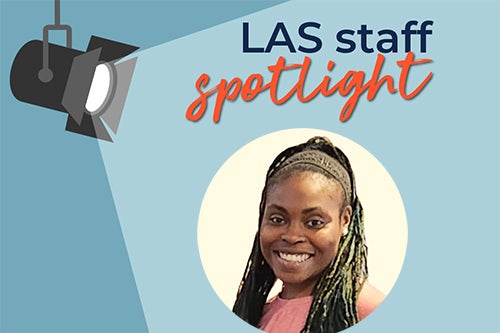 Jazmine Summerville wears many hats as an office manager for the School of Literatures, Cultures & Linguistics. After working for three years on campus, she knows that helping someone's day run smoothly is a gratifying reward for a job well done.
Briefly describe your responsibilities.
A large part of my responsibilities in Departments of East Asian Languages & Cultures and Slavic Languages & Literatures include course scheduling, purchases, email and phone correspondence, event planning, promotion and tenure cases, student appointments, awards, scholarships, and conference travel, handling departmental budgeting in conjunction with my executive officers and much, much more!
Where is your office located?
Literatures, Cultures & Linguistics Building formerly known as the Foreign Languages Building
What do you remember of your first visit to campus?
Coming from a smaller campus, where everything was so close, I just remember thinking how large the campus seemed! It just amazed me that UIUC seemed to be its own "city" within Champaign-Urbana. I loved how beautiful the Main Quad was!
What do you enjoy most about your job?
I honestly enjoy interacting with the faculty, students, and staff. Every interaction is so different! I appreciate the opportunity to either help students resolve issues with their course registrations, faculty members with their travel arrangements and/or other purchases, planning events, and continuing to build upon the camaraderie that has been created amongst the staff.
Do you have a favorite memory or project from your role with your unit?
This past spring, the School of Music partnered with EALC for our annual Kang Lecture. It was co-sponsored by Center for East Asian & Pacific Studies at Illinois. We were given the opportunity to host Chen Yi, a violinist and composer of contemporary classical music. There was a lecture series that ended in a concert that explored her music with performances by the Chamber Singers, instrumental soloists, chamber groups, and dancers. Jeff and Brenda Kang, the donors of our Kang Endowment, were also able attend the concert. This was the first time in recent memory that our department had taken on an event of this size, and it was certainly a learning experience for everyone involved! In the end, it was so rewarding. I had the chance to bring my family to the concert and my daughter got to meet Chen Yi! It was very exciting for them to see just a small part of what I do every day.
What is the best part of your workday?
I would have to say that the best part of my workday is knowing that the small parts of what I do every day help my departments continue to run smoothly. It's so rewarding how grateful all the faculty and students are when their events/plans/schedules come together, because I was able to help them.