'Data nerds' helping difference makers
The Cline Center for Advanced Social Research develops powerful tools for social scientists, humanists, and communities to analyze and understand massive data collections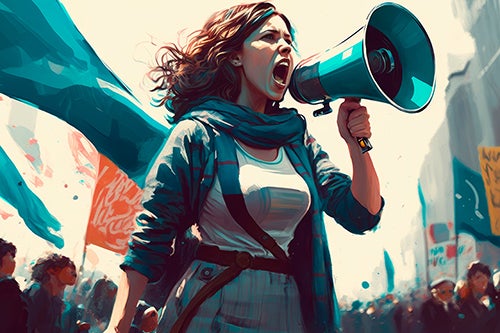 The first thing professor Scott Althaus shows you when you enter the Cline Center for Advanced Social Research is a painting by the artist Brian Alfred. It shows seven giant letters arranged on a hill, evoking the landmark "Hollywood" sign that stands above Los Angeles.
The letters are shown from the back, exposing the superstructure that holds them up. They spell "F-R-E-E-D-O-M." It's a terrific introduction to the Cline Center, which helps researchers get a handle on giant datasets, so policymakers and citizens can take actions that improve their governments and communities.
Both the painting and the center show the realities that make us what we are – some only seen if you know where (and how) to look.
"We want to create data interventions that allow difference makers – in the public sector, in the private sector, they might be researchers, they might be practitioners – to make decisions that improve societal well-being. We want to supply them with the highest-quality data so that the decisions they make are as well-informed with good facts as they can be," said Althaus, the Merriam Professor of Political Science, professor of communication, and director of the Cline Center at the University of Illinois Urbana-Champaign.
The Cline Center won the Provost's Excellence in Public Engagement Team Award in May 2023. The team includes Althaus, Loretta Auvil, Joseph Bajjalieh, Kelly Hammond, Jay Jennings, Michael Martin, Buddy Peyton, Tom Redman, and Ajay Singh.
"We're the data nerds," he said.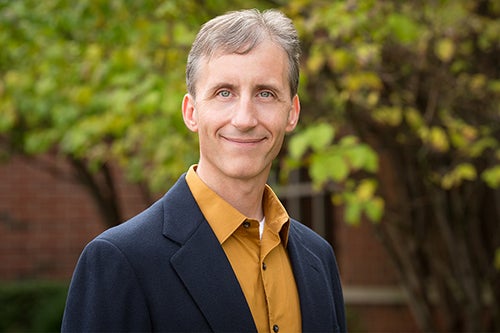 Keep it on the fairway
They're data nerds in complicated times. The work they do and information they analyze is often centered on controversial topics. Ethnic, religious, and gender identity. Coups, political unrest, and backsliding democracies. Terrorism and global conflict. Exactly the areas where many people are generating a lot of heat without much light, these days.
"The assumption in many conversations is that anyone who is collecting data on these topics must have some policy ax grind – some reason for doing it," Althaus said. "We're not political. We're non-partisan, non-advocacy. It comes as a surprise [to many] that we don't have an ax to grind."
That attitude was established by the people most responsible for the Cline Center's creation – the late Richard (BS, '57, political science) and Carole Cline, who provided an endowment for the center, and professor emeritus and founding director Peter Nardulli.
"[Richard Cline's] number one rule for the center was 'Let's keep it on the fairway,' nothing too far to the right or to the left," Nardulli said. "He always focused on our high-tech expertise" and how it could be used by policymakers and thinkers of all stripes.
Having come up through the finance department at supermarket giant Jewel before becoming its CEO, Richard (known more as Dick) Cline served as CEO of the billion-dollar gas company Nicor for a decade in the 1980s and '90s. He also spent three years as chair of the board of the Federal Reserve Bank of Chicago.
The Clines established the endowment for the center in 2004, and Dick was deeply involved in its intellectual development. He died in March 2023 at 88.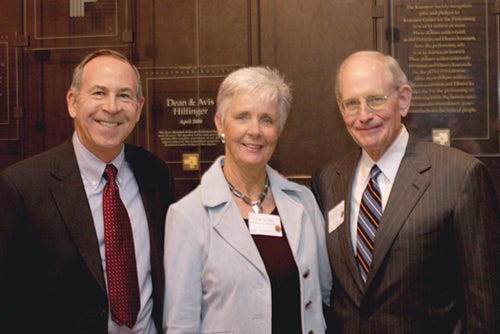 "Dick and Pete [saw] a very important role for the center with the technological expertise that we had here and the ability to scan very large volumes of news data from around the world. That became the signature research focus for the Cline Center. If we can extract basic insights from these news holdings, we can apply those techniques to a variety of topics, and lots of people can use this information to improve societal welfare around the world. That's in no small part owing to the vision of Dick Cline," Althaus said.
More SPOTLITE, less heat
The Cline Center conducts its analysis through a variety of platforms, from the Coup D'Etat Project, created in 2013 to better understand the transfer of political power, to the Composition of Religious and Ethnic Groups Project to gauge the divisions affecting countries around the world. Researchers may draw upon the center's massive repository of more than 170 million news reports from as far back as 1915.
Take the topic of police use of lethal force, for example. Prompted by the 2014 protest surrounding the killing of Michael Brown by a police officer, the Cline Center team realized that there was no authoritative registry of these acts. The center launched SPOTLITE Illinois in response. The project collects data on all instances of the use of lethal force by police from 2014 to 2021. It relies on the Cline Center's index of more than 170 million news stories and automated analytical and machine-learning techniques developed by the center's researchers.
A dashboard system released earlier this year makes the data available to anyone on the web, and it offers a set of "data layers" that makes the massive amount of information easier to study. The team plans to make a nationwide version available by the end of 2023.
At a county level, users can see how many incidents have occurred over time, see how they've changed over time, and get details from news reports of the incidents. The dashboard also offers information on the racial or ethnic characteristics of those involved in these police encounters. That information is often incomplete or incorrect in news reports. To develop it, the SPOTLITE team established a procedure for assessing those characteristics using independent human analysts and hundreds of images of the civilians involved in these incidents. The procedure included a means of deciding whether they had confidence in their determination.
A group of experts from on and off campus oversee the process of categorizing information about the individuals involved in these incidents so that the SPOTLITE project can be useful for revealing any disparities involving racial or ethnic groups. That debiasing assessment and accountability committee is made up of research methods experts who also come from communities that have experienced historical injustices by police.
"It was extremely important for us to call together that group and have them be empowered to say to the research team, 'You can't do it that way,'" Althaus explained. "This is an extremely sensitive topic that has repercussions for communities of color in the United States, because of histories of injustice…It's taken us a long time to be confident in our methods because the stakes are really high in getting this information right."
Overall stakeholders giving input on and using the SPOTLITE tool are incredibly varied. Since the project's inception, representatives from the Police Executive Research Forum, the International Association of Chiefs of Police, the International Law Enforcement Educators and Trainers Association, the ACLU, the NAACP, the Invisible Institute, and academic research experts have all been involved. Michael Schlosser, a member of the SPOTLITE leadership team, is a career law enforcement officer who recently retired as the director of the university's Police Training Institute. This deep and wide engagement has encouraged an ongoing conversation about the problems that exist in documenting police uses of lethal force and what characteristics would be useful in a common data source.
"I did not know how this was going to go – to bring these groups together. But the conversations went great because, while there are a lot of things these groups would disagree on, the one thing they could agree on was that the data were terrible," Althaus said.
With tools like SPOTLITE, citizens are empowered to understand how their local law enforcement agencies have exercised their authority and whether there has been anything that has been inappropriate or a matter of concern. Policing agencies have an authoritative set of records from a neutral third party that help to document these things for the local communities, and they are able to improve their training programs and develop better models for use of force policies.
The upcoming national version of SPOTLITE will expand that positive impact.
"We'll be able to statistically model how many of these instances would we expect in a given county in a given period," Althaus said. "When we see cases where there are many more of these incidents than we expect, that might be a place that's deserving of special attention. Maybe there's something wrong. Maybe there's a need to take a close look at what is happening and understand if there are opportunities for reform. On the converse side, it's also the case that we want to identify the places that have far fewer of these incidences than we might expect."
In fact, as he describes the issues addressed by SPOTLITE, Althaus could be talking about the questions that drive so many projects at the Cline Center: Where are there opportunities for reform? Where are things going well? And how might the insight they gather be shared as widely as possible?
Editor's note: This story originally appeared in the Fall 2023 issue of The Quadrangle.