College of LAS announces named professorship positions
Six faculty members are named Marjorie Roberts and Robert W. Schaefer Professors in Liberal Arts & Sciences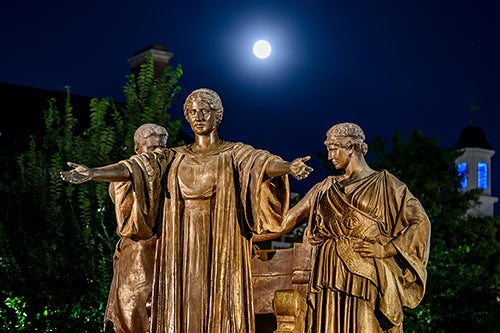 The College of LAS has named six faculty members as recipients of the Marjorie Roberts Professorships in Liberal Arts & Sciences and the Robert W. Schaefer Professorships in Liberal Arts & Sciences.
Professors Wendy Heller, Bo Li, Silvina Montrul, and Harriet Murav have received Marjorie Roberts Professorships in Liberal Arts & Sciences. The professorship is named for the late Marjorie Roberts, from the University of Illinois Class of 1923. Upon her death she left part of her estate to the College of LAS. The professorships are granted to recipients based upon their record of scholarship, contributions to diversity, equity, and inclusion, and contributions to public engagement.
Professors Leslie Reagan and Gillen D'Arcy Wood have received Robert W. Schaefer Professorship in Liberal Arts & Sciences. The professorship is named for the late Robert W. Schaefer (BS, '56, chemical engineering), who served in the U.S. Navy and later joined the Monsanto Company in St. Louis where he was part of the team that introduced I-Dopa, the breakthrough Parkinson's disease drug. He was a great supporter of the U of I throughout his life.
Brief descriptions of the recipients follow:
Wendy Heller, a professor of psychology, studies emotional processes and cognition and particularly the risk factors associated with anxiety and depression. She has also played a key role in advancing issues of diversity, equity, and inclusion on campus, and she has been involved with advancing and developing several units. She is executive associate dean of social and behavioral sciences and area centers.
Bo Li, a professor of statistics, studies broad areas of environmental statistics and other growing areas. She has made major contributions in the field of paleoclimate reconstruction and has studied several environmental health issues, including childhood cancer with pesticide exposure, heatwave morbidity, HIV diagnosis prediction, and West Nile Virus modeling. She is head of the Department of Statistics.
Silvina Montrul, professor of Spanish and Portuguese and linguistics, is a renowned scholar in bilingualism; her research focuses on understanding how bilingual individuals' language experience shapes their linguistic knowledge. She has also fostered research by founding and directing the Second Language Acquisition and Bilingualism lab in the School of Literatures, Cultures & Linguistics.
Harriet Murav, professor of Slavic languages and literatures, is also Catherine and Bruce Bastian Research Professor in Global and Transnational Studies and a Center for Advanced Study Professor. Her work is dedicated to innovative scholarship within Russian and Jewish studies. She is known for her service to the university, having served as head of her department, among other roles. 
Leslie Reagan, professor of history, studies the social histories of medicine, law, and social activism. Her recent work focuses upon the impact of Agent Orange in the United States. She has written several publications, with a particularly influential monograph being "When Abortion Was a Crime: Women, Medicine, and Law in the United States 1867-1973."
Gillen D'Arcy Wood, professor of English and Earth science and environmental change, is a renowned scholar of environmental humanities and romantic literature. He has published a well-regarded novel and four major scholarly books and serves as founding (and current) director of the Certificate in Environmental Writing program. He also serves as associate director of the Institute for Sustainability, Energy, and Environment.
News Source
Ella Dame and Maggie Knutte