English professor writes children's biography of pioneering Black botanist
Janice Harrington hopes to inspire young readers to overcome obstacles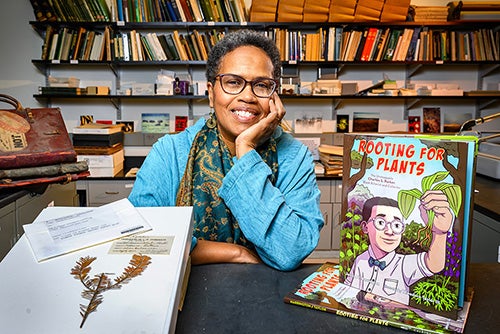 Charles S. Parker was a pioneering Black botanist who traveled all over the country collecting plants. University of Illinois Urbana-Champaign English professor Janice Harrington wrote a children's biography of Parker, "Rooting for Plants: The Unstoppable Charles S. Parker, Black Botanist and Collector."
It is Harrington's second children's biography. The first, "Buzzing With Questions: The Inquisitive Mind of Charles Henry Turner," published in 2019, told the story of Black entomologist Charles Turner. Harrington said she has long been intrigued by scientists.
"They tend to be men and women who had to overcome great challenges. I'm fascinated by anybody who meets a hurdle or a barrier and keeps going," she said.
Parker was from a well-to-do family in Spokane, Washington, and he did well in school. Harrington described him as a Renaissance man: He started a Black newspaper in Spokane, ran a printing company, became an Army officer and fought in France in WWI. He studied botany, eventually earning a doctorate from State College of Pennsylvania. He taught at Howard University and became the head of the botany and zoology departments there.
Even so, he faced racism during the war and as a Black scientist, but he didn't let it stop him, Harrington said.
"Parker loved collecting and finding out about the plants that grew in different geographic areas. He climbed mountains and crossed forests, glaciers, swamps, and briny lakes. I find people who are passionate about something always fascinating. They go through every barrier, every stop sign. I find that inspiring. I think it gives young readers a sense of hope and encouragement to tackle the challenges they may also face," she said.
Parker studied the blight affecting apricot, peach, and cherry orchards in Washington, and how climate affected the growth of mushrooms and other fungi during a monthlong trip to Canada with an international group of scientists. He wrote a study of the fungi genus Hypholoma that identified six new Hypholoma species. A plant pathogen that he collected in Canada – a fungi that infects fir needles – is preserved at the Illinois Natural History Survey herbarium at the U of I.
"When we talk about scientists, typically it's about what they discovered," Harrington said. "Parker's most important work is what he did as an educator. His greatest contributions are those minds he inspired and those people who became botanists because of him. He educated so many Black women scientists. One of them, Marie Clark Taylor, was one of the first Black women to earn an advanced degree in botany. She went on to run Howard's botany department after Parker."
While working on the book, Harrington needed help in evaluating Parker's discoveries and scientific articles. She turned to a neighbor, U of I professor emeritus of crop sciences Robert Skirvin, who connected her to the herbarium. She also contacted U of I professor emeritus of plant biology John Cheeseman, a longtime friend. They and other plant scientists helped her understand Parker's work and the botanical tools he would have used in the 1920s and '30s. Cheeseman helped her develop a glossary of scientific terms for the book.
"There was this incredible network of scientists, and they were very kind to someone who wasn't a specialist in the field, and I really appreciated that. They were curious too. They wanted to know about Parker just as much as I did," Harrington said.
In addition to bringing attention to an accomplished Black botanist, her goal for the book is encouraging children to pay more attention to the world around them and to ask questions, she said.
"I hope they go out and look at the world and the plants and the bugs and realize there are things to be studied, and maybe think, 'I can go out and make discoveries too!'" Harrington said.
News Source
Jodi Heckel, Illinois News Bureau