Alumna creates fellowship to support graduate study in the social sciences
Julia Tai and her late husband Paul started their family and launched their careers as U of I graduate students in the 1960s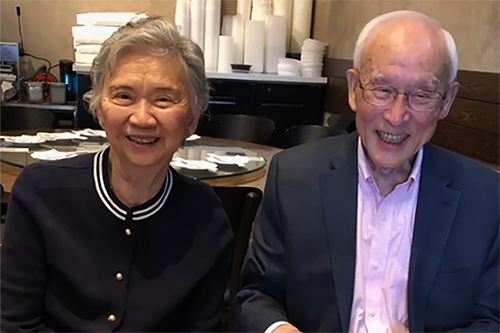 In the late 1950s, two talented students, both originally from China, arrived at Illinois' College of Liberal Arts & Sciences. Hung-Chao "Paul" Tai had earned a prestigious scholarship for graduate study in the United States and was pursuing a degree in political science, while Ming-Jen "Julia" Chow had completed her master's at the University of Oklahoma before selecting Illinois for her PhD in chemistry.  
Although both had bachelor's degrees from National Taiwan University, it was while they were at the University of Illinois that Paul (PhD, '61, political science) and Julia (PhD, '63, chemistry) met and fell in love. During their time as graduate students at Illinois, the two married and had their first child, Eve. Julia described those as memorable years, when the Tais formed the foundation for both their family and their careers.  
Two more children, Helen and Michael, followed, as did fulfilling careers in higher education. Paul was a professor at the University of Detroit from 1962 to 1993, focusing on political economy, rural development, and international affairs. Julia began research in computational chemistry and mathematical modeling in the early 1960s at Wayne State University and continued her research and teaching at the University of Michigan-Dearborn, where she was on the chemistry faculty from 1969 until her retirement in 1998.  
After 62 years of marriage to Julia and a lifetime committed to teaching, writing, and lecturing, Paul Tai passed away in 2022. Julia chose to honor his memory by establishing the Hung-Chao and Julia Tai Family Fellowship in the Social Sciences, which will help students who graduate from a high school or college in China or Taiwan pursue graduate studies at Illinois.  
Julia wanted to support students in the social sciences in particular, both to honor Paul's career in political science and because these students can face additional challenges compared to their counterparts in STEM disciplines.  
"While mathematics, physical sciences, and engineering students over the world share the same technical vocabulary (such as symbols and equations) foreign social sciences students must cope with a foreign language as well as the subject matter," Julia said.   
"The graduate students who will be supported by this fellowship bring unique perspectives to our college community," said Wendy Heller, executive associate dean of social and behavioral sciences and area centers. "LAS will benefit from their presence on our campus as they in turn learn, grow, and apply their LAS education. The Tai family's generous gift supports these valuable and lasting connections." 
Paul titled his 2021 memoir "The Luckiest Five Percent." In spite of great challenges he faced growing up during a time of civil war in China, he saw his life as one of "several great fortunes," including his career and family. Through the Tai Family Fellowship, Paul and his family are sharing some of that luck with other students who want to pursue their dreams at the College of LAS.