Six LAS professors rank among the world's most influential
Clarivate Analytics Highly Cited Researchers list recognizes most-cited publications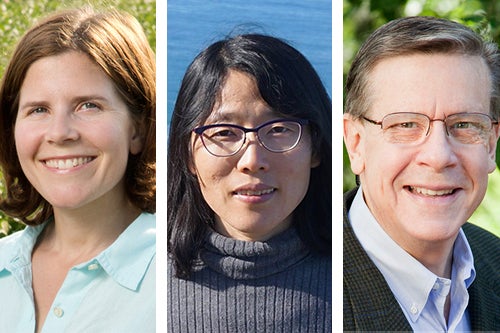 Six researchers in the College of Liberal Arts & Sciences have been named to the 2023 Clarivate Analytics Highly Cited Researchers list. The list recognizes research scientists and social scientists who have demonstrated exceptional influence – reflected through their publication of multiple papers frequently cited by their peers during the last decade. 
The highly cited LAS researchers this year are: crop sciences and plant biology professor Elizabeth Ainsworth, plant biology professor Li-Qing Chen, atmospheric sciences professor Atul Jain, crop sciences and plant biology professor Stephen Long, and psychology professor Brent Roberts. Psychology professor emeritus Ed Diener, who is deceased, is also on this year's list. 
Other University of Illinois Urbana Champaign faculty members on the list include natural resources and environmental sciences professor Kaiyu Guan and materials science and engineering professor Axel Hoffmann,
In addition to being a professor of crop sciences and of plant biology, Ainsworth is employed by the U.S. Department of Agriculture's Agricultural Research Service Global Change and Photosynthesis Research Unit. She is an affiliate of the Carl R. Woese Institute for Genomic Biology, the Institute for Sustainability, Energy and Environment and the Center for Digital Agriculture. She directs the Soybean Free Air Concentration Enrichment facility, the longest running field experiment for adapting crops to atmospheric change, where she studies how crops respond to rising carbon dioxide concentrations, ozone pollution, increased temperatures and intensifying drought stress. A key goal of her research is to maximize crop production in the future. Ainsworth was awarded the National Academy of Sciences Prize in Food and Agricultural Sciences in 2019 and was elected a National Academy of Sciences member in 2020.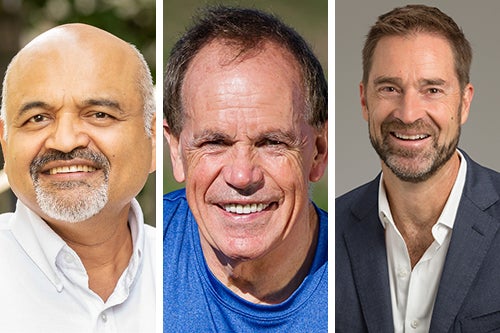 Chen aims to employ bioengineering solutions to contribute to global food security and reduce global dependency on fossil fuels and raw materials. Her core interests center around understanding the mechanism of sugar allocation in plants, which serves as a basis for engineering using a combination of in vivo biochemistry, cell biology, molecular genetics and systems, and synthetic biology. Chen also is affiliated with IGB and is a professor at the Center for Digital Agriculture and the National Center for Supercomputing Applications. She is a recipient of the New Phytologist Tansley Medal for Early Career Scientists and an I. C. Gunsalus Scholar from the College of Liberal Arts and Sciences at Illinois.
Jain studies the interaction between land and climate, which is impacted by human activities such as deforestation and agriculture intensification. His team has developed a global model-data integration framework that uses satellite and ground-based observations to study how those interactions modify the net fluxes of greenhouse gases and surface fluxes of water and energy. He contributes to major assessments of the Intergovernmental Panel on Climate Change. He is a Fellow of the American Association for the Advancement of Science and the AGU and is included on the Reuters list of top climate scientists. He is also affiliated with the U. of I. Center for Global Studies, the Center for South Asian and Middle East Studies and the Discovery Partners Institute.
Long is the Stanley O. Ikenberry Chair of Crop Sciences and Plant Biology. He uses computational and bioengineering approaches to improve photosynthetic efficiency and works to address the effects of climate change on crop yields. He was elected a Fellow of the Royal Society of London in 2013 and a member of the National Academy of Sciences in 2019. He directs Realizing Increased Photosynthetic Efficiency, a multinational project. He is an affiliate of the IGB, NCSA and the Center for Advanced Study. 
Roberts specializes in the field of personality psychology and studies continuity and change in personality throughout adulthood, with an emphasis on understanding the factors that influence change. His recent research focuses on assessing and building social, emotional and behavioral skills. Roberts was named a Fellow of the American Psychological Association in 2009, a Fellow of the Society for Personality and Social Psychology in 2009 and a Fellow of the Association of Psychological Science in 2013. He holds the Gutsgell Endowed Professorship and is a Health Innovation Professor in the Carle Illinois College of Medicine.
Diener, who died in 2021, was a social psychologist and a leader in the field of positive psychology, which focuses on the factors promoting happiness and well-being. In the mid-1980s, he and colleagues developed the Satisfaction with Life Scale, and in 2009 the Flourishing Scale, both designed to gauge happiness – which he called "subjective well-being" – in a methodical, repeatable manner. He was a co-author of hundreds of articles on the subject of well-being. He won the American Psychological Association Award for Distinguished Scientific Contributions in 2012. In an obituary of Diener, The New York Times called him "a playful social psychologist" who conducted "pioneering research into what defined contentment."
News Source
Lois Yoksoulian, Illinois News Bureau