A big sister's advice to incoming freshmen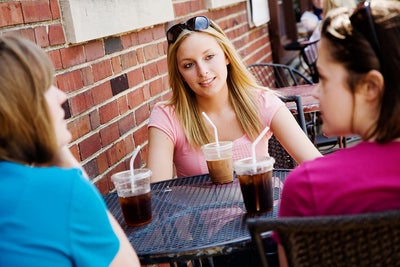 When I first found this past December that my younger sister would be following in my footsteps and attending U of I next fall, I was both excited and a little jealous.  As a second semester senior, I am aware that I will soon be graduating and leaving behind the four wonderful years I have had at the University. From the classes I have taken, the professors I had met, the friends I have made, and the experiences I have had, I would not change a single thing.  However, as the oldest in my family, I did not have an older sibling to give me any advice.  If I could pick out five pieces of advice to bestow on my little sister to improve her college experience, this is what I would say: 
1. Relax
I will never forget the first class I ever missed first semester freshman year.  I woke up with the flu, knowing I could not make it to class.  I was so nervous about what I would miss so I immediately emailed this long explanation to my teacher about how I was sick.  A little while later, my teacher emailed me back saying it was no big deal, being sick happens to everyone, and that I could attend a discussion in another class the next day to make it up.  I was so relieved! So many times in high school I was told that teachers in college had too many students to care about you.  I have found just the opposite.  Teachers are here to help you just as much as they did in high school.  They want you to succeed! Don't sweat the small stuff.  It always works out in the end, so just relax.
2. Plan ahead
The biggest change between college and high school was an increase in free time.  Instead of going to class for 8 hours a day and then having volleyball practice all night, I would only have class for 3 hours a day.  This meant much more time to do what I wanted.  It really is true that the busier you are, the more efficient you are.  As a result, it is easy to procrastinate in college and think you have enough time. My advice is to try to get things done as quickly as possible.  It makes everything much less stressful and your grades will reflect the amount of time you put into classes and studying.  Not to mention that if you plan ahead, you can accept a last-minute invitation to get dinner or hang out with friends because you aren't pulling an all-nighter studying for an exam.
3. Get involved
As I mentioned, there is a lot more free time in college.  While I did not have volleyball to occupy my time as I did in high school, there are hundreds of clubs and organizations that accept new members every year.  It can be nerve-wracking to put yourself out there and try to get involved, especially since your roommate and floormate might have different interests and majors, but I promise there will be many more freshmen who share the same interests as you.  Not to mention, many of the clubs and organizations are a way to start building a resume!  Getting involved gives you a connection to the campus and student life even beyond just going to classes.
4. Make friends
While I will take away a degree, classroom experiences, and fun times involved in different organizations, my most prized memory from college will be the friendships I made at U of I.  It's what makes college so unbelievably fun—you get to be with friends all day, every day.  Friends will edit your final paper, even if it is 10 pages long and they have an exam the next day, they will send you a good luck text right before an interview, and they will make you laugh if you ever start to miss home.  So while I encourage you to make your studies a priority and keep the future in mind, please enjoy these four years with friends that make it that much more enjoyable. College flies by faster than you can imagine.  I know that my college experience would not have been the same had I not met all of the wonderful fellow Illini and made the friendships that I will be bringing with me in my next stage of life.
5. Keep in touch
Going to college can bring a whole new world of friends and activities. However, I know how important it is to remember the people in your life that you might not see everyday. I am talking about family and friends from high school.  Your family will be there to calm you down when midterms are approaching and you need some advice.  Your friends will be there waiting for you when you get home from break, ready to hear about your new school and to tell you all about their own adventures. While you will make many new friends in college, it is always a good idea to keep in touch with the people you grew up with.  That means keeping in contact with your older sister (hint) and telling her all about your college experience while she lives vicariously through you ;). 
Above all, my most important piece of advice is to always have fun—and there is much fun to be had here at the University of Illinois!