Freshman year bucket list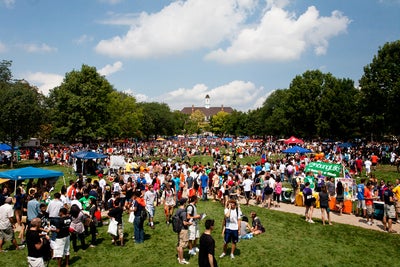 1. Learn to do laundry in the dorms
This is probably more of a requirement for freshman year, but learning to do laundry in the dorms is a college staple.  You don't want to have to wait until a trip home to get some fresh socks.
2. Make a friend in each class
Aside from making class more enjoyable, having a friend in class helps with studying, giving notes if you ever miss a class, and having a guaranteed friend for a group project.  If they are in your major, you also might have classes together for the next few years.
3. Go in for office hours
Office hours and one-on-one conversations with a professor may seem scary, but you would be surprised how much professors love having students come in and see them.  So few students do, that there is usually a good benefit to going in, such as help on a paper or a study tip or two.  Get to know professors now and build a relationship throughout college.  They might be able to write a letter of recommendation down the road.
4. Go to Quad Day
Quad Day is the Sunday before classes start, and nothing gets you to realize how many opportunities your next four years hold than this campuswide event.  Quad Day is when all the campus organizations, from the Daily Illini to improv groups to sororities and fraternities, set up booths on the quad for students to check out. Go with a group of friends, walk around, and sign up for whatever interests you.  Sure, you might still get emails from the skydiving club three years later, but you never know when the urge to go might hit you.
5. Join something
This goes along with attending Quad Day.  While you may sign up for 10 things on Quad Day, and many of them might just be so you can get a free cup, actually think about joining one. There are countless clubs for any interest, intramural teams, and social organizations.  There is even a club dedicated to loving the month of October! Pick something and get involved.
6. Try a new place to eat
There are quite a few campus establishments that must be checked out during your freshman year.  They are campus staples, so be sure to skip a meal at the dorms or reward yourself with a late-night study snack a few times throughout the year.
7. Get some Illini gear
You can't go to college without a little school spirit wear.  Whether it's a football game, basketball game, or homecoming week, a little orange and blue is necessary.  Hit up one of the many bookstores and grab a T-shirt.
8. Attend a sporting event or concert
Now that you have your gear, you can attend your first sporting event. Whether you want to buy football or basketball tickets, or attend one of the free volleyball games, there are many sports to watch on campus.  They make for a nice study break and a time to have school spirit with friends.  If sports are not an interest of yours, there are plenty of concerts on campus.  With big-time artists coming to Assembly Hall to smaller bands at Canopy Club, there are plenty of fun events to attend.
9. Visit a friend
It's unlikely that all of your friends will end up Illini, so be sure to make a visit to one of them!  It's cool to get a sense of how other campuses are, especially if they are smaller or have a unique campus.  Even better if you can go to an away sporting event.  Just be warned that you may be booed if you wear your new Illini T-shirt.
10. Hit up Campus Rec
Be sure to take advantage of CRCE or the ARC, our great workout/recreation centers on campus.  Whether you spend your first few weekends of the semester swimming laps at the ARC, trying workout classes at CRCE, or skating at the Ice Arena, these are great ways to spend your time.
11. Learn the bus system
This will be crucial after the nice summer weather fades and the infamous Illinois winter sets in.  You won't want to walk to the Quad in the cold, rain, or snow. So get to know the MTD bus system early.  If you want to get fancy, learn how to take the bus off campus to the mall or to downtown Champaign for dinner.
12. Write your own official college bucket list...
For the next three years.  Everyone is different, so everyone's college "to-do" list will be different.  Get to know campus, and write down everything you want to accomplish with your friends before graduating.  Then get started! College flies by!