LAS 101: an intern's perspective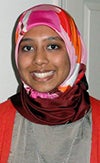 "We never know which lives we influence, or when, or why." – Stephen King
When I first started at the University of Illinois, I was undeclared under the Division of General Studies. During my first semester here, I was required to take a freshman seminar course (GS 101) taught by one of the college's advisors. We talked about tips for adjusting to the college lifestyle: how to study for midterms, explore various majors (as none of us were technically in one yet), use campus resources, build a resume, and so much more. At the end of my sophomore year, I declared sociology and communication as my majors and joined the College of Liberal Arts and Sciences.
This semester, I am an LAS 101 intern and I teach a very similar freshman seminar course to students in the College of LAS. I can honestly say that being an LAS 101 intern has been one of the greatest experiences in my time at this university. Each week I meet with 23 freshmen, covering an array of topics very similar to the ones I went over in GS 101. As an intern, I have the opportunity to get to know each of my students individually and serve as a mentor for them as they adjust to life at Illinois.
One of the best weeks I have had in this class was when I taught my students about diversity. We discussed how important it is to be aware how they contribute to the diversity on our campus. To many of them, the term "diversity" was limited to differences in race and ethnicity on our campus, but after our class discussion, we expanded this concept to include many more aspects of a person. My students brought a lot of insightful comments to the table and I was very happy to see them engaged in this discussion. Knowing that I helped them expand their horizons about an important topic such as diversity was very rewarding for me as an intern.
Through my experience as an LAS 101 intern, I feel that I've developed a lot of confidence and grown as a person. I feel fulfilled knowing that I have contributed to helping students as they begin their life at Illinois and hope that my students continue to use the information they learned in this class to make the best of their time here.