Geology rocks: How I chose my major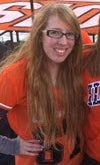 I entered the University of Illinois as an undeclared freshman. After years of trying to figure out what I wanted to major in, I finally chose geology. Out of many deciding factors, of which there were many, one of the things that influenced me the most was the fact that there was a required class in the curriculum, titled GEOL 417: "Geology Field Methods, Western U.S." When I did further research on the class, I discovered that it was a six-week course taken in Park City, Utah, during the summer term. It involved being out in the field every day for six weeks, and visiting a landscape drastically different than what we see in Illinois. Little did I know what I was getting myself into.
As an incoming senior, this past summer break was the summer I decided to attend Field Camp. Including a week-long trip out to Utah with the rest of the Illinois students also going to Field Camp, it was a total of seven weeks in the summer heat; waking up for breakfast at 6:30 a.m., out in the field until 5:00 p.m., dinner at 5:30 p.m., work on projects, repeat. We visited places outside Utah, as well, with camping trips to Nevada and the Grand Tetons National Park. We would spend our days in the field mapping rock units and structures, and spend our nights working on group projects that would be turned in and graded and used to determine our final grades. Our first real day in the field ended with rain, sleet, and snow—in June. Three days later, we experienced 98 degrees with not a cloud in the sky. We ate the same lunch everyday, and one of the dinners was affectionately termed "beans on beans" because it was a bean burrito with, get this—a side of beans. 

While there was a lot of work, and a lot turkey sandwiches, and a lot of extreme weather, it was a fantastic experience. I got to work with dozens of students from other colleges, meet and interact with new professors, learn so many new things, all in some of the most beautiful scenery I have ever gotten to witness. So although it was hard, and my hiking sock tan line won't be going away any time soon, it was a completely worthwhile, college-shaping experience that I won't soon forget. I've been asked many times why I chose geology as a major, and I always say the same thing, "Because I get to go on field trips." And while that certainly is not the whole truth, it's definitely part of it.