Part of a legacy: Finally enjoying the Illinois legacy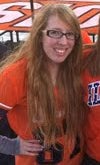 Deciding where to go to college is usually a difficult decision. Yes, on the surface, you're just trying to figure out where to continue the next four years of your education, but it's actually much more than that. You're deciding where you'll live for the next few years, where you're going to make lifelong friends, where you might meet the person you'll spend your future with, and where you'll learn things that will shape who you are as a person. When applying and accepting your offer to a university, there are so many influences that help you decide where you want to commit. For me, that decision was unusually simple.
I'm the youngest of three daughters. I was in fourth grade when my oldest sister was admitted to the University of Illinois, and I still remember her opening an envelope she had received in the mail and running into the garage yelling for our mom. They came into the house hugging, and I had no idea what they were going on about, but they were clearly excited. So my sister accepted her offer to Illinois. Five years later, my other sister also excitedly accepted her offer to Illinois. When I applied to college, there was no doubt in my mind that if I got accepted, that's where I would be going. I couldn't be happier with my decision to accept my offer to the University of Illinois.
I fell in love with the University of Illinois when my oldest sister was accepted, when the 2004-2005 basketball team went to the championship, when I went to my first basketball game at the State Farm Center (what we knew at the time as Assembly Hall), when I first stepped onto the Quad when I was in eighth grade, and yet again four years later when I visited campus to sign up for my first semester of freshman year. My love for this university has only grown since I began here three years ago, and every day I step onto the Quad I appreciate all the wonderful people I've met, all the experiences I've had, and how truly beautiful our campus is.