Winter study abroad in India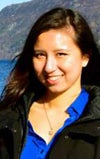 This past winter, I partook in a course abroad. This is one course that meets on campus for the last eight weeks of the semester, and then travels overseas for two to four weeks into winter or summer break.  For this trip, there were 13 students in the group, under the guidance of Mithilesh Mishra, senior lecturer in the Department of Linguistics and director of programming in Hindi and Urdu, and we were headed to India for about two and a half weeks.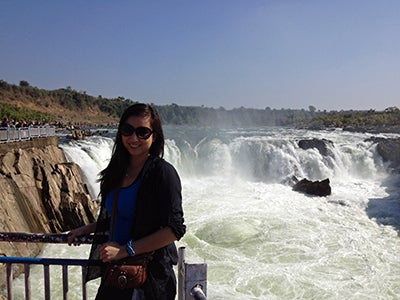 Lindsey stands near popular waterfalls at Jabalpur, India.
This would become my third study abroad trip, and one of the shortest. My previous study abroad terms were a short summer in Austria, and a semester in Switzerland. India was different because it would not be Western Europe, it was shorter, and much more sheltered with a faculty facilitator. I preferred this because I had never been to India before, and I knew I was lacking a lot of cultural knowledge of the region. Whereas Western Europe and the U.S. share similar culture and values in some sense, Asian regions can be entirely different. Therefore, I opted for the security of having a knowledgeable faculty facilitator.
India was probably one of the most unpredictable trips I've taken. There were definitely things to get used to, such as sharing the streets with cars, people, cattle, stray dogs, monkeys, and pretty much anything else that moved. We had traveling dilemmas as well, including a train delay that lasted for hours, and a flight cancellation from Delhi to Jabalpur. And India is one of those countries where tourists are a local attraction. The local children ran up to us like we were celebrities, and people liked to photograph us. Although sometimes it was uncomfortable, other times I just humored them and smiled or waved back.
But the trip was overall a new and different perspective. I saw the Taj Mahal and numerous other temples. We took boat rides in Jabalpur, felt the mist of the waterfalls, heard silence in a gorge, and watched the sun set. We went to a tribal university, where the local girls taught me a basic Indian dance sequence and basic Hindi phrases. At one of the temples, the woman at the temple accompanied me to the deity, walked me through a prayer, and gave me a rosebud for protection. At a different temple, I was given a cotton string bracelet as a protective blessing, and I still wear it on my wrist.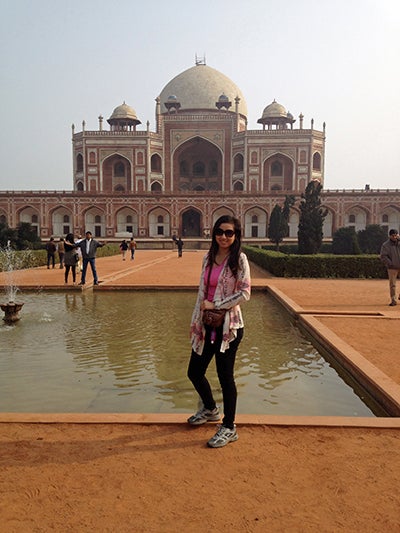 I had fun overall, despite the challenges and obstacles. There is no such thing as a "perfect" trip where everything is going to go exactly as you expect it to. You should be challenged on your study abroad trip, such as learning to cross streets where Western "rules of the road" do not apply. In a week though, I was crossing the streets without blinking twice at the cars or cattle. Being challenged means that we are learning and growing as people, and we should always welcome personal growth. It makes us better people.
And in the challenges and obstacles, the unexpected adventures are where the magic happens. I planned for the Taj Mahal, and it was amazing, but I found the unexpected side adventures like the temple blessings even more rewarding. I liked learning from the local girls, practicing the local culture, and jumping on the rocks above a waterfall. These are the adventures that keep me travelling and learning from every place I go. Wherever my next trip takes me, I'm already excited and I can't wait! 
 The College of Liberal Arts & Sciences at the University of Illinois at Urbana-Champaign offers more than 70 majors and provides a world-class interdisciplinary education that prepares students for lives of impact. Learn more about LAS.