Hidden Gems: Exploring Champaign and Urbana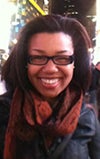 Earlier this semester I had the chance to visit the Urbana Free Library. I am a photographer for the Daily Illini and was covering a story about the library's 140th anniversary.  As I walked through the building and learned about the history of the library, I was amazed at how many resources were available from books, CDs, and DVDs, to just a new place to study. It was another testimony to the fact that Champaign-Urbana has so much to offer and sometimes you won't realize it until you're leaving. 
Another hidden gem I have discovered is Common Ground Food Co-Op, also in Urbana. I have shopped here before, but a couple weeks ago I attended a Food Demonstration Class there. Two employees led a great discussion about healthy eating choices and how to eat healthy on a budget. They explained all of the programs Common Ground offers such as hands-on cooking classes, other food demonstrations, private parties, and the option to teach a cooking class. The seminar ended with a demonstration for how to make chorizo salsa. It was cool to explore another resource in the community. 
I know I may sound like a broken record, but I want you all—whether you're planning to come to the University of Illinois or you're currently a student here—to keep exploring. It's easy to get comfortable in your routine and go to the same places but I promise you won't regret changing it up a bit and stepping outside of your comfort zone!
The College of Liberal Arts & Sciences at the University of Illinois at Urbana-Champaign offers more than 70 majors and provides a world-class interdisciplinary education that prepares students for lives of impact. Learn more about LAS.