Taking advantage of small class sizes in the College of LAS
When it comes to choosing a university, average class sizes are a point of anxiety for many prospective students. Getting a great education boils down to making connections with peers and faculty, and many students wish to do so in an environment that promotes these interactions. With an 18:1 student to faculty ratio, a majority of classes within the College of LAS aren't lecture style, but rather small class settings where students can engage with their peers and world-renowned instructors.
In classes like Jewish Studies 399: Satire and Comedy Writing, students have the chance to learn from masters of craft like Sayed Kashua, an Israeli-Arab TV writer, novelist, and journalist. Featured in The New Yorker, The Guardian, The New York Times, and Ha'aretz (Israel's version of The New York Times), Kashua brings a rich realm of knowledge, giving students a unique classroom experience that they wouldn't have at just any university.
I had the opportunity to sit in on JS399, observing their classroom setting and how students interact with each other. From insightful discussions to asking important questions, it wasn't hard to see how comfortable students felt with talking about the material they were learning about.
Interacting with Kashua effortlessly, the class watched examples of award-winning short films, analyzing for quality and rhetorical decisions that they could emulate in their own work. The small space cultivated growth, as 17 minds collectively worked together deciding on what makes a piece of work worth watching, and how they could add similar tendencies on their own projects.  While students were not only encouraged to have conversations that are vital to the learning process, they were able to do so in a space that made these discussions comfortable.
For that reason, there was a sense of ease as Kashua lead discussions and students voiced their opinions and thoughts. Even Brett Kaplan, director of the Program in Jewish Culture & Society, popped into class for a while, sitting among students, and seamlessly contributing to discussion — all while students remained unfazed. Family atmosphere is another one of the perks of this program, in this class, at this university. With Kaplan chiming in every so often, they collectively pitched ideas, talked timelines, and fostered in new ways to tell their stories.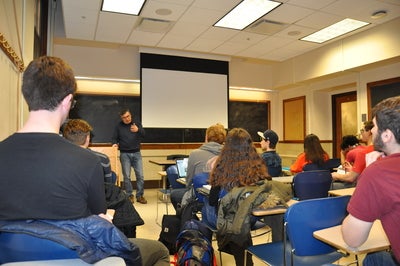 Students at Illinois will undoubtedly take many types of classes during their four years. Some will be larger than others, but in the College of LAS, there's a good chance they'll be small. These are the opportunities to take advantage of — whether they be courses within your major, minor, or an elective. While there is always a chance for students to make connections with their peers and instructors no matter what the class size, at LAS, you can always feel at home.