Q Magazine champions storytelling, the environment, and hands-on learning
This fall will be the debut of Q Magazine — a publication from students in ESE 498 that focuses on the big questions we ask when we talk about the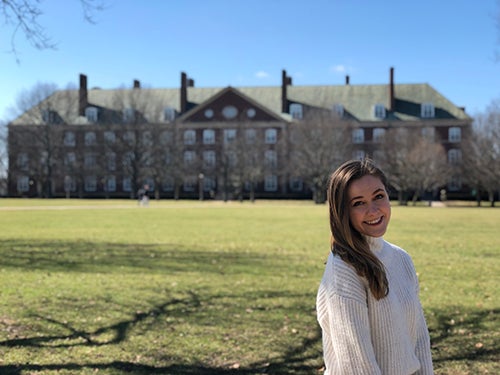 environment. Q, the magazine's title, is play on words for the Certificate in Environmental Writing's acronym (C.E.W., Q—get it?).
One of the first environmental publications of its kind, it not only reports on environmental issues, but does so by teaching students how to champion storytelling.
The certificate is a joint venture between the Institute for Sustainability, Energy, and the Environment, the School for Earth, Society, and Environment, and the Department of English. It encourages students to develop interdisciplinary writing skills that tackle some of the largest topics in climate science. A culmination of three class, the certificate prepares students for the final capstone course, Environmental Writing for Publication, where they work to publish an online magazine.
Working on this project was a chance to raise the stakes of classroom writing. Rather than directing assignments towards one professor or a specific grade, the course focused our work toward publication. As the student editor, I worked with my peers to polish pieces that would help prepare the magazine future editions; yet in turn, I learned the most from being exposed to their different writing styles, topics, and talents.
Throughout my experience as editor, I was continually humbled by my classmates' ability to not only understand research, but to command a story that helped make research digestible. Issues that affect our climate and environment are certainly technical, but they're also deeply personal—reaching homes, habitats, and livelihoods.
In our first issue, readers will not only learn the science behind seal level rise, but will see how coastal flooding will redefine "waterfront" as "underwater" in South Florida. Hurricane Irma will take center stage as we learn about residents of the Caribbean Islands. Wind, waves, and high water will certainly drive Q's lead stories, yet it's the people within them that will leave the largest impact of all.

In a world with constant access to concrete facts and figures, there's a need for communicators who can turn data into narrative by translating the complex into something comprehensible. Q is a small step for students learning to build interdisciplinary skills as well as a great start for creating sharp, forward-looking minds— affirming that those who will inherit this world may be the ones to spark change, after all.