10 reasons you should say yes to the University of Illinois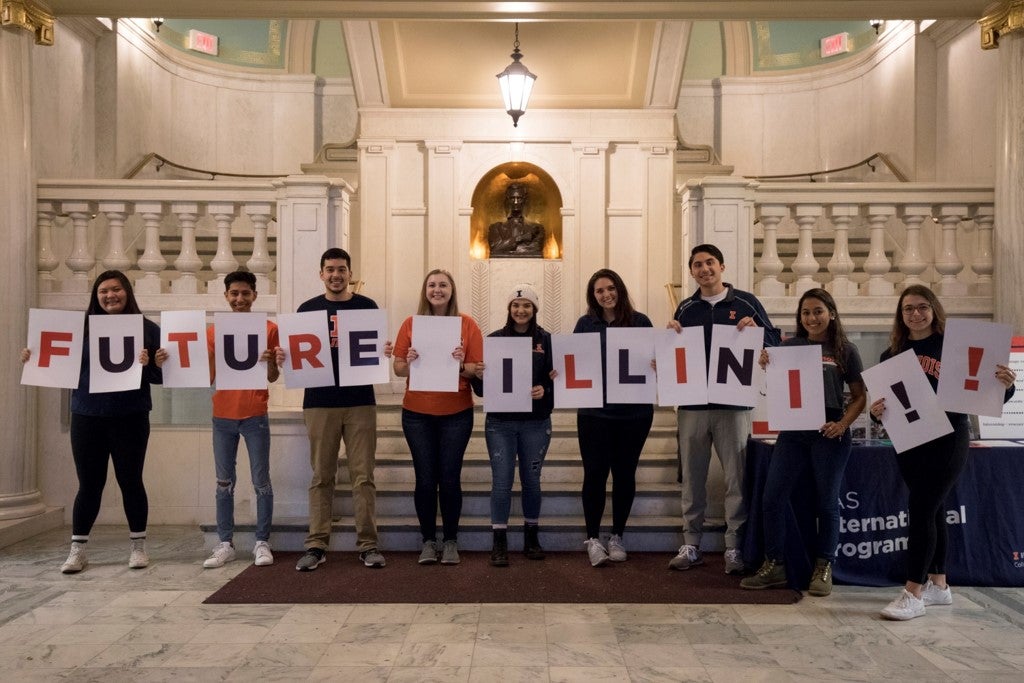 Sara O'Malley graduated from Illinois in 2019 with degrees in political science and psychology. While at Illinois, she interned at the Life + Career Design Lab and was president of the James Scholar student advisory board.
As I reflect on my time here at the University of Illinois at Urbana-Champaign, I remember how unsure I was about choosing to join the College of Liberal Arts & Sciences. People would ask me, "What are you going to do with a liberal arts degree?" I am so glad I chose to be an LAS major here at Illinois. Here are just some reasons you should feel excited to join LAS!
Earning a degree in the College of LAS will give you options
With more than 70 majors and 60 minors, you'll develop a broad perspective and the skills employers seek in today's competitive job market. Undergraduate research is an integral part of the college, and every year hundreds of students work in research programs. When people ask "what are you going to do with a liberal arts degree?" you can tell them that you can do anything!  
All the organizations you could ever think of, or start your own!
Campus has more than 1,600 registered student organizations, including professional, political, and philanthropic clubs. Before classes start, be sure to check out Quad Day, when more than  500 organizations gather on the Main Quad. I went my freshman year, and the RSOs I've joined have given me a great group of friends. There is something for everyone, but students can create their own RSOs — if we don't have it, you can make it!  
Thriving Greek life
Illinois is home to one of the largest Greek systems in the country, and almost a quarter of the student body is involved. With 90 organizations (54 fraternities, 35 sororities and 1 co-ed) and more than 7,500 students involved, Illinois' Greek organizations raised $854,898 for non-profits and volunteered for more than 92,227 hours last year.
We have tons of resources for students
From the cultural houses to the Office of Undergrad Research to the LAS' Life + Career Design Lab, there will always be somewhere to go for information. Whether you need help with your finances or help preparing for a career fair, Illinois  has the resources to support you. Everyone wants to see you to succeed! I'm an intern in the Life + Career Design Lab. When you get to campus, come to the lab and we can discuss anything from the classes you need to take to studying abroad!
Our students are diverse and support each other
More than 47,000 students from all 50 states and more than 100 countries call Illinois home. I have loved being able to meet people from all around the world! It's also inspired me to travel to countries and regions I would not otherwise have had an interest in unless I met so many amazing people.
It's an environment that challenges you to think
With more than 670 tenure-track faculty members across our 37 academic departments and 70 majors, LAS has some of the best professors. I've made personal connections with many faculty members, and I still talk to professors whose classes I took freshman year! The students are all high-achieving and motivate each other. You'll never find the Undergraduate Library empty.You'll often find students studying on the Main Quad, in cafes, and in the halls between classes. In Lincoln Hall, there is a secret studying space on the second floor!
Fighting Illini
Illinois has 10 men's NCAA teams and 11 women's NCAA teams with 15 major facilities. You'll be able to watch matches at Memorial Stadium for football, the State Farm Center for basketball, the Illinois Field for baseball, the ARC Pool for swimming and diving, the Atkins Tennis Center for tennis, and much, much more. Just don't forget to wear your orange and blue and I-L-L-I-N-I pride!
Post-graduation success
Eighty-nine percent of LAS graduates indicated having secured a first destination on our Illini Success survey. Those who got jobs earn an average salary of $54,949. Fifty percent of respondents were employed and thirty-nine percent were continuing their education. Whatever you choose, Illinois can prepare you for success!
We've got notable alumni
Illinois has produced many distinguished alumni, including Silicon Valley venture capitalist and the inventor of the first graphical web browser Marc Andreessen, YouTube co-founders Steve Chen and Jawed Karim, along with early employee Christina Broadbeck, who was a history major. Other notable alumni include PayPal co-founder, Max Levchin, actor and comedian Nick Offerman, and the inventor of the visible LED, Nick Holonyak Jr. The list doesn't stop there; maybe you'll be on it one day!  
Study abroad
You can earn credits toward your degree, advance your professional goals, and enrich your global perspective all while studying abroad in the location of your choice. You can perfect your language skills, learn about politics in another country, and immerse yourself in a new culture!