LAS provides exceptional career support for humanities students

Kirstin Wilcox is the director of the Humanities Professional Resource Center at Illinois. She has been helping students in humanities majors get jobs since 2014. She has taught courses in eighteenth-century literature, American literature, fiction, and poetry since coming to the University of Illinois in 2004.

Did you love your high school English, history, or foreign language classes? If so, you should know that the Humanities Professional Resource Center is here to help students majoring in those subjects get jobs after graduation.
College-level humanities can branch far beyond the topics you studied in high school to encompass philosophy, religion, linguistics, gender and women's studies, ethnic studies, and a wide variety of languages. Students majoring in those subjects at Illinois have a much wider range of career options than most people realize. Communications, politics, law, human resources, technology, business, healthcare, and nonprofit management are just a few of the fields where students in these majors find jobs.
Students often mistakenly believe they face a stark choice in their selection of a major: between the option that interests them and the option that will help them get a job. The reality of connecting the major to a career is much more complex. For students who love learning languages, solving problems with words, reading material with depth and complexity, framing arguments, writing to a variety of audiences, and understanding complex social and political issues, the humanities can be both an interesting course of study while in college and a path to a meaningful and well-paying career after college. The key to success (as is the case for students in every other major!) is to find ways outside the classroom to connect skill developed in the major to real-world problems. And the Humanities Professional Resource Center, located in room 105 in Gregory Hall, can help you with that.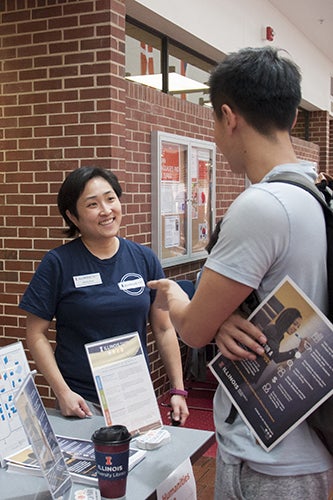 Whatever the specific subject of study, humanities majors develop skills in working with complex qualitative information. The challenges of technological change and shifting historical currents come as no surprise to students of the humanities, who have often grappled with centuries, if not millennia, of the human past in their studies. Humanities majors learn to evaluate evidence, weigh claims, identify key ideas, and convey their findings persuasively. They can make sense of situations unlike any they have encountered before, locate information to fill in the gaps in their knowledge, and make positive contributions despite incomplete information.
To help students learn to apply these vital skills professionally, the Humanities Professional Resource Center gathers and promotes opportunities for students to get professional experience on campus through internships, part-time jobs, project-based volunteering, and student leadership. The challenge that many students in the humanities face is an abundance of options that are not always easy to sift though.
We support students at every stage of the career development process, from initial exploratory "What do I want?" conversations, to sorting through inevitable shifts in direction, to coping with job search details (like finding a quiet place on campus for a phone interview or evaluating salary offers). We also provide opportunities for alumni mentoring and externships that can help students explore different career possibilities and get professional advice from people working in the fields.
The right choice of major is the one that will help you build on your talents, find answers to questions that interest you, work with information that elicits your curiosity, and do projects that will challenge you to grow intellectually. The capacities that you acquire as you learn, coupled with the professional experience you gain, will open several career paths, and the Humanities Professional Resource Center will be there to help you make the most of them.