Carmen is a student in history. She was a spring 2019 participant in the LAS: Humanities + Social Sciences in Italy program.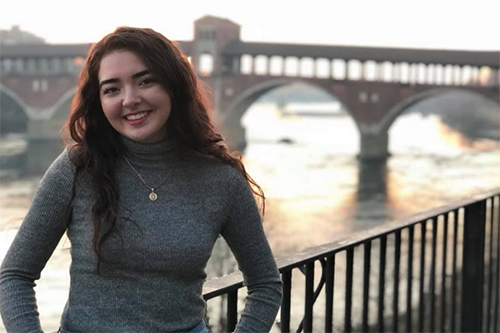 Name: Carmen Gutierrez
Major: History
Study Abroad Program: LAS: Humanities + Social Sciences in Italy
Location: Pavia, Italy
Studying abroad had always been something that had piqued my interests, but I never really considered it to be an option available to me or students like me. I thought that by studying abroad I was putting myself in a position in which I had everything to lose, more specifically I felt I would be losing my time and my money. I felt that as a history major, I would really benefit from traveling to all the places I read about in my textbooks to help me better understand the underlying political and social consequences of the past. However, since I am pursuing a minor in secondary education,, I had very limited space in my schedule to risk falling behind by spending a semester abroad. I know that this is a concern for many history majors, since there doesn't seem to be a specific program tailored to our academic needs.
Another major concern for me was to ensure that I could even afford this, since many of the budgets for these programs did not appear to be financially feasible for me. Luckily I went into the advising office and the financial aid office to see what opportunities were available. Though there were no history-specific programs at the time, there were numerous LAS programs that could guarantee me transferable credit at home. With the help of my advisor and the IAGE staff, I was able to ensure that I would still be able to graduate on time if I decided to pursue an education abroad. The financial aid office was also an incredibly useful tool in helping me find scholarships that I could qualify for and assisted me in narrowing down which programs were still within my budget. In the end, I chose to study abroad in Pavia, Italy, with LAS, and it ended up being about the same price as staying on campus for a semester. 
It certainly took a lot of preparation on my end, but I couldn't be happier with my experience abroad. Though studying history is much more complex, there is no denying that much of our time as history majors is spent memorizing critical events and historical characters; yet if we never really interact with the culture personally, it makes our strenuous academic efforts feel arbitrary and meaningless. I felt that because of the demographic composition of my classes, I was able to get a better world view on diplomatic and political relations due to our interconnected past, which is something I really don't think I could have come into contact with in Champaign.
At the University of Pavia, where I was staying, my classes were composed of what felt like 80% international and Erasmus students from neighboring nations, everywhere from Brazil, Germany, the US, Pakistan, etc. I mentioned before how I worried that by putting myself in a position abroad I had everything to lose, but I realize now that students who are willing to take on this challenge, in reality, have everything to gain, whether it be personally or academically. If possible, I would love to try and study abroad again, but overall I cannot stress enough how pivotal this experience was for me and my future path. I hope that all U of I students at least look into their options, because I believe that everyone has something to gain from their travels abroad.
Read more student voices.